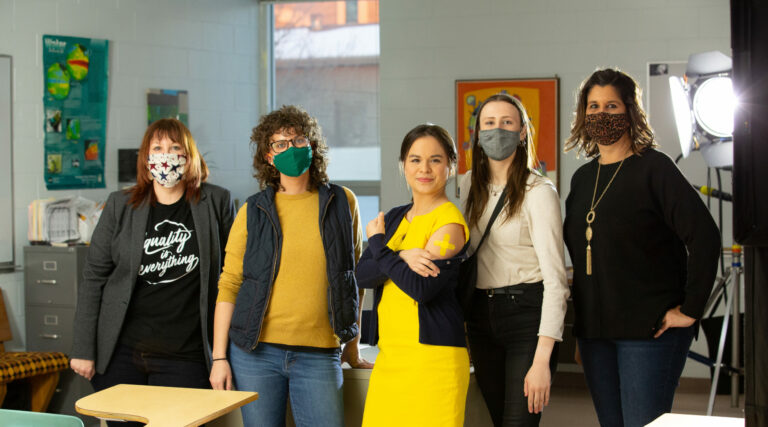 April 15, 2021
Can Heart-Driven Marketing End a Global Pandemic?
For our KidGlov changemakers, we lov an opportunity to collaborate for positive change. So when the Nebraska Department of Health and Human Services (NDHHS) approached us to lend a hand in helping spread the word on COVID-19 vaccinations, we couldn't wait to pull on our protective masks, wash our hands, and get to work.
But can marketing make an impact on a global pandemic?
When it's heart-driven, we say YES!
Community well-being marketing takes more than a few catchy headlines. To support NDHHS's efforts of helping the community get excited about the COVID-19 virus vaccine, we knew we had to add in a whole lot of heart.
Led by healthcare marketing veteran and KidGlov vice president and managing director Lisa Bowen, we quickly connected vaccinations to all the opportunities Nebraskans could have once the pandemic was over—like safely supporting local restaurants, connecting with extended families again and protecting our most vulnerable neighbors.
And with that, the Finish Strong Nebraska campaign was born to encourage all Nebraskans to receive the COVID-19 vaccine when it's their turn.
From TV to radio and prints ads to social media, Finish Strong Nebraska reached area residents through an array of media. The campaign's dedicated website, finishstrong.ne.gov, provides key details on vaccination safety as well as a registration portal where Nebraskan's can sign up to be notified when it's time to vaccinate.
"We understand the intricacies of healthcare marketing and as native Nebraskans, we understand Midwestern values," said Lisa. "Rolling up our sleeves and helping our neighbors are some of the key values that drove this creative campaign and why we know that finishing strong is central to beating COVID-19."
Throughout the pandemic, our KidGlov team worked with numerous organizations to shift their messaging and marketing strategies amidst a global pandemic. We collaborated with many nonprofit and community organizations who saw major changes during the effects of COVID-19 and social distancing. From virtual fundraising to digital experiences and campaigns like Finish Strong Nebraska, our creative teams help changemaking organizations continue serving the community.
The creative team behind this campaign also included Mary Kate Gulick, vice president and executive creative director, and Ashley Stuhr, art director. Gulick has twelve years of award-winning ad agency experience and over twenty as a copywriter. She's passionate about connecting with audiences and crafting creative strategies that speak to them. Stuhr is a talented art director and designer, and the recipient of numerous awards, including accolades from the American Marketing Association and ADDY Awards.
Learn more about DHHS, Finish Strong Nebraska and watch the campaign's TV commercials at finishstrong.ne.gov
Collaborating with changemaking organizations is how we do business. We're always at the ready to help build positive change for individuals, communities, and our environment through creative strategies that transform us.
We believe we are one small part of a larger movement to make the world a better place for all of us. When we work together, courageously, there's nothing we can't accomplish.
Learn more about our collaborative work in community well-being and for more ideas on how to button-up your organization's efforts, give us a call!