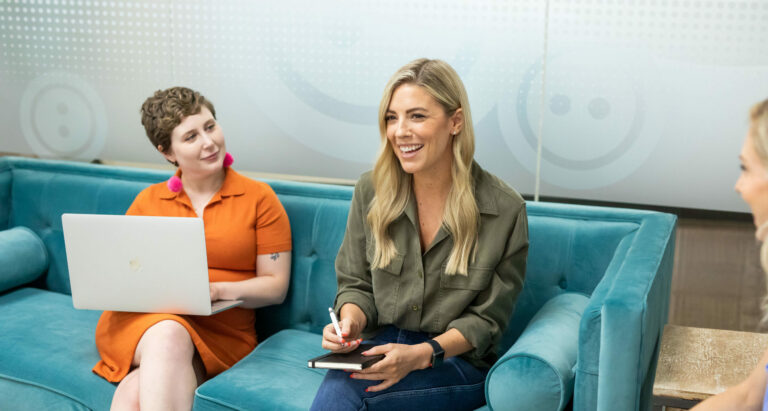 August 13, 2021
Jessie Gibbens Promoted to Operations Manager
Snaps for Jessie! Congratulations are in order for our own Jessie Gibbens who has been promoted to operations manager. In her new role, Jessie will focus even more diligently on managing the KidGlov workflow, refining project management processes, assisting with human resources and culture, and managing office initiatives. With a growing team of advertising professionals serving clients across the nation out of Lincoln and Omaha, Jessie is ready for action!
"This promotion is very well deserved," said Katherine Warren, Kidglov chief operating officer. "'What would we do without Jessie?!?' is a frequent question around our office. Jessie's work is key to us maintaining our core culture values and giving our team the time and space to do the work they love."
Jessie has been part of the KidGlov advertising agency since 2019 where she immediately lent her organization skills and attention to detail to the group's growing project workflow. Originally from Nebraska, Jessie landed in Los Angeles after finishing her bachelor's degree in marketing at the University of Nebraska-Lincoln. There she served as product development manager at Cosmetic Design Group, where she managed the entire development process from concept to launch, working with many national brands including Ulta Beauty and Sally Beauty. Jessie's family, friends and Midwestern ties brought her back to Nebraska and into the KidGlov team of experts.
"Beyond creative designs and inspiring copywriting, workflow management offers great value for our clients and team," said Warren. "Jessie's contributions help our account and creative teams balance their work while providing enough downtime to learn and explore ways to hone and strengthen their talents."
People come first at KidGlov. We were recently named one of Lincoln's Best Places to work (for the third time!) and in a recent employee survey, 100% of employees indicated they felt highly valued by leadership. Collaboration is a central aspect of how we accomplish marketing and advertising goals. Here, creative teams work hand-in-hand with account services, leadership and clients.
Kidglov advertising agency works with regional and national brands across industries through offices in Lincoln and Omaha, Nebraska. We support a variety of organizations across the country, specializing in the industries of community health, finance, healthcare, nonprofits and purpose-driven organizations. Our award-winning team works with organizations who are ready to make the world a better place for us all.
Are you ready to turn your organization's message into a movement? Give us a call to learn more.