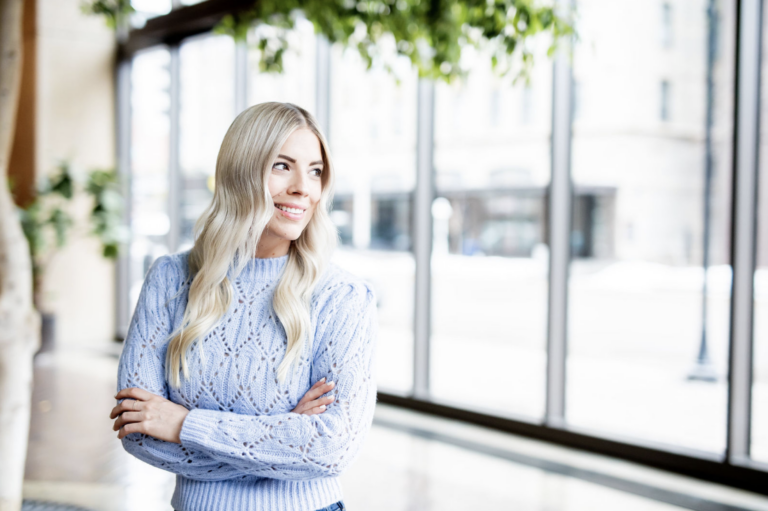 February 25, 2021
Jessie Gibbens Takes on Workflow Management at KidGlov
A well oiled changemaking machine takes someone at the helm making sure everyone is on-track and scheduled for success. Enter Jessie Gibbens, KidGlov's extraordinary project manager whose responsibilities recently expanded to include comprehensive workflow management.
"We're known for our eye-catching creative designs that move the needle and help organizations achieve their marketing and branding goals. But they simply wouldn't be possible without workflow infrastructure to support our copywriters, designers and strategists," said Lyn Wineman, KidGlov president and chief strategist.
Part of the KidGlov team since 2019, Jessie is in on KidGlov projects from start to finish, making sure everything runs smoothly and all players have details and information they need for success. Her creative attention to detail and deadlines help the advertising agency's creative teams turn out big results for changemaking clients.
"Jessie's true superpowers include organization, detail and multi-tasking," said Katherine Warren, chief operating officer. "We're thrilled she was open to lending her talents to this new role of workflow management. With many of our team members working from home throughout the pandemic, Jessie has helped us stay on-track and on-schedule in completing projects."
Originally from Nebraska, Jessie went coastal after finishing her bachelor's degree in marketing at the University of Nebraska-Lincoln, landing in Los Angeles. There she served as product development manager at Cosmetic Design Group, where she managed the entire development process from concept to launch, working with many national brands including Ulta Beauty and Sally Beauty. Although she loved her Los Angeles days, her love of family, friends and her Midwestern roots drew her back to Lincoln.
In her role as KidGlov's project manager, Jessie works closely with account service and creative teams to ensure everything is running smoothly behind the scenes. Kidglov's renewed focus on workflow management stems from the advertising agency's extensive collection of new clients, new team members and building collaboration through a new work-from-home environment.
"Workflow management has extreme benefits for clients and employees," said Wineman. "Our teams need adequate time to do their work mixed with enough downtime to learn and explore ways to hone and strengthen their creative talents and abilities. Jessie's contributions will help create balance while ensuring our clients receive high-quality marketing, advertising and branding work on-time and on-budget."
Bringing Jessie's organizational superpowers to KidGlov was, in her words, a no brainer! "Everyone here loves what they do," she said. "Combined with working with clients who are affecting positive change in the world, I knew this was the place I wanted to be."
As a boutique advertising agency, KidGlov works with both local and national organizations affecting positive change. They believe simply that when we work together, there's nothing we can't accomplish. With offices in Lincoln and Omaha, Nebraska, KidGlov has won several accolades including top honors at the American Marketing Association awards in Lincoln and Omaha. They've also been acknowledged at the American Advertising Federation Nebraska Awards and have been named one of the Best Places to Work.