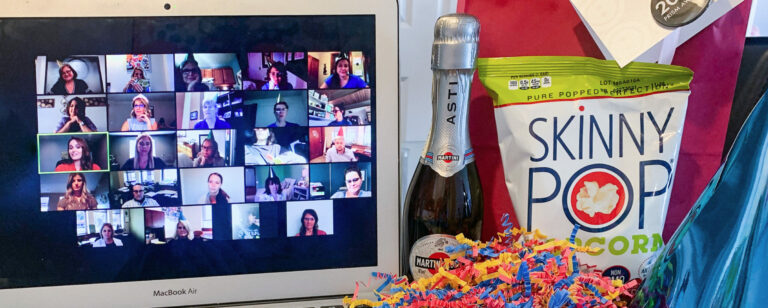 January 13, 2021
Twelve Tips to Take Your Virtual Fundraising Event from Online Fatigue to Virtual Fanfare
From galas to fun runs, fundraising events are tremendously important for nonprofits. But against the backdrop of a global pandemic, and a new age of social distancing, nonprofit organizations are facing a tough year without signature fundraising events.
It's a problem nonprofits can't ignore. For many, the pandemic has only increased the community's need for services and these flagship fundraisers mean all the difference to ensure their missions reach those in need. Even with the COVID-19 vaccine on the horizon, the Spring, Summer and possibly even Fall event seasons must rely heavily on virtual events.
Luckily, we at KidGlov are experts at helping nonprofits stand out in the crowd, even virtually. In 2020, we worked with a number of nonprofits to transform their signature fundraising events to the virtual sphere. From auctions to annual meetings and even brand-new capital campaigns, our team learned that with a bit of creativity, a lot of familiarity with Zoom and just a splash of sparkle, virtual fundraising is definitely the "new black" of the nonprofit world.
Enhance the virtual experience of your fundraising event with these helpful tips:
1. KNOW YOUR GOALS
Your goals are the guideposts that will help prioritize while ensuring success. If your top goal is fundraising, make it easy to give through web, email and text options. If brand awareness is top on the list, ensure there are plenty of visual mediums to help your audience connect with your mission.
2. BRAND IS KING
At KidGlov, we know a thing or two about strong branding and nothing gets us more confused than attending an event that's all theme and no brand. Don't get us wrong, we love a good theme, but the concepts should complement, not replace your brand.
3. EMBRACE THE VIRTUAL
For the time being, virtual is here to stay. But don't let it scare you. Optimize the virtual medium by thinking outside the box. This year, we lent a hand to the Lincoln Community Foundation donor recognition event. Traditionally an annual luncheon, KidGlov helped refocus the now online event to beloved aspects of Lincoln, filming various segments of the presentation in front of city landmarks. The entire event – including donor recognition and acceptance of the Community Impact Award was filmed in advance and edited into a 45-minute, engaging presentation that was deployed online. We call that a win-win for everyone involved!
4. POSITIVELY DISRUPT
Be willing to positively disrupt and stand out in the crowd. Trust us, this is the year to throw that spaghetti on the wall. You might be surprised at what sticks. It takes courage to launch a capital campaign in the midst of a pandemic, but KidGlov supported CEDARS' efforts through a series of videos and virtual social media campaigns. The campaign elements were fun and eye-catching, mimicking popular home improvement shows to demonstrate CEDARS' own renovation needs to better serve kids and families.
5. BE BRIEF, BE BRIGHT, OR THEY'LL BE GONE!
Virtual events have to compete hard for attention. Attendees just won't spend as much time at a virtual event when they have the laundry, the kids and Netflix waiting for them in the next room. Keep your event short and engaging, cut out every element that's not 100% necessary. If any part lags, you will see those attendees start signing off.
6. INVEST IN TECH TEAMS
There's no room for technical difficulties in virtual events. Partner with experts who know Zoom—or any other medium—like the back of their hand. With your best donors online, now's not the time to hand the reins over to the intern.
7. RECORD IN ADVANCE
The beauty in virtual events is you can dial down the pressure by preparing everything possible beforehand. The CEO welcome video could be taped in advance. The auction item videos, again, all taped in advance.
8. FOR AUCTIONS…
And speaking of auctions, there are plenty of ways you can virtually raise funds with donated items, but ensure the visual component is there. Enhanced photos, descriptions, even video will help virtual attendees connect and raise their digital paddles.
9. REHEARSE, REHEARSE, REHEARSE
There's no turning back once a virtual event starts! Troubleshoot any technical difficulties or nervous butterflies ahead of time with lots of rehearsals and strategic practice.
10. DON'T FORGET THE INVITE
It's easy for virtual events to get lost in the shuffle. Multiple touches, including email, social media, phone calls, public relations and yes, print invitations, are all incredibly important in getting donors to the event.
11. SWAG…DELIVERED
Everyone loves a good piece of swag, especially one that's delivered. Event packages that could include snacks, beverages, photo props, game boards and more, and will make a big impact when sent to attendees, major donors or sponsors. As we helped the Dreamweaver Foundation transform their traditional live auction event online, we had the great idea of creating "@Home" sponsorships by delivering a special party box full of recognition opportunities. The idea was a huge hit because who doesn't love a package arriving at their door?!
12. PERSONAL "THANK YOUS"
It's easy to lose a personal connection with attendees during a virtual event. Take every opportunity to personalize. And for us, there's no better way to send all the feels than through a personalized handwritten thank you note.
Virtual events require thinking outside the box, upping the creative and exploring new technologies. But like any event, it's important to show the impact of your work and the impact of your mission on the world.
Want to know more? Visit our nonprofit business hub to find a variety of case studies, helpful blog posts and Agency for Change podcast episodes featuring nonprofit leaders. KidGlov is a content marketing agency and certified B Corp with offices in Omaha and Lincoln, Nebraska, specializing in nonprofit marketing, healthcare marketing, financial marketing, social marketing and purpose-driven businesses.