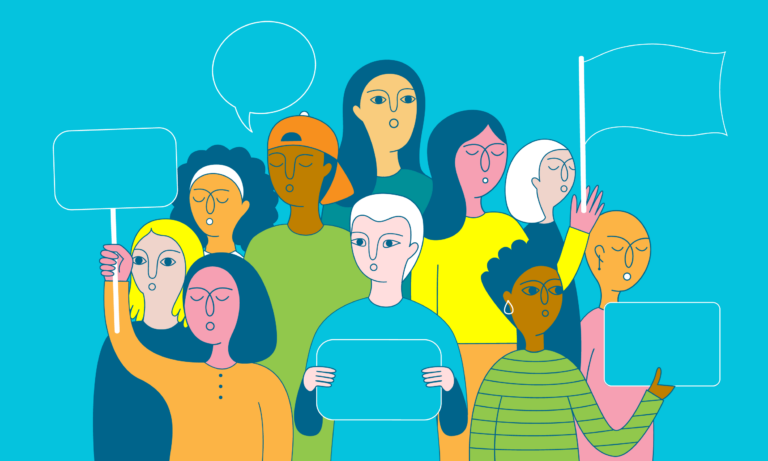 July 28, 2022
Using Design for the Greater Good: 3 Ways Creatives Can Become Agents of Change
At KidGlov, over half our clients are nonprofits. For them, their number one priority is delivering powerful, effective messaging that impacts, educates and moves the community. To do this, they often collaborate with individuals – creatives just like you – to make their message even stronger. When social movements happen that impact their work, you might find yourself called to help an organization or group amplify their message and lend your skills to their cause. We call this designing for good. 
Sometimes knowing how to begin can be overwhelming, because there are oftentimes more questions than answers. What does it mean to design for good, and to be an agent of change? And how can you make an impact? Here are three easy ways to help move you into action. 
1. Be the Supporter
You don't need to start at ground zero to make an impact. Find an organization who has already taken up a cause you believe in, and join them. In an existing organization, the group, infrastructure, team and needs are already identified. This removes a lot of the legwork many organizations have to do when they first form and allows you to focus creative strengths on other tasks.
Creatives like copywriters, artists, or designers are inherently problem solvers. And because of that, you have the ability to offer your perspective as a thought leader. This may look like working with a group's existing messaging and crafting it in new ways, or, with your outside perspective, helping the organization realize new needs and solutions.
2. Be the Seeker 
Find and seek out a problem that you want to solve. Thinking like a creative is key. We call this lateral thinking. It's the ability to develop original answers to difficult questions. It's about considering something in a new way and bringing a fresh perspective to any situation. This is the essence of creativity. If we are curious, open, and empathetic, problems will find us. Designers, for example, have a way of seeing gaps and issues that no one else can. And what we can see, we can solve. 
Creatives have the ability to break things down on a human level. My teammate, Dan, calls this communication a superpower, and I love that. Things like usability design, experience design, visual design, all of these things lend themselves to innovative thinking and real-world solutions. Creating relatability and understanding complex issues is one of your superpowers. By identifying and embracing your gifts, you can find problems where you can participate in the solution. 
3. Be the Catalyst
Creatives are most effective when we work collaboratively. Find other compassionate peers who also want to make a difference – those who really care about similar social causes and issues – and rally together to create an organized group with specific action steps. Focus on finding peers with different strengths than you, such as copy, design, UX, web, marketing, PR, muralists, and even social impact lawyers. It can be paralyzing and overwhelming to go it alone and there is truly strength in numbers. 
Once you've identified like-minded peers, map out some smaller steps that can lead to a larger goal. Small steps are just as important as larger initiatives. These can be things like: mentoring a student from an underprivileged background, sending emails to promote events, printing posters, designing flyers, painting signs, or working a rally. 
Any step is a step towards positive impact and a larger goal. And by working collaboratively, you bring people with you. The work each person in your group does is inspiring and effective, and it is like a magnet for other agents of change. So live and lead by doing.
In Closing
Be strong, be open, be informed, lead by doing, and cheers to being agents of change together. Thanks so much for joining me for this second edition of Creative Coffee. For more new perspectives, explore our other blog posts, and listen to Agency for Change podcast episodes featuring leaders who are creating positive change in the world.
KidGlov is a boutique, full-service, advertising, branding and content marketing agency and certified B Corp, with offices in Omaha and Lincoln, Nebraska, specializing in nonprofit marketing, healthcare marketing, financial services marketing, social impact marketing, and purpose-driven businesses.