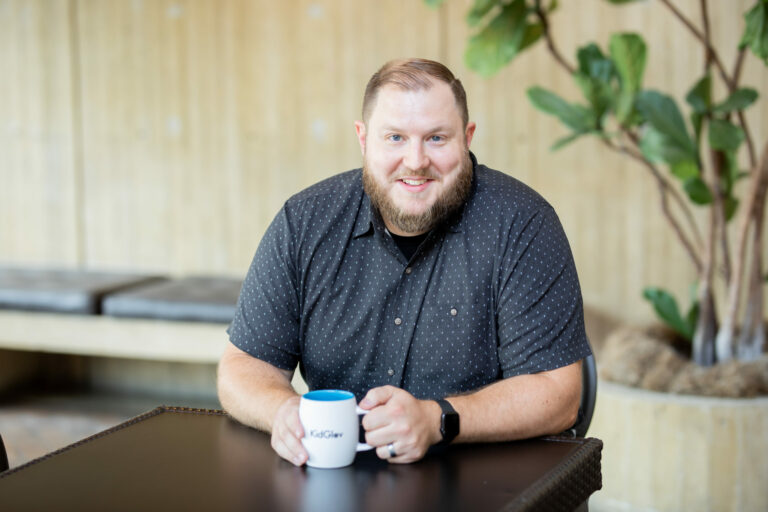 July 15, 2021
Welcome Dan Downs, Our Newest Copywriter
How do you connect the best changemaking organizations to new audiences, clients, prospects, supporters, donors and more? It's our award-winning combination of inspiring messaging and captivating design and it begins with our copywriters. Good words are at the heart of all we do, and we're pleased as punch to welcome a new copywriter to our team, Dan Downs.
"We are thrilled to have Dan join us. He brings a love for words and broad copywriting experience," said Kelley Peterson, KidGlov vice president and nonprofit creative director. "Dan is already quickly becoming a great asset to our growing team."
As a creative professional, Dan has extensive experience in marketing and advertising. He has managed social media presences, crafted thought provoking videos, created SEO-rich product copy for e-commerce and more. He is a graduate of the University of Nebraska-Omaha, where he developed a love for audio and editing through his award-winning radio broadcasts.
Our marketing and advertising copywriting team is central to developing big ideas and executing them for multiple clients across any channel. With award-winning work in print, broadcast, online and within social media channels, we've helped organizations elevate their messages and their missions, specializing in serving nonprofits, community health initiatives, healthcare organizations, financial groups and purpose-driven businesses.
People come first at KidGlov. We've twice been named one of Lincoln's Best Places to Work and in a recent employee survey, 100% of employees indicated they felt highly engaged and highly valued. Collaboration is key for our marketing agency as we've gained a reputation for helping organizations work together to accomplish advertising, branding and marketing goals. The approach begins in-house, where creative teams work hand-in-hand with leadership and clients.
"Our teams work collaboratively with clients at every stage of the creative process," said Lyn Wineman, KidGlov founder and president. "We intentionally serve businesses and organizations with the utmost care and attention—it's all in our name, KidGlov. We believe that when all voices are heard and initiatives are collaborative, we can discover the heart-and-thought-provoking creativity that helps audiences connect."
At KidGlov, we offer a full array of marketing services from strategic planning and traditional advertising to the latest in digital and social media. Our highly experienced team has worked across industries and is quickly becoming a resource for organizations whose missions align with our own. To learn more about buttoning up your brand, give us a call!