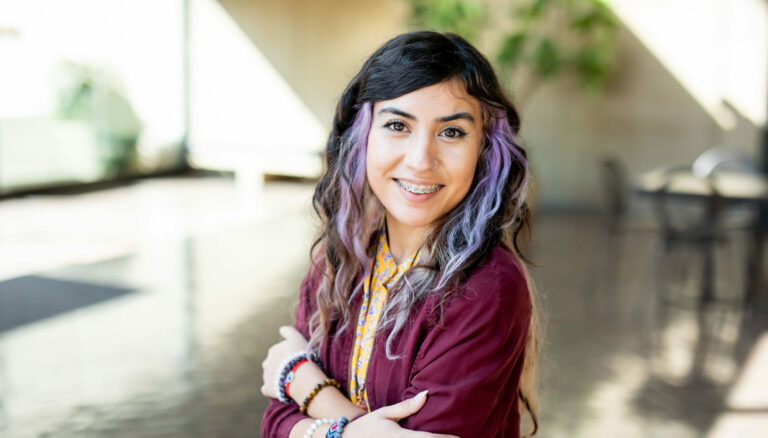 November 30, 2021
Welcome to the Team, Gloria Bautista
Welcome, Gloria! We're so darn excited to announce the newest member of the KidGlov family, Gloria Bautista. As designer, Gloria will serve on the KidGlov creative team and develop engaging designs that elevate brands and turn messages into movements for nonprofit and for-profit organizations.
"Gloria exudes enthusiasm for design and community, making her a perfect fit to KidGlov's mission and culture," said Ashley Stuhr, KidGlov senior art director. "We are overjoyed to have her join the team and can't wait to see all the beautiful work she creates for our brands."
Gloria is a graduate from the University of Nebraska-Omaha and comes to KidGlov from Omaha agency, Iridian. She is a passionate volunteer, lending her design expertise and exceptional illustration skills toward numerous community causes, most recently, the Free-Farm Syndicate. In the spring of 2021, she created an 8-by-8 foot mural for the Omaha Summer Arts Festival, dedicated to celebrating the incredible community of North Omaha. The mural is currently housed at the Union of Contemporary Arts. Gloria is also a recipient of a silver medal at the 2017 AIGA awards.
Outside of work, Gloria communes with nature. She loves to gaze upon the night skies to feed her natural sense of wonder and has been known to pack her own telescope when exploring. She is a passionate advocate for mental health, especially in the Latino community, and works tirelessly to break down the barriers that prevent people from getting help.
Beyond creativity, the KidGlov team helps audiences connect with messages through thoughtful, vision-filled designs. Our award-winning work has, for several years, received top honors at the American Marketing Association awards in Lincoln and Omaha that recognize the best results-based marketing in the region. With heart and thought-provoking originality and a collaboration-first approach to brand advertising and marketing, we have become experts in working with nonprofits, community health initiatives, financial institutions, healthcare groups and purpose-driven businesses.
Earlier this year, we were thrilled to be named one of Lincoln's Best Places to Work for the third time. Our incredible culture and supportive leadership have made a huge impact for the team. In a recent survey, 100% of employees said they felt supported and valued by leadership.
We believe in giving our team the time and space they need to do the work they LOV for clients they LOV with a team they LOV. Are you ready to share your talents and make a difference for changemaking organizations across the country? We're currently looking for passionate people to join the KidGlov team. View open positions and apply today!