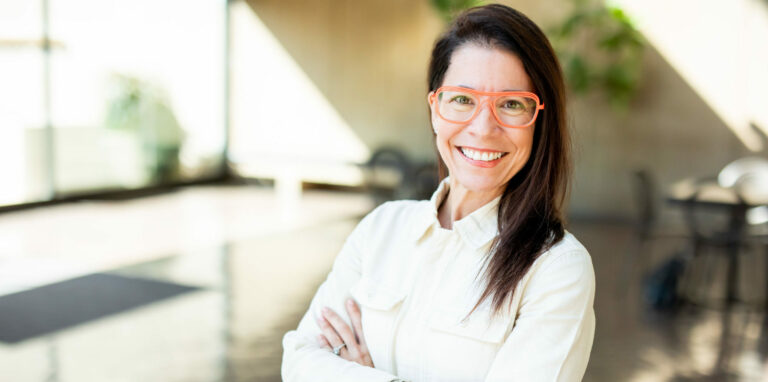 November 3, 2021
Welcome, Jill Rizzo, Vice President – Creative Director
We've ramped up the creativity at KidGlov with the help from one of our newest employees, Jill Rizzo. As our new Vice President – Creative Director, Jill oversees members of our KidGlov creative team as we turn messages into movements for changemaking organizations across the nation.
"Jill is a creative powerhouse in the Omaha market and perfectly balances creativity with strategy," said Katherine Warren, KidGlov chief operating officer. "We are excited to have her talents on our KidGlov team."
With more than 20 years of experience in design and leadership, Jill embraces creativity, passion, drive and inclusivity into every aspect of her work. From small design studios to event production companies, digital agencies to brand marketing agencies and in-house marketing departments for Fortune 500 companies, Jill brings a wealth of experience to our team. Her award-winning work has been featured both locally and nationally in books, magazines and online. Jill joins KidGlov from Scooter's Coffee where she served as creative senior director.
Heart and thought-provoking creativity is our secret to success. We work across mediums and have become experts in helping nonprofits, community health initiatives, financial organizations, healthcare groups and purpose-driven businesses elevate their messages. Supporting organizations who create change in their communities has become a passion project of our branding agency.
Earlier this year, KidGlov was named one of Lincoln's Best Places to Work, the third time we've received the honor. Our incredible culture and supportive leadership is central to life at KidGlov. We prioritize workload balance and strive to give our team the space they need to do the work the LOV, for clients they LOV, with a team they LOV. There is simply no greater driver to love coming to work every day than that.
At KidGlov, we believe you can make a positive impact and change the world one brand at a time. We help nonprofits and for profits alike elevate their brands and turn their messages into movements. We might be one of the best places to work, but KidGlov is more than just a place to work. Learn more about our award-winning culture and view current open positions.