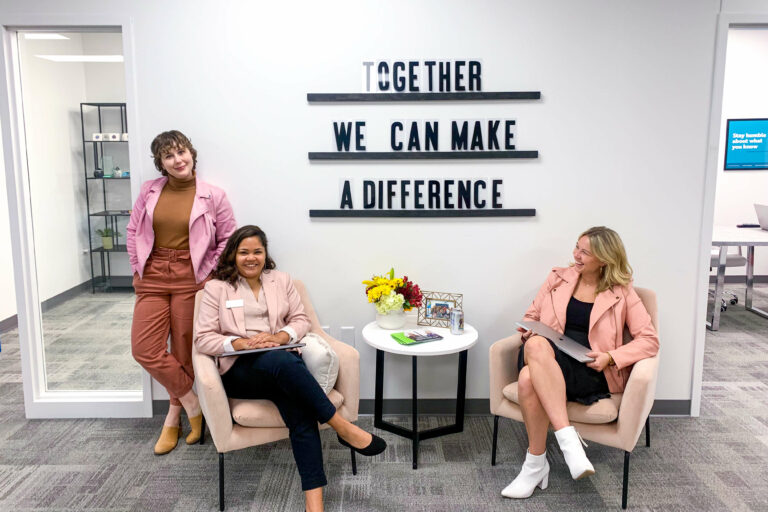 KidGlov Committees
Our goal is to make a positive impact for our clients, our community, and the industry
We formed two internal committees from that goal: diversity, equity, and inclusion (DE&I) and sustainability. These two groups focus on ways to make a meaningful difference in our communities that align with our B Corp Certification.
DE&I Committee
Mission statement:
The KidGlov Diversity, Equity, and Inclusion Committee seeks to expand awareness of issues and barriers in our communities and inspire meaningful solutions to work towards a more diverse, equitable, accessible, and inclusive world for everyone.
What we're working on:
Create a local directory full of diverse/underrepresented businesses and restaurants and share publicly on our website by summer 2022
Partner with organizations so our team can expand their knowledge on DE&I topics such as implicit bias in our creative process and accessibility in web design
Share resources internally with our team on our on social media channels
Diversity, equity, and inclusion aren't company buzzwords. Prioritizing DE&I means making a strategic plan, taking intentional action steps, and having full transparency throughout the entire process. There's a lot of work to do and we're just getting started.
- Jazmyn Brown
Sustainability Committee
Mission statement:
The KidGlov Sustainability Committee seeks active solutions to reduce our environmental impact while creating a world where the planet and our communities can flourish.
What we're working on:
Achieve net zero emissions by 2023
Achieve Zero Waste by 2025
Embed sustainability into the culture, achieving a Sustainability Engagement Score of 70 by 2025
Sustainability is an issue that extends far beyond simply 'going green.' It's a practice firmly rooted in our collective humanity that asks us to imagine a world where all people can thrive.
- Maddy Hager
Ready to reach out?
Our committees are always looking to connect with local organizations for volunteer, training, or certification opportunities.
Contact Us