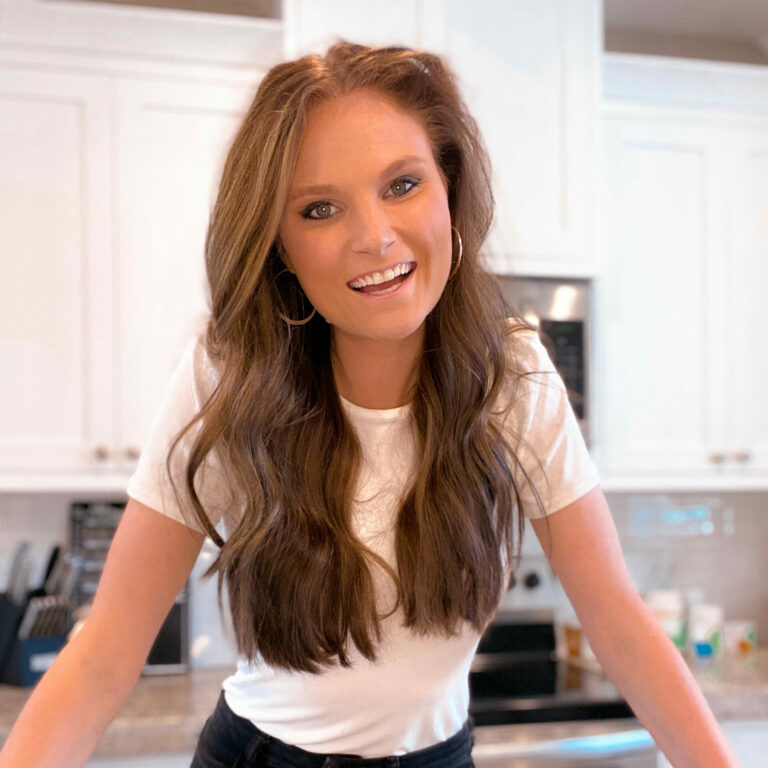 April 29, 2021
Andrea Befus
Announcer:
Welcome to Agency for Change, the podcast that brings you the stories of people creating positive change in the world. We explore what inspires these changemakers, the work they're doing, and how they share their message. Each of us can play a part in change and these are the people who show us how.
Lyn Wineman:
Hello, changemakers. This is Lyn Wineman, president of KidGlov. Welcome to another episode of Agency for Change podcast. Now, a couple of weeks ago, I came across an article from the University of Missouri Medical Center, and it said something to the effect of "Just like the 'freshman 15' is synonymous with the first year of college, the 'quarantine 19' has become a common way to refer to weight gain during the COVID-19 pandemic." Can anyone out there relate? The article quoted a poll of more than a thousand WebMD readers. Nearly half of the women and almost one-quarter of the men said they gained weight during this time. Today's guest, Andrea Befus, helps women have unwavering health and confidence by coaching them to master their thoughts, understand their heart, and optimize their health. That sounds pretty cool. Andrea, I'm assuming you were able to avoid the quarantine 19 weight gain that many of us experienced?
Andrea Befus:
I did, actually. Yes.
Lyn Wineman:
Fantastic. Well, you're going to have to tell us more about that and I appreciate you being here today. You have a really interesting story. I found you online in a forum that we're both in, a story that I could kind of relate to. Could you start by sharing how you got into this line of work?
Andrea Befus:
Yeah, so it is really an interesting story. If you had told me a few years ago that I would be an official health and confidence coach, I would have laughed in your face, for real. For so long, I had felt this calling of "You need to help women build their health and confidence," and it's so funny because I grew up in a really healthy home, and by default, I had built these healthy habits, but out of all four of us, I was probably the one that was actually the least excited about it, I just tagged along. But I was surrounded by people and activities that were just good physically, mentally, emotionally, just really great.
Andrea Befus:
But when I left my home, lived on my own, got married, that's when things started to go downhill for me, because we had a stress bomb thrown into our marriage, and all of a sudden, I wasn't focusing on myself anymore and I went into a survival mode almost of, "How do I deal with this thing? How do I focus on my job? How do I have a great marriage? How do I just be the person that I want to be?" My confidence was very quickly on the decline and it was this process. There's a lot of details that we can go into if you want, but big-picture wise, I went on this really amazing, beautiful, and intense journey with my physical, mental, and emotional health that I could not find anywhere else and I felt like I was sitting on a gold mine through my own journey and research and what I had learned through the generations in my family and I wanted to share that with women. I felt called to.
Lyn Wineman:
That's amazing, Andrea. I've got to feel like that experience makes you a better coach, right, because you can relate to where people are coming from. What does your coaching business look like? I'm just curious. Women find you. How do you work together?
Andrea Befus:
That's a great question. I have a lot of free content. I have a Facebook group, I do a lot on my social media channels, I have my favorite recipes, and I have a lot of free things. While those are great, I don't believe that those can truly fix you, and so my coaching business is group coaching. I believe a group of women working together to work on their health and confidence, you literally can't beat that when all of us are coming together.
Lyn Wineman:
I love that.
Andrea Befus:
I do have a group coaching model and one-on-one coaching.
Lyn Wineman:
That is fantastic. You use this phrase that I love. I think I want this, everybody wants this. I can't imagine anybody not, but "unwavering health and confidence," what does that mean to you, and is it even possible to achieve that?
Andrea Befus:
When I think of "unwavering confidence and health," it's not that we don't have bad days, it's not that we're these perfect people that people look at us and think, "Oh, my gosh, she's it. That's what I want to be." That's not what I mean. What I mean by "unwavering" is this idea that we know what to do when life gets hard, so we are confident in ourselves and we're not putting that on anyone else. The last thing we want to do is to put our physical health, mental health, and our confidence on external factors. Those change. We are unwavering. When you are solid in who you are, that's where we want to put our confidence.
Lyn Wineman:
What a cool idea because I imagine it's something you've got to continually work at it. I imagine you are a really great coach and your groups are amazing, but you don't just achieve it and go, "Okay, I'm done. I got it," right?
Andrea Befus:
That'd be nice.
Lyn Wineman:
It's not that. You're good, but you're not that good.
Andrea Befus:
Right, and no one's that good.
Lyn Wineman:
No one's that good. I love that, I love that, I love that. I hear you have a five-step process to achieve this. Can you share what that looks like, or is that part of the group?
Andrea Befus:
Yeah. No, I am an open book. My husband, he jokes with me. He says, "Andrea, I know what you're thinking a hundred percent of the time," just because of my facial expressions and I'm really expressive. It's unfortunate, though, because he's a closed book. I never know what he's thinking.
Lyn Wineman:
That's why you're attracted, right?
Andrea Befus:
Yep.
Lyn Wineman:
People won't be able to see you, but I can say that's true. I see joy radiating from you as you talk about this, so that's a lot of fun. All right, the five-step process.
Andrea Befus:
Five steps, okay. I'll say the five and if you want to dive deeper into any of them, let me know.
Lyn Wineman:
Sounds great.
Andrea Befus:
The first one is realizing how you got to where you are today, meaning what has happened in your past, what beliefs do you have that you're carrying with you and are now shaping how you look at the world. Number two is identifying your future. Who is that person that you want to be? We really have to solidify that. Number three, optimizing your health. This is where the physical health tactics come in. Nutrition. No dieting. We are not about dieting in my world. We don't diet.
Lyn Wineman:
That's lovely.
Andrea Befus:
Yes, and that's where I teach my 12 sustainable nutrition principles, in that step. Number four is overcoming your personal hurdles and number five is creating momentum for the rest of your life. Not just goal setting, but how can you have this unwavering confidence for the rest of your life so you can be the woman you want to be in your job, your family, your neighborhood?
Lyn Wineman:
That's a really interesting process because I've got to believe a lot of people go into this with, "I've got the quarantine 19. I got to lose 19 pounds as fast as possible. I'm going straight for step three, the get-healthy step," right?
Andrea Befus:
Exactly, and it never sticks.
Lyn Wineman:
Yeah, you've got to do that work upfront and then the work on the backend as well.
Andrea Befus:
Yeah.
Lyn Wineman:
If you don't mind me connecting back to where we started, because you volunteered to go a little bit deeper, but when I was reading your story online, you talked about a time in your life where you maybe were going through that weight loss phase and it wasn't really positive for you. Do you mind sharing a bit more about that?
Andrea Befus:
Yeah. It's kind of a funny story, looking back on it. It was scary in the moment.
Lyn Wineman:
Yeah, at the time.
Andrea Befus:
But now, it's kind of funny. What happened was I had tried so many diets, I had tried cutting out sugars, I had tried the whole keto thing, and I had gained these 30 pounds and I was the heaviest I've ever been. I had put my worth in the number on the scale and I was really frustrated with where I was at. Really low self-confidence. I thought "If I lost weight, then I will be happy." That was my thought process. Now we know that's not the case, we have to work through that, but that's where I was in that moment, and that's where so many women are right now.
Andrea Befus:
I had finally gotten to this point where maybe a low-carb diet would work because at my job, I work with an amazing group of IT guys, and every January they have a low-carb contest, and bless their hearts, I love them. They invited me to come with them and participate in this online weight-loss/low-carb challenge, and I thought, "Okay, sure." I had distanced myself from the whole, my weight is equal to my worth. I distanced myself from that a little bit. But inside, I still had that little feeling where I thought, "You know what? If I lost weight, then I'd be happy," it was still there. As I started, the rules were 30 grams of carbs a day, which in the beginning, I didn't know what that meant, but that literally means the equivalent of a slice of bread a day, so that's no pastas, no breads, a lot of… Well, obviously no pizza, no desserts. I learned everything has carbs. All my favorite food has carbs.
Lyn Wineman:
Meat. Yeah.
Andrea Befus:
What happened…
Lyn Wineman:
You can eat meat.
Andrea Befus:
Yes.
Lyn Wineman:
And water.
Andrea Befus:
Exactly. I was two weeks in and this pivotal moment in my journey happened, and it was such a beautiful experience looking back on it, but I remember I woke up on a Sunday and on this Sunday, I just did not feel like myself. I was hangry. I was hungry and angry and I felt weak and I didn't feel happy and I was stressed and I didn't want to talk to anyone, which you can tell, that's not my personality.
Lyn Wineman:
It seems like you're pretty happy talking to people and laughing and interacting, yes.
Andrea Befus:
Yeah, and so I woke up this Sunday and I knew I wasn't feeling like myself, but I just kept going and kept ignoring it. My amazing husband, he noticed something was off. As we've said, I'm an open book, and so he came to me and he said, "Andrea, how are you doing?" I said, "I'm fine. I'm good," all of that.  And he said, "No. What's going on? How is your health competition going at work?" I think he knew. I said, "Well, I'm winning because I've lost almost 15 pounds in two weeks," and he goes, "Wait, you what?" His eyes got so big, and in that moment, I knew this wasn't right, because physically, my body was not doing well. Mentally, I couldn't think straight and emotionally, I was not myself.
Andrea Befus:
I realized, "This is not sustainable. Maybe I could lose this in two weeks, but I'm going to start eating mac-and-cheese and brownies again, this is not sustainable." And so that was the moment where I realized, "Okay, I need to figure this out. There's got to be a way where I can have confidence and health, be able to live my life how I want to, but also be healthy at the same time," and the beginning of that process was that Sunday morning.
Lyn Wineman:
What a great story. I mean, I'm sure for your husband, it had to be slightly stressful because ask any woman how they're doing and about their weight loss, I don't care how much in love you are, that is a stressful conversation, right, especially…
Andrea Befus:
In the moment, especially.
Lyn Wineman:
Oh, yeah, especially if you were hangry, right? You could have bitten his head off for sure. I know you focus your coaching primarily on women. I mean, do you feel like women struggle more with these issues than men?
Andrea Befus:
I actually don't think so. I think that body image is a problem for everyone. I think women are more vocal about it and I think the world tells women that they need to think about it more than they actually need to. I think it's directed more towards women because they make money off of us. Let's be real. There's a reason the health industry is a multi-billion dollar industry. That diet industry does not work, that's why it's worth so much, and they keep targeting women that are already feeling self-conscious and comparing their selves to others. But I think it's all around the board, we just talk about it with women more.
Lyn Wineman:
It's an equal-opportunity issue, but we just don't talk about it as much. I think that's really an interesting, interesting vantage point. I expected you to answer differently. I expected you to say, "Oh, yes, women are all stressed out." But I think that's a really interesting perspective. Andrea, what advice do you have for someone who is struggling right now with confidence and health issues?
Andrea Befus:
The main piece of advice I would give is this phrase that comes to mind, as you said, that you're exactly where you're supposed to be right now. So many times, we think, "I should be somewhere else. I should be farther along on the path than I am. I should look like this. I should act like this. I should be this," and that's just not the truth. Those are lies that your brain and the world are feeding you, that when we think those, we clam up, we freeze, and we feel paralyzed to move forward because we think no matter what we do, it's never going to be enough.  So, the main advice I would give is to understand that you're amazing and you're exactly where you're supposed to be, and this is just the beginning for you to move forward.
Lyn Wineman:
Wow. What a great sentiment. Andrea, you having worked with people and being in this coaching role, you've got to have seen some success stories and I imagine anybody who's listening can, in their mind think about it, but I'd love to hear in your words, what kinds of things do you see from people when they have achieved success in their health and their confidence?
Andrea Befus:
Some of my favorite things are when these women come back to me and say, "Andrea, this happened because you taught me this," and that's why I do this. That's my favorite part. Some of the favorite ones that women come to me with are when they start noticing how their thoughts are affecting everything in their life. In times where they would have normally reacted, not badly, but just unproductively to their situation, in times where they would normally act in a way that they were ashamed of, they were able in that moment to flip the narrative, act differently, and see a different result, and not only that, but be able to feel the most self-confidence that they ever had in their life.
Andrea Befus:
I had one woman who had done cognitive therapy and had gone to nutritionists and dieticians and she said, "They had great stuff. That's awesome, but that's not what I needed. Andrea, I needed what you taught because this is what I was able to do from that, not only to start creating physically healthy habits, but to be able to have control over my emotions and my relationships and how I showed up and becoming that person I want to be."
Lyn Wineman:
That's amazing. Andrea, do you have any pointers on controlling your emotions and showing up differently?
Andrea Befus:
Yes. The first step that I always tell people is awareness. We can't start changing our habits, we can't start doing actions because we're just going to spin around in circles. That's what happens when people diet and they try to count calories and cut out foods. They're spinning around in circles because they haven't started in the right spot. You have to bring awareness of, "What am I thinking right now? How am I feeling? Why am I thinking like this?" It's really introspective and it's difficult, but it's so beautiful at the same time. Once we have awareness of what's happening in our lives, that is when you can truly move forward.
Lyn Wineman:
Yeah, you can't fix something that you don't realize is happening.
Andrea Befus:
Exactly.
Lyn Wineman:
Or you can't address something that you don't realize is happening.
Andrea Befus:
Yeah.
Lyn Wineman:
Andrea, what is the future looking like for you? Are you looking to your area of influence? What's on the horizon?
Andrea Befus:
Of course. I always want to help people. Honestly, I have been in really hard or dark places in my life, and I know how to help people come through that. Yes, I have bad days, but I know how to process those and move forward and continually grow, so of course, I would love to expand and help as many women as I can get through similar experiences.
Lyn Wineman:
That's wonderful. I'm always inspired by motivational quotes and I've got to believe that you have some. Could you, Andrea, just give us a few of your own words of wisdom to inspire us?
Andrea Befus:
I truly believe that if you know who you are, everything will fall into place. It is all about your identity and who you believe you are to your core.
Lyn Wineman:
I love that. That is really great. Knowing who you are and appreciating your individuality, right?
Andrea Befus:
Yeah.
Lyn Wineman:
That's amazing. For people who would like to learn more about you, Andrea, how can they connect with you or find you online?
Andrea Befus:
I would love for you to join my completely free Facebook group. We have a lot of fun in there. It's super fun. The link for that is facebook.com/groups/confidenthealthywomen.
Lyn Wineman:
Nice. Confident and healthy, who doesn't want to be in that club, right?
Andrea Befus:
Right.
Lyn Wineman:
The confident healthy women club, that's fantastic. As we wrap up our time together today, what is the most important thing you would like our listeners to remember about the work that you're doing?
Andrea Befus:
I think just knowing and recognizing the amazingness that you are. We are so quick to pick at the things that we don't like about ourselves, and yes, there is a time and place for us to work on making those weaknesses our strengths, but right now, appreciate where you are and how far you've come. You have gone through so many hard things and it's created you to be the person who you are today and I think that's what's amazing about you.
Lyn Wineman:
Oh, that's so good. Andrea, you just seem like a bright ray of sunshine.
Andrea Befus:
Well, thank you.
Lyn Wineman:
I know so many people struggle with their health, their confidence, and it does put them in a dark place, and I really appreciate what you do and the fact that you shared some of your wisdom and your energy with our listeners today. Thank you for being here.
Andrea Befus:
Thank you for having me. It truly is an honor. Thank you.
Announcer:
You've been listening to Agency for Change. If you're enjoying these inspiring stories, please subscribe. Is there a changemaker you'd like to recommend for this podcast? Just visit the KidGlov website at K-I-D-G-L-O-V dot com to share or to listen to more stories about the people behind positive change.