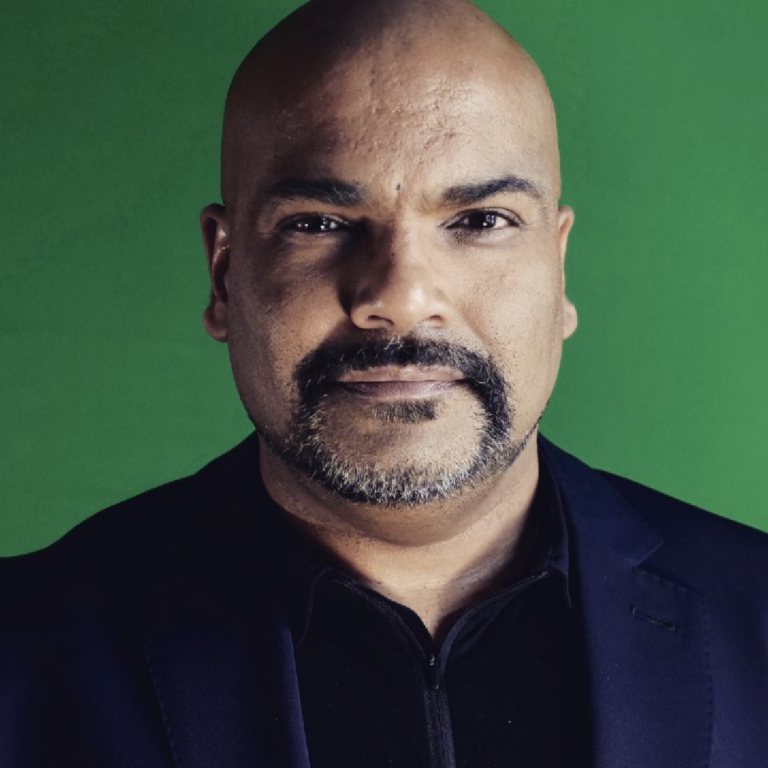 May 24, 2023
Hanson Hosein
Hanson Hosein:  
Don't be boring.  
Announcer: 
Welcome to Agency for Change, a podcast from KidGlov that brings you the stories of changemakers who are actively working to improve our communities. In every episode, we'll meet with people who are making a lasting impact in the places we call home. 
Lyn Wineman: 
Hey everyone, this is Lyn Wineman, president and chief strategist at KidGlov. Welcome to another episode of the Agency for Change podcast. At KidGlov, storytelling is a significant component to our work. Stories not only help us better understand causes and organizations, they have the potential to connect minds, to inspire movements, and catalyze real change in the world. And there's no doubt about it, storytelling is an art form. And there are very few people who know this better than today's guest, Hanson Hosein. 
As an early practitioner of multimedia storytelling, Hanson is a former NBC Middle East correspondent, a documentary director, co-founder of the Communication Leadership graduate program at the University of Washington, a celebrated speaker, a TEDx presenter, and he has interviewed some of today's most influential leaders, including Jeff Bezos. Today he is the president of HRH Media Group, a Seattle-based communication strategy and content production agency. 
Hanson. I'm eager to speak with you today. Welcome to the podcast. 
Hanson Hosein: 
It's great to be here, Lyn. Thanks for inviting me. 
Lyn Wineman: 
I'm so excited to talk to you today. You and I have met and worked on a project together previously, so I know that this is going to be a really fun conversation. 
Hanson Hosein: 
It's one of the reasons why I insisted as we were scheduling that we do it after we got together because I knew that the chemistry would be even stronger because we had worked in each other's presence. 
Lyn Wineman: 
Absolutely. You are very wise. As a matter of fact, we worked in a very intense situation, an intensely positive situation, which I think even furthers that bond. But I'm just going to make an interesting transition here. Speaking about intensely positive, you have previously had a career in journalism on NBC's Nightly News. And I'm just curious, what was that like and have you always been passionate about storytelling? 
Hanson Hosein: 
I've always been passionate about seeing things for myself and making sense of it, especially if it's on the edge of what people normally experience. And I really only understood this idea of storytelling, that that's what I was doing very late in my professional life. So, NBC News, that was my first job out of school, NBC Nightly News, which is crazy. You started at the top of the mountain and then I slowly made my way down. 
Lyn Wineman: 
I am not surprised because I could see your talent right away. So, I'm not surprised you started at the top. 
Hanson Hosein: 
But here's the funny thing about that. As much as I like the concept of storytelling, I found I love the power and the reach of an organization like NBC News. I did not like the way they told stories. I felt like, as you may know, traditional evening newscast, or voice of God, and it's surprising it hasn't really changed that much. And I also worked at MSNBC and helped launch that entity both online and on broadcast. And there's a certain way of telling stories that is very templated and constraining, and I did not enjoy that about five years into my professional life there. 
Lyn Wineman: 
So, you decided to bust out? 
Hanson Hosein: 
Absolutely, about seven years into it. I spent three years in New York at NBC Nightly News when Tom Brokaw was still the anchor there. And then I insisted on an overseas position. And I thought they would send me to London, which is where I was born, as you can tell from my very British accent. And I have a British passport. But they said, "You're a little audacious, let's try you on Israel, given your last name, Hosein." 
And so, I ended up in Israel for four years. I was based out of Tel Aviv and used that as a launching pad for stories in that region and well beyond. So very much focused on conflict in war and devastation and destruction for four years. And that's where I learned that there were different ways to tell stories, and I really wanted that independence and starting to leverage new digital technologies to do so. And that's really pushed me in that direction. And NBC wasn't quite ready at the time to do that, so I left. 
Lyn Wineman: 
Yeah, yeah. Well, good for you. I want to spin that back just a sec though. What is that like when you get that call or that email that says you're going to Tel Aviv? 
Hanson Hosein: 
It was great. They asked me up for lunch. Actually, I threatened to quit, and they sent me overseas because I was in my twenties and testosterone and everything going. And so, at that time it was really very much excitement. I didn't have kids, wasn't married, and I really wanted to, as I like to say, live a life of James Bond of sort, of girls, gadgets and international industry. None of that applies now except for the gadgets. 
Lyn Wineman: 
Oh, all right. All right. Right. All right. You're married, you have a family? 
Hanson Hosein: 
Yeah. Exactly. Exactly. 
Lyn Wineman: 
Yes, yes. That changes things. All right, so let's talk about it. You were in a war? 
Hanson Hosein: 
Several. 
Lyn Wineman: 
First of all, that's hard to imagine. Several wars, that's hard to imagine. How do you frame up a story when you're in the midst of war, and how do you make it, or did you try to make it sound hopeful? 
Hanson Hosein: 
It's ancient history now, obviously, although I feel like very much here, living in the United States, we're often on that cutting edge with regards to conflict. 
Lyn Wineman: 
That's not the kind of cutting edge you always want to be on either. 
Hanson Hosein: 
No, absolutely not. But even today, my kid's school is on lockdown. I'm not an adrenaline junkie, so I was never attracted to the idea of covering war. I was always attracted to the idea of how we, as a species, react in such extremities. And I like the way that you framed that question, is because despite the incredible negativity of the violence and death of those situations, I was uniformly attracted to those stories of hope. 
Because you expect people to react very badly when their lives are very much on the line. And so that's an easy story to cover. You're just covering the day-to-day, but can you dig a little deeper to find how people are really making a difference to try to help each other when that is contrary to what their instinct should be? So that's the kind of story I pursued ad infinitum, because I had the opportunity to do that. Obviously, we had to supply breaking news stories to the evening newscast and to cable news, but I would always keep in my back pocket those stories of hope, and that was really important to me. 
Lyn Wineman: 
That's great. Hanson, did you ever put yourself in danger getting one of those stores? 
Hanson Hosein: 
I would never intentionally put myself in danger, but of course you find yourself in danger on a regular basis. I was in Iraq, I have been to Syria, I've obviously been to the Palestinian Territories, I've been to Lebanon. And on occasion there's gunfire, or in the case of Northern Israel there was rocket fire where I was a little bit too close to that. But I'm still here. I have a lot of gray in my beard, but I'm still here. 
Lyn Wineman: 
Because oftentimes in the day-to-day work of business and marketing, sometimes we have stressful situations and we say, "Ah, no one's going to die." But you are in those dangerous situations. 
Hanson Hosein: 
I think it's what underlines my philosophy to life generally. I'm a bit of an existentialist in that I kind of say life as somewhat as a cosmic joke and a freak of uncertainties and probabilities. And so, the fact that we're still here, it's hard to take things too seriously. At the same time, I do manage risk differently than most people. And one of the reasons why I like to ride my bike everywhere is because that is being super aware, super humble, but also still managing incredible risk, but it's not quite war zone risk. 
Lyn Wineman: 
Yeah. You know what, I am going to ask you to tell a story because you and I were in a situation where you explained that you like to ride your bike because it gives you a different connection to people. Do you mind talking about that for a sec? And then I want to ask you about an upcoming project that you're working on after that. 
Hanson Hosein: 
Yeah, absolutely. The instance was very much that I had… I carry it everywhere I go, especially if I'm in my car, I have a folding orange bike. It's made by a British company. And I've taken that bike on airplanes and ridden out of airports like LAX right into the city. And I love it. 
Lyn Wineman: 
That sounds so dangerous in itself. 
Hanson Hosein: 
Well, it's dangerous if you're not paying attention, but it's incredibly liberating if you are. Because first of all, it does put you in that state of incredible humility, which is the exact opposite to driving in America, which is all about power, and frankly, to a certain degree, fear, which is what leads to road rage. And I'm subject to that myself. 
When you're riding a bike, you're just grateful that somebody acknowledges you. You expect you're going to get hit. And so that's very different. And at the same time, you're moving at a speed, and you're so exposed that you're seeing and interacting with your environment in a much different way than you are when you're insulated in a car. And so, from a community point of view, which matters very deeply to me, to be able to go into neighborhoods and say to the world, and maybe what most people in a car would think are hostile neighborhoods, "You know what? I trust this situation and you so much that I'm willing to connect to you in a different way." 
Lyn Wineman: 
And people feel that. 
Hanson Hosein: 
They do. It's similar to when I used to go into war zones. And I would sometimes have driving an armored car like a Jeep that had really thick glass and bulletproof siding. But you'd go into a town where there's probably potential for a lot of violence, and I would intentionally put the windows down and put my elbow out the door because I want people to know that I'm relaxed about this situation. I'm not coming in as this heavily defended interloper, but I actually want to interact with you. And in many societies, that puts the obligation on them to be good hosts and not put you in danger. 
Lyn Wineman: 
Yes, smart. I just love the whole concept. Once again, working in a creative space, I love the whole concept of changing things up and figuring out how that changes your perspective and how people react to you. 
So, you mentioned to me that you are working on an interesting new project involving immersive storytelling related to the historic events in Selma, Alabama. I'm fascinated by this. Can you tell me more about the project? 
Hanson Hosein: 
Yeah. What I've noticed especially is that maybe our generation and older generations really understand that… You say Selma, Alabama, and that is shorthand for what happened in March 1965 when Martin Luther King was there and John Lewis, and they marched across this bridge to fight for voting rights for African American people in the South. But a lot of young people don't really get that. I think they're more connected to more recent stories. 
And so, I have this unique connection to the veterans of that march through a few initiatives in Selma, Alabama. I've been there seven times in the last year. As some friends here in Seattle have bought the newspaper building right next to that very famous Edmund Pettus Bridge, which was part of that march. And so, part of the legitimacy of investing in a community like Selma, which is now predominantly African American, really poor, a lot of white flight and everything else is you have to come in like when you're biking humbly. You need to come in and sort of saying not, "Here's how we're going to help you." It's like, "What do you need? And what can we do to support that?" 
And what we've noticed is that they really want to recapture, and retell, and revitalize that story. And so, here's the opportunity. Can we incorporate new forms of tech technology and storytelling to bring people to Selma and to bring Selma to the world? It's a place that's hard to reach. It's a story that's a bit inaccessible in self editorially, and that's what I'm focusing on. 
Lyn Wineman: 
Yeah, that sounds beautiful. I love that because I think it's easy to think about historical stories and to dismiss them as, "Well that was a long time ago." But I bet as you're really digging in, there are a lot of lessons to be learned that are really relevant to today. 
Hanson Hosein: 
There is one big lesson about it. It ties back to the technology of stories to begin with. The story that we remember from Selma very much aligns with what our traditional, we call the big man theory of history, is like Martin Luther King did this. And so, it relates to this big man theory of history of, "Martin Luther King did this, went to Lindon Johnson at the White House, and they did this together." 
But what is not told is that the reality of that story is that foot soldiers, everyday people in that area for years, were organizing to create this resistance. And they invited Martin Luther King in to amplify it. And so, if you just turn that story on its head a bit and explained it from the foot soldier's point of view, you really align it with how we tell stories today using social media, of community-driven influencers, and how change is made that doesn't necessarily come from top down anymore. It comes from bottom up. And so all of a sudden if you change your lens on that historical story, you can make it relevant because of the way we use technology and storytelling today. 
Lyn Wineman: 
Beautiful. I love that. Since you opened the door to technology, it seems like we're all a buzz about artificial intelligence. As a matter of fact, I've even had a couple people ask me, "Will we still need writers anymore?" And it's like, oh my goodness. Of course, we'll still need writers. But I'm curious, I know you are an early adopter in embracing technology and storytelling. You mentioned it right off the top of the show. In what ways has technology changed storytelling and in what ways has it stayed the same? 
Hanson Hosein: 
Just putting aside AI for now, over the last 20 years, technology has fundamentally changed the mathematics and sort of the metrics of storytelling and the barriers. Because fundamentally what it is done is that storytelling before was about bedtime stories, or big media stories, or Hollywood stories. Otherwise, our stories were just oral and we told them to ourselves and we use letters and whatever else. 
And suddenly what happened with technology, specifically the internet and then mobile media, is that we were able to open the door to the world and vice versa. And you could do it at any level, being a grandparent or an eight-year-old kid. And that just changes the metrics of how we think about reach, and influence and emotion. And it also fragments it as well. And so that's fundamentally how storytelling has changed is that there are a ton load more stories, and there are very different types of storytellers that are experiencing and reaching beyond what Hollywood or big institutions used to have. 
Now the AI shift is even more impactful because suddenly we may be able to say, "No, it's good enough to hear it from an algorithm." That machine learning can generate enough things on video and for text that for the most part will take care of the basic parts of storytelling. And then it's going to be up to phenomenal storytellers to be able to go beyond that. And that's a little bit scary. So, it will put a lot of creative people out of business if you're mediocre. But also, I think for us as consumers, we've already been really good at suspending disbelief about stuff that isn't really good or isn't true. And so, we might be just fine with good enough, which is kind of dispiriting to me. 
Lyn Wineman: 
I know. When you said that, I'm like, oh, that just hurts my heart a little bit. But you're right, I think it pushes those of us that are in the storytelling business to work harder, to be more special, to not just phone it in. I do think too, there are times when we're consciously writing for an algorithm and there's times when we're writing for humans. And so, for me, I prefer to write for humans whenever I get the chance. 
Hanson Hosein: 
I'm watching a Marvel movie, or I'm just watching mainstream television or something on Netflix, and I recognize that even if they're not using AI, they have such specific templates, about timing, and pacing, and humor. The algorithm is already there, whether it's a human or machine. And I will tell you very specifically that I have been testing out ChatGPT, the most recent one, and I paid $20 a month just to see what that gets me. 
Lyn Wineman: 
Yeah, me too, me too. 
Hanson Hosein: 
And what ultimately people want me for is to be to interview others, to make sense of something. So, I'm a good interviewer. And what I decided to do was sort of figure out, well, maybe that's where I can leverage ChatGPT, which is to interview ChatGPT, because that is the magic of it, it's the engineering of the prompt. The prompt has got to be good to make sure that the answer is good. In turn, and what I've noticed is that there is still some messiness. 
Lyn Wineman: 
There are some holes. 
Hanson Hosein: 
Yeah. And I'm even asking it about some of the work I've done that I know is in there and it's not accurate. And so, it's really up to us to maintain that vigilance over the content that's coming back through that particular platform. 
Lyn Wineman: 
Yeah. Yeah. I actually was just talking to a dean of a journalism college. And she was telling me that she is encouraging her students to use AI, but also encouraging them to not just leave it at that, use AI as a tool to leverage. But she said, "I can tell when students use AI to answer their tests or do their assignments, and they're also getting mediocre grades." So, there's hope, right? 
Hanson Hosein: 
There is hope. I mean, it'll get smarter and better very quickly, but I think everybody's going to recognize that it's just a good start. And where the learning and the friction is from a human point of view is then knowing first what to ask, and then on the receiving end, knowing how to analyze it to make good sense of it and good utility. Because right now that stuff that comes at you is kind of like a first draft. 
Lyn Wineman: 
It's a first draft, very much so, very much so. 
Speaking of journalism students, I'm really curious about your work at the University of Washington in the communication leadership graduate program. Can you tell us a bit more about that? 
Hanson Hosein: 
Yeah. As I left my career in journalism, and I began to become this independent storyteller, and did my first documentary film, which was very much about crowdsourcing ideas, traveling across United States and actually ending up in your neck of the woods at some point in Nebraska. I recognize that that storytelling was being unleashed, in that we were able to make it more accessible to practitioners. 
And so, I brought that mindset to Seattle where my wife was from, and I said to the University of Washington, "Hey, would you like a guest lecturer to see my new movie and hear about what I'm talking about?" And they said, "No, we're looking for somebody to run this small graduate program that's going nowhere." So, I took over this graduate program and redesigned it with some colleagues, is what we call the Communication Leadership graduate program with storytelling at its heart, with this idea that effective communicators at their best need to build community through trust and persuasion and be able to make change that way. And can we start with storytelling, is that focus? Like even with your podcast here in terms of how successful it has been, it's a really powerful tool for you, your brand, your organization. So, what can we do with content to make that happen? 
So that's the graduate program I built. It's for practitioners. So even though it's a master's program, it's not about research or any high-level academia. It's about where's the world is going from a communications point of view and from a leadership point of view, and how can we leverage that, and lead with an organization that are just starting to get it. So, I was very much an early adopter going to a lot of companies, and CEOs, and news organizations trying to help them understand what was going on with this revolution. 
Lyn Wineman: 
Hanson, as somebody who was in journalism school 30 years ago, I'm jealous of that, having the opportunity to be part of a program that's really focused on where things are and where things are going, I think is such a great opportunity. 
Hanson Hosein: 
Well, as I said when I was head… I'm no longer head of this program. I've moved away from it. But when prospective students would come to me, I actually tried to dissuade them from making- 
Lyn Wineman: 
That's an interesting marketing technique. 
Hanson Hosein: 
Well, it's not like we're trying to make fair of missing out. It was more that graduate school is expensive and time consuming. And so, you have to have a really good reason to align it with your goals to justify it. It's not just by getting a piece of paper. And so, for me, that had to happen, otherwise, a lot of the things I just mentioned you can do on your own. You could, as long as you're in the right professional situation or you have that flexibility. And so, I think it's flexible either way. 
Lyn Wineman: 
That sounds good. So, I have to admit, Hanson, it's a bit intimidating for me, a humble podcaster, to interview you, someone of journalism fame. And also, you've interviewed some of the most influential leaders in business today. And you've had the opportunity to lead TEDx events, which I am kind of a TEDx junkie to be honest. What draws you to these live events and interviews? And I'm also curious, what are some of the most impactful things that you've learned? 
Hanson Hosein: 
Let me just take away that intimidation thing to begin with. One of the reasons why I think you and I connect so well is I really appreciate how you've built this brand and this business. And even using this method of using a B Corp I think is innovative. And so, you're leading in your own way. It's just that I've had a lot of experience in this journalism side, which is one other thing. 
Lyn Wineman: 
Yeah. I'm wondering right now if you're analyzing my question asking and my question writing, which you probably are, so? 
Hanson Hosein: 
Not at all. So don't you worry about that. What I'm doing is listening to myself and making sure I'm not misleading you. 
Lyn Wineman: 
No, not at all. 
Hanson Hosein: 
I love the live interview, and it's not because I'm such a diva of being in front of an audience. But there's an element of deep connection, and improvisation, and just feeling the moment of going toe to toe with a leader on stage or on camera where there's no safety net. And you really have to be prepared, but you also need to be open to the serendipity of the conversation. And you're a representative for the audience that you may already not see in front of you. 
So, I really like that because you have to demonstrate both a deep intellectual curiosity in the subject, but also just a passion for the energy you're creating to make sense of the information coming at your way, inserting yourself enough into the conversation, but it's not about you, but ultimately is it about you because you're filtering it out for everybody else. So that's what I love, and it's really interesting that these crazy… I've interviewed prime ministers and CEOs. And I like it. And I'm not quite sure why I get invited to do these things other than that maybe I have enough credibility, but I don't threaten them enough to sort of put them in risky situations, but just enough to be able to help them put something out there that they want to have put out there. 
Lyn Wineman: 
Yeah, you have this nature about you that I have to say, even though I still am a little intimidated, talking to you puts me at ease. I think it's just because you are very talented at connecting with people. So, I appreciate that, Hanson. 
Hanson Hosein: 
Well, I recognize the very unnatural situation it is to connect this on a camera, whatever else. And it always has been my goal, and this is from my early days in journalism, to make the person forget that the camera is there. 
Lyn Wineman: 
Yeah. Did you learn that? Is that a skill that was learned or was it something that's just part of who you are? 
Hanson Hosein: 
It's a practice you've got to develop for yourself because it requires a deep amount of confidence on your own part to know that the technology can take care of itself. But if you don't make that initial connection to the human in front of you, and this is the core of that program I created as well, then you're not going to go anywhere. It's fundamentally about the relationship. 
My wife likes to remind me from time to time, and she was there for this, that one of my early experiences in this was in interviewing the mother of a suicide bomber in the Palestinian Territories. And she would not open up to a colleague of mine who was supposed to do the interview at all, and to talk about why her son had done this. And somehow, I sat down and I just took a different approach. And it was in Arabic, obviously. I don't speak Arabic, but we had a translator. I was able to get her to talk. And I think there's that unseen connection that you have to invest in to start if you're going to get anything else. And it cannot be transactional. It can't be exploitative. It's got to feel human to human. 
Lyn Wineman: 
I love that. I love it. So, Hanson, with all of these great things you've done, you're doing, are there any upcoming projects for you in addition to the Selma piece that you're really excited about? 
Hanson Hosein: 
I've retained a toehold at the University of Washington thinking about where learning is going. And we actually are digging deep right now into AI and ChatGPT to understand both the immediate consequences of that in terms of tools from learning, and teaching and engaging. But also, what does this mean about the future of higher education, the future of our economy, the future of work and everything else? So, it's almost like I've appointed myself as the director of foresight for learning. 
Lyn Wineman: 
I love that. Wow, that's some heavy responsibility there. 
Hanson Hosein: 
I have a somewhat jaundiced view of the higher education bubble that has forced people to go into debt and to pay for things that don't necessarily lead to value. And even with my kids, I kind of hear neither here nor there in terms of what happens to them from a college point of view. Because I think it's changing so quickly. 
Lyn Wineman: 
It's changing, yes. 
Hanson Hosein: 
So, I feel like it's my obligation to figure that out. And also, to lead on making sure this technology and how we use it, we're not so desperate to make money off it or whatever, that we take all these guardrails away and don't question it as a society. 
So even the work in Selma, as we're thinking about what we do with immersive storytelling and if we apply AI and everything else. So, it should be community driven. Frankly, it should be community owned. It can't rest in the hands of these large tech companies that are trying to satisfy their shareholders before anybody else. We made that mistake with social media. So how on earth are we not going to make that mistake with artificial intelligence? 
Lyn Wineman: 
Yeah, right. Wow. As you think about, as you take this role as director of foresight for learning. I think too, the opportunity for lifelong learning. It's hard for someone to think about going back to school, but yet man, there's so much to be learned. Right? 
Hanson Hosein: 
Well, that's the thing that's almost obligatory now. And my colleague at the University of Washington's a real leader in this. His name is Rovy Branon, and he has this idea called the 60-year curriculum. It's not happening right now in America where lifespans are shortening, but the idea is that we are going to live to a hundred very soon, at least our kids will because of advances in technology. And so that just takes away this whole notion of a three-stage life of sort of education, work, and retirement. It's going to be a multi-stage life. We're going to have to go back to school and repurpose ourselves several times. And so, we have to be open to learning into our eighties. 
Lyn Wineman: 
Wow. All right. Well, I got a few more years of learning left to go then. 
Hanson Hosein: 
We both do. We both do. 
Lyn Wineman: 
All right. Hanson, I'm going to ask you my favorite question next. I've asked this on every single Agency for Change podcast. But I am inspired by people like you. I'm inspired by motivational quotes. And I feel really lucky to get to talk with smart, passionate people. And I'm wondering if you could give me a few of your own original words of wisdom to inspire our audience. 
Hanson Hosein: 
I'll just give you the one that comes to mind always is just three words. Don't be boring. 
Lyn Wineman: 
I love it. 
Hanson Hosein: 
And it's not just you're trying to say something provocative to get people's attention. It's ultimately…don't be boring to yourself. But try not to engage in usual suspects thinking. Try to be original. This is a world that we're in right now that is such of accelerated change that does not need textbook solutions. It requires some really creative approaches to how we get through a lot of this. And so, you owe it to yourself to see things with what I call a beginner's mind. And that's something I try to do with myself, which is maybe why from a professional point of view, I have not had that traditional success in terms of here's where I am now, I can map it out. I constantly try to reboot myself every few years so I can see things freshly, and come up with new solutions, and not be boring to myself. 
Lyn Wineman: 
Hanson, I love that. That might be right at the top of my list of all of the quotes I've heard. I think I'm going to put it on the wall behind me. I love it. I love it. I love it. 
So, for those that are listening that want to find out more about you, maybe keep in touch in this project for Selma, engage with you for some storytelling. How can they get in touch with you and find out? 
Hanson Hosein: 
And this is a little embarrassing because I actually think that communication is too easy. So, I try to integrate a bit of friction in how you can reach me because I only want people who truly want to work with me to find me. So, you can go to my website, hansonhosein.com, there's no telephone number. There's an email sort of connection thing. But easier than that is just go to LinkedIn and look for me on LinkedIn because that's really where I connect. There's only one of me in the world with my unusual name combination. So, if you even search for me online, you'll find me very easily. 
Lyn Wineman: 
Find it. Excellent. Sounds great Hanson. 
So, I have loved this conversation honestly. Every time I get the chance to talk with you, I find it the opposite of boring to be very honest. So what would you say is the most important thing you'd like people to remember about the work that you're doing Hanson? 
Hanson Hosein: 
I think we're at a unique moment in our history. I don't know if it's American history or human history. And we need to find a way to trust each other again. And I think one of the reasons why this has happened is that over the last few decades we have found ways to dehumanize each other, the other. And so really what I would love for all of us to do is step up and to say, "You know what? If humanity is a balloon, it's quite deflated right now." 
And so, I would love for us, as we think about the jobs we take, the ways that we see the world, the people we engage with, can we rehumanize? Can we reinflate that balloon and find ways to connect to people that we won't necessarily agree with, but we know we're all in this together in the end? And so can we put a different point on the horizon that doesn't get us involved in the same battles, that explains that's where we're headed with AI, with climate crisis, with everything that we're facing right now, we can do better. And so can we rehumanize to trust each other again, is really what I would love people to remember from this conversation. 
Lyn Wineman: 
Hanson, that is beautiful. I just wrote in large letters at the top of my digital paper here, "rehumanize." What a concept. Thank you for that. 
So, my friend, I have to say I fully believe the world needs more people like you. I have truly enjoyed this conversation. Thank you for talking with me today. 
Hanson Hosein: 
It's a great conversation. You asked great questions Lyn. It was a pleasure. Thank you. 
Announcer: 
We hope you enjoyed today's Agency for Change podcast. To hear all our interviews with those who are making a positive change in our communities, or to nominate a changemaker you'd love to hear from, visit KidGlov.com at K-I-D-G-L-O-V.com to get in touch. As always, if you like what you've heard today, be sure to rate, review, subscribe, and share. Thanks for listening, and we'll see you next time.