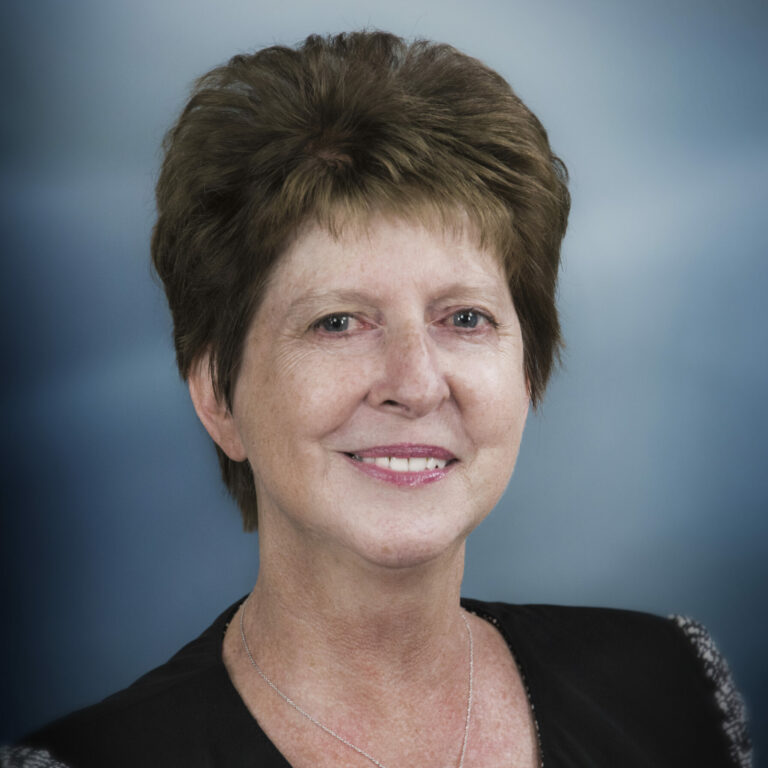 November 23, 2021
Angie Muhleisen
Announcer:
Welcome to Agency for Change, a podcast from KidGlov that brings you the stories of changemakers who are actively working to improve our communities. In every episode, we'll meet with people who are making a lasting impact in the places we call home.
Lyn Wineman:
Hi everyone. This is Lyn Wineman, President of KidGlov, and welcome to another episode of Agency for Change Podcast. Now I'm going to give you some words today; humble, generous, passionate and committed. These are the words I would use to describe today's guest, Angie Muhleisen, President and CEO of Union Bank & Trust. And in addition to being a strong business and community leader, she's someone I've looked up to for a long time. Angie, thank you for joining me. How, how are you today?
Angie Muhleisen:
I'm great. Thank you so much for having me. It's mutual, I definitely have a lot of respect for you too.
Lyn Wineman:
Oh, thank you so much, Angie. I've been looking forward to this conversation for a long time. For those of our listeners who may not be familiar with Union Bank, because we have listeners from across the country, can you just give people a bit of an overview of the bank and a bit of your history with the business?
Angie Muhleisen:
Okay. Well, Union Bank & Trust is a locally owned organization owned by our family. We bought it in 1965. And when we started, the bank was 10 million in size. Now that's a little hard to even imagine now. So we have really had a transformation over those years. Our footprint is mostly Nebraska. We go as far west as Grand Island, as far north as Valentine, as far southeast as Pawnee City. And then we have two locations in Kansas City. So that's our basic footprint.
Lyn Wineman:
That's great. Angie, something I should mention to you, my grandparents who have passed, we were cleaning out some things from a barn recently and we found old, canceled checks from your bank. My grandparents, I think were customers of your bank for their entire life. And I told my parents, we should keep those because I thought it was very interesting to see the cost of-
Angie Muhleisen:
That's Awesome.
Lyn Wineman:
… corn and things. And so, yes, you've been a part of the community for a very long time.
Lyn Wineman:
Angie, this year, Union Bank & Trust won Lincoln's Choice Award in the categories of customer service, banking, financial planning and work environment. Those are four pretty great categories. How does the mission of UBT play an integral part in the organization's success?
Angie Muhleisen:
Well, I truly believe the reason we're successful, and I really do believe this, is we care about each other, we care about our customers, and we care about the community. And we talk about this all the time. It's really kind of our secret recipe for success, it's truly how I feel about it. 
Lyn Wineman:
I love that. You care about each other, you care about clients, and you care about community. It doesn't seem like that mysterious of a combination, but I think it really is unique. Being a customer of the bank, I know that you do it well. And Angie, Union Bank's work in the community is really well known and you individually have made a big impact as well. Could you tell us about what motivates you and keeps you going as one of Lincoln's influential leaders?
Angie Muhleisen:
I guess I want to go back in time and just tell you how my parents have influenced me really quickly-
Lyn Wineman:
Oh, yeah.
Angie Muhleisen:
… as far as giving back to the community and what motivates me. I remember back in the day when I was little, my parents used to make me do all these volunteer things and some of them I really didn't want to do. Like my mom would take me and every… I mean, every month we went to the rest home and volunteered. If somebody died in our neighborhood, I had to go around and collect the money and I could give a thousand examples. Another one, this is my favorite one. My parents sponsored a Vietnamese family, and I babysat for them without any pay. And I complained all time to my parents, "Why do I have to do this for no pay?" It just made me mad, but as you get older, you understand how important those are. And as an example, my parents, my mom is 87, my dad is 90. They still volunteer.
Lyn Wineman:
Wow.
Angie Muhleisen:
My mom is a hospice volunteer. She delivers Meals on Wheels to the elderly. And my dad, and both of them work at their food, which is similar to the food bank. So they've instilled in all of us that need to give back and the desire to give back. But when you're young, you don't necessarily understand it. And so that is a huge motivation to me. The city of Lincoln and the communities I serve have made us successful. We know that we can help others and we truly want to do it. And our employees are motivated. It's not me pushing them. And when we have some volunteer work, I can't even get on the list because all the slots are full by the time… And I'm not kidding. So we have a very motivated workforce who loves to volunteer.
Lyn Wineman:
Angie, I have to say that I think every community board that I serve on, and there's quite a few, I think there's a representative in Lincoln from Union Bank on almost every one of those boards. So I think that says a lot towards what you just shared there. I think too, the way you talk about your parents, I think it's a good reminder for all of us. I get to talk to a lot of interesting leaders who a lot of them, when you ask why they do what they do today, it goes back to their parents. So I think parents, as we think some days that our kids aren't listening to us or aren't watching us, I think that they are and all of that hard work pays off. So Angie, what projects or initiatives at the bank are most exciting to you right now?
Angie Muhleisen:
Well, we're working hard in Omaha, Kansas City and Lincoln. In Lincoln, as you well know, we're going to go into the Wells Fargo building and we're very excited about that. In Omaha and Kansas City, we've added some new members to our team. In Omaha, we hired eight new people just recently.
Lyn Wineman:
Wow.
Angie Muhleisen:
And most of those people are in the wealth management area and the private banking area. And in Kansas City, we also hired some new private bankers. We have quite a few staff that are coming on, we think are really going to be game changers for us. And so we're excited about the momentum that those markets have.
Lyn Wineman:
That's fantastic. And you know, we have an office in the Wells Fargo building as well. So we're really looking forward to you being our neighbor in that respect.
Lyn Wineman:
Angie, it's very apparent that you believe in people, and you want to propel them toward their own versions of success. And awhile back, I have to say, you believed in me and you took a risk so that I could build my own success at KidGlov. Could you tell us who might have done something similar for you at one time and how maybe it impacted who you are today?
Angie Muhleisen:
Well, I think when I first started at the bank, it's hard to come into an organization where someone that you're related to had been running the bank. It is very hard to fill those shoes. I feel like our executive team took chance on me at the time. They helped me grow, they taught me, they mentored me. They were patient with me. They let me many mistakes and it really helped me have the confidence I needed at the time to do the position and to grow into the position.
Lyn Wineman:
Angie, when you and I were off air, we were talking about how sometimes people believe being the boss is an easy role, when being the boss is a very difficult role. You work very, very hard, but I know that's also the case when you come into a family business. People might think coming into a family business is an easy thing to do, but I sometimes think it could be even more challenging because of the relationships that you have and so forth. So I appreciate what you're saying there.
Angie Muhleisen:
I would say, I think the other thing is when you come into a family business, that they may expect you to be like your predecessor, just because you're related to them.
Lyn Wineman:
Oh, yeah.
Angie Muhleisen:
But you have to learn to be your authentic self. And I think that was another thing that was challenging for me. I had to learn to be my authentic self. I was not my father. I'm myself and I need to protect the confidence in myself-
Lyn Wineman:
Wow.
Angie Muhleisen:
… and who I am as a leader.
Lyn Wineman:
That's a really, really great point. Thank you for adding that. I'm curious too, we've kind of started to talk, but can you tell us more about your journey to become a leader? Were there any challenges you had to overcome?
Angie Muhleisen:
Well, being my authentic self was a challenge. When I started, the bank was 30 people. We now have a thousand.
Lyn Wineman:
Wow.
Angie Muhleisen:
So it is a different organization, obviously. And so to hire type of people to help us grow, you have to really work hard to surround yourself with the type of people who have a forward-looking mindset. I feel we've done that here and we have a fantastic team. I tell people all the time, I could probably walk out the door tomorrow and they wouldn't even notice I was gone. And that's okay. That's how it should be.
Lyn Wineman:
I'm sure that's not exactly the case, but I do know that you're starting to mentor and turn the reins over to your son, Jason. I'm curious, what has that been like?
Angie Muhleisen:
Well, it's been a little bit… What do I say? It's almost like you're watching a movie unfold. I feel like now I'm turning over more and more things to him. And although I love watching him progress, at times it's personally painful, it's things that I have loved doing. I'm reading this book that's called Transition, and I've kept it right on my desk every day. What I feel it tells you is when you are transitioning, the person that's on their way has got to stop doing things. And it sounds easy, but it is hard to all of a sudden say, "I'm no longer going to do this," and hand it over to somebody else. And you have got to stop doing things to allow them to be able to take over.
Lyn Wineman:
That's really interesting. I think that applies in business growth too. Like I can find myself Angie, having things that, because KidGlov is growing, I can no longer do, but I love doing them. And so it's hard to hand those things over and let others lead in their own way, which is often better, but sometimes it is hard to watch. So I'm sure my experience is not on the same magnitude as yours, but I completely, I see what you're saying there and him becoming his own authentic leader will be important to both of you too.
Lyn Wineman:
Angie, there are many women in business who look up to you in this community. I know you are a humble leader and not always comfortable with people saying that, but we appreciate you and take cues from you on how to be the best version of ourselves. What advice would you give to these passionate and driven female leaders?
Angie Muhleisen:
One thing that I said to a group of one the other day is I feel it's very important that they stand for themselves. I see people sometimes in meetings that don't speak up and then the meeting happened after the meeting and I never have understood that. I never have, but they need to bring them up in the meeting and they need to stand up for their point of view. Of course, like I said before, be yourself, don't be afraid to take risks. Don't be afraid to make the tough decision.
Lyn Wineman:
Angie, everybody who listens to Agency for Change Podcast knows that one of my favorite questions is to ask people for their own words of wisdom. I get to talk to a lot of really interesting people and I know we all have our favorite quotes from authors and movie stars and other inspirational leaders, but I'd love to hear some Angie Muhleisen words of wisdom for our listeners.
Angie Muhleisen:
Well, the main one that I've lived by, and I'm not saying it works for everyone, but it's certainly were for me, it's faith, family, friends, and work in that order. I feel I've been able to maintain a life balance and really have a very happy life.
Lyn Wineman:
That is great. That's what we're all after at the end of the day, a really happy life. I like that and I like the fact that you have those in priority order.
Lyn Wineman:
So Angie, for our listeners who may like to find out more information about Union Bank, where can they find you?
Angie Muhleisen:
Just go to ubt.com.
Lyn Wineman:
That is great. That's the easiest one yet; ubt.com. We'll put that in the show notes, but I think anybody can remember that one.
Lyn Wineman:
Angie, as we wrap up our time together today, I've really enjoyed this conversation. What is the most important thing you would like our listeners to remember about the work that you're doing?
Angie Muhleisen:
Well, I truly believe in being servant leaders and that's how I like the community to perceive us. That we're here to serve. We don't care if you're a large customer, a small customer, an individual, a business, a trust customer, we don't care. We're here to serve your needs.
Lyn Wineman:
That is fantastic because Angie, I know that I have witnessed you in demonstrating servant leadership and I fully believe the world needs more people like you. Thank you for taking the time to share with us today.
Angie Muhleisen:
Thanks for having me, Lyn. I appreciate it very much.
Announcer:
We hope you enjoyed today's Agency for Change Podcast. To hear all our interviews with those who are making a positive change in our communities or to nominate a changemaker you'd love to hear from, visit kidglov.com at K-I-D-G-L-O-V.com to get in touch. As always, if you like what you've heard today, be sure to rate, review, subscribe, and share. Thanks for listening and we'll see you next time.