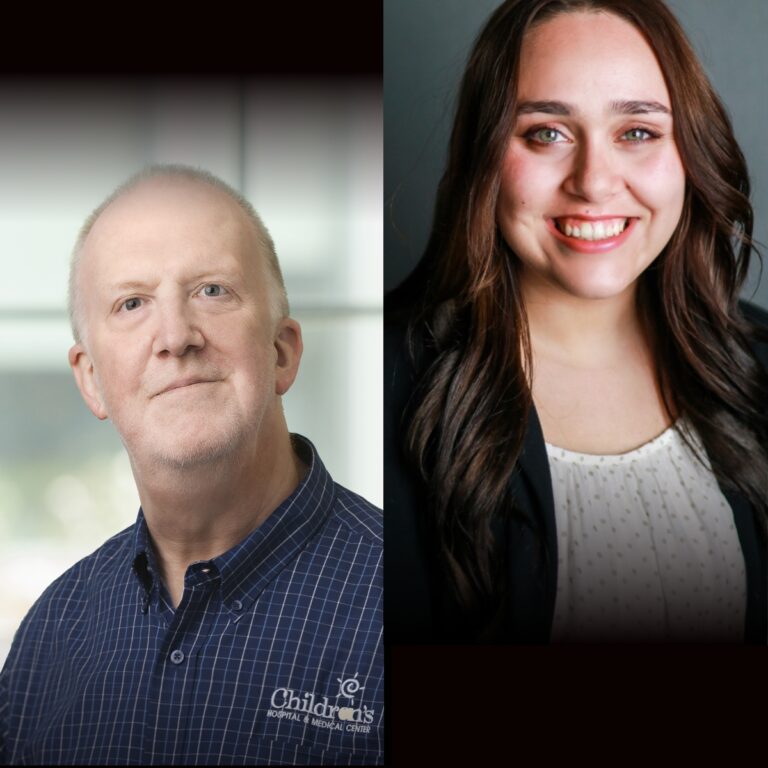 October 19, 2021
Rick Helweg & Whitney Koehn
Announcer:
Welcome to Agency For Change, a podcast from KidGlov that brings you the stories of changemakers, who are actively working to improve our communities. In every episode, we'll meet with people who are making a lasting impact in the places we call home.
Lyn Wineman:
We've had a number of guests on this podcast who advocate for the importance of children's health and its critical impact on communities. And today's guests are absolute experts on this topic. Hello everyone, this is Lyn Wineman, president of KidGlov and today on the Agency For Change podcast, I am talking with Rick Helweg community outreach coordinator and Whitney Koehn health communications graduate assistant. Both are from the Children's Center for Child and the Community based right here in Lincoln, Nebraska. Rick and Whitney, how are the two of you today?
Rick Helweg:
Excellent.
Whitney Koehn:
Doing great, Lyn, thank you.
Lyn Wineman:
Fantastic. How could we start better than that? You're excellent and you're doing great, and I can't wait to talk with you. So let's just get started with the Children's Center for the Child and the Community – that is quite a title. I find it interesting, but not at all surprising that Children's Hospital would have an entire department dedicated to this effort. Rick, could you start by telling us more about your work, who you serve and your role with the department?
Rick Helweg:
Yes. The health of a child is impacted by more than just the medical care they receive. It's impacted by the community they live in, learn and play in. Our goal at Children's Center is to create communities that are safe and healthy and empower families to thrive. It's our goal to keep them out of the hospital.
Lyn Wineman:
Yeah.
Rick Helweg:
One of the pillars of Children's Hospital and Medical Center's mission is advocacy. So the Center for the Child & Community was created to fulfill this mission. The mission of the center is to empower and support the health, safety, and wellbeing of every child. This ties directly to Children's overall mission to improve the life of every child through dedication, to exceptional clinical care research, education, and advocacy.
Rick Helweg:
So we engage the community through partnerships with stakeholders, as well as strategic planning and collaborative implementation of community health priorities. We believe in engaging the community to ensure the work is reflective of the community's needs and not just what we think they need. We are Nebraska Children's Hospital. We empower communities to value and support the health, safety, and wellbeing of every child so that all children have the opportunity to reach their full potential.
Rick Helweg:
Our priorities are to grow the children's center by strengthening the operational infrastructure of the center by engaging hospital leadership and community partners in the centers, strategic priorities, obesity prevention, which is to continue to elevate partnerships critical to obesity prevention strategies and use data to describe the impact of these cross sector, cross strategy initiatives. Including Preventing Childhood Obesity Community grant program, which we, I think, are in the seventh round of.
Lyn Wineman:
That's amazing.
Rick Helweg:
We give grants to community organizations across the state to help them in their obesity prevention initiatives and the Double Up Food Bucks Program. One of our priorities is school health, which is to increase training and education provided to schools across the state with an emphasis on chronic condition management and school to community linkages; promote in-class physical activity and mindfulness breaks statewide with Go Noodle and connect school nurses through the Nebraska School Nurse Mentor program.
Rick Helweg:
Another priority is advocacy, which is to create and support child health champion network. We have a clinic to community priority, which expands clinic community initiatives with a focus on asthma prevention. Pediatric vision health and communication efforts via Children's connect portal. And to foster bi-directional learning with an initiative called Project Echo. Early childhood is a big priority of ours.
Lyn Wineman:
Yeah.
Rick Helweg:
To implement and sustain early childhood health initiatives statewide with a focus on piloting Help Me Grow. We'll talk more about that a little bit later on. We're piloting Help Me Grow in Lincoln Lancaster County and to improve early childhood education settings with Go NAPSACC trainings and technical assistance for childcare homes and centers across Nebraska.
Lyn Wineman:
Wow. Rick, I'm actually feeling very lucky that you have time to talk to me today, because that is a broad list of priorities and responsibilities. One of the first things you said is so intriguing. You said part of your job is to keep kids out of the hospital, which is a bit counter intuitive to most. Most of our businesses want to drive customers in. But I love that true mission-based thinking of keeping kids healthy beyond the medical aspects, which then ultimately does keep them out of the hospital, because I know you have plenty of kids that come to the broad specialty network and to the hospital as well. So this just increases that impact. So Whitney, turning to you. I'd love to hear more about your role in the organization and how you got this great assignment as a graduate student.
Whitney Koehn:
Yeah. My title is health communications graduate assistant, and I have a couple of different responsibilities under that title, including serving as the main contact and lead for 123 Connect With Me, which is creating content and organizing partner efforts for that initiative. Then my other responsibilities are just to provide other communications and design support for the team as needed and for their initiatives.
Whitney Koehn:
My position is really unique, because I am a full-time graduate student at UNL's College of Journalism and Mass Communications. But unlike my peers and other graduate assistants who have assignments working on campus as teaching assistants in those courses, my assistantship assignment is with Children's Center for the Child and Community. The position comes from this great partnership between the university and Children's Hospital with the goal of giving students the opportunity to focus on health communications as a specialty within strategic communications.
Lyn Wineman:
I love that and I have to give you a shout out, because I am a UNL co-JMC alumni as well. It's a great school and a great program. And I think so many of us who go into marketing or journalism or advertising, I mean, our dream is to work with an organization that makes a difference. I can hardly think of one that makes more of a difference than this one. As a matter of fact, today we want to talk about three big programs that the center is working on, and maybe we could start, Rick, with you. Could you tell us more about a program you already mentioned called Help Me Grow Nebraska and tell us about the program and how people might be able to get involved?
Rick Helweg:
Sure. Well, the road to Help Me Grow began in, I think, 2016. Between 2016 and 2018 we did a massive community assessment. In 2018, four assessments were completed by the Lincoln Early Childhood Network, Early Childhood Comprehensive Health Working Group. How's that for a mouthful?
Lyn Wineman:
That is a mouthful. I am aware of that group though, and they do amazing work.
Rick Helweg:
This is a group that was part of the Prosper Lincoln initiative. And Children's Hospital became part to promote health in early childhood. And so this working group that Children's led, it was a part of a community driven strategic planning process called… here's another mouthful, Mobilizing for Action Through Planning and Partnerships, or MAP, we call it MAP.
Lyn Wineman:
MAP is a lot easier to remember.
Rick Helweg:
Yeah, sure. This is to get a better understanding of early childhood health status and community themes and strengths in Lincoln, Lancaster County. So these assessments revealed four strategic issues and they were: disconnected and siloed early childhood health community systems, including uncoordinated and ineffective cross sector communication; inequity and disparities in the early childhood health system, including inequity and affordability; access and promotion of healthy foods, as well as barriers to medical and behavioral health services; inadequate parent and family supports and eps in services and protective factors for mental health.
Rick Helweg:
Once we had identified these issues, the group work to identify or create a framework with which to best address the issues as a community. Well, rather than really taking the even longer path of creating our own framework, we discovered Help Me Grow, which is a national affiliate network. Well, there are practices that can assist communities by helping create greater equity and reduce disparities at early childhood health systems and Help Me Grow is one such solution to address these identified issues in our community. Help Me Grow is a system building framework.
Rick Helweg:
It leverages community strengths and focuses on family centered solutions. It's built around four core components and those are family and community outreach. And in Lincoln Lancaster County, this component is the support for Family's Working Group of the Lincoln Early Childhood Network and we're now affiliated with Lincoln Littles.
Lyn Wineman:
Yeah.
Rick Helweg:
The Child Health Provider Outreach Group and this group is led by Dr. Eric Peterson from Blue Stem Health with a lot of help from Dr. Bob Browner. Our data collection and analysis group is led by Laurie Wheeler, who is the co-director of the Nebraska Academy for Methodology Analytics and Psychometrics at UNL and her partner, Kristin Durer, who is the project manager for TAP, which is… Another acronym for you, Teachers and Parents as Partners. And there at U and L Center for Children, Youth, Families, and Schools, and finally our centralized access point. And this is the big one.
Rick Helweg:
This work is led by a team of partners from United Way of the Midlands at 211. The Munroe Meyer Institute at UNMC and UNL's center on children, families, and the law. How can people be involved? First of all, they can initially get involved by visiting our website, which has Helpmegrownebraska.org to learn more about this initiative, which is currently in its pilot phase of Lincoln Lancaster County. We are looking to expand statewide over the next three to five years. So if anybody would like more information they can contact me. My contact info is on the website. That's a good place to start.
Lyn Wineman:
That's great, Rick for everybody who's listening, if they maybe didn't get that website down, Helpmegrownebraska.org. We'll make sure we have that in the show notes as well. So if they pop onto the website with this episode, it'll be in there as well. So I love the idea of collaboration and you really have talked a lot, Rick, today about how you and the department are collaborating with a lot of really strong forces within the state to work together. So we're not reinventing the wheel, but we also are getting some synergies on behalf of kids as well. Whitney, there's another program we wanted to talk about today called 123 Connect With Me. I'm wondering, could you tell us the purpose of that program and who it serves?
Whitney Koehn:
Yeah, so 123 Connect With Me is a community campaign that falls under the umbrella of the Help Me Grow initiative that Rick just talked about. The goal of the campaign is to educate parents and other caregivers about the important role that quality interactions with their children play in early childhood brain development. So 123 Connect With Me content, which is social posts, posters, and brochure handouts, are full of tips and easy how tos for families that want to take that extra step to support the development of their child's brain.
Whitney Koehn:
The initiative focuses on parents and caregivers of children between the ages of zero to three years old. We really focus on those first three years of life, because they're so vital. Messages for the campaign are delivered through partner organizations. We have nine dedicated partner organizations that include pediatric clinics, childcare centers and other early childhood support sites across Lincoln. My favorite part about this initiative is that it highlights that anyone can foster healthy brain development for their children. So you don't have to have a degree or be an expert in early childhood brain development. It's really about the small things that already happen every day that make the biggest difference.
Lyn Wineman:
I love that. I remember, my kids are grown now, but I remember when I was pregnant reading that I should eat a lot of salmon, because salmon leads to a baby's brain health. And then I think there was a trend of buying black and white toys because the color contrast I think was supposed to stimulate the brain. Right? In reality, what I have learned from 123 Connect With Me is the simple art of peekaboo and reading a book and playing, just those simple things are really some of the most important things. I think that is a great message.
Lyn Wineman:
The other program we wanted to talk about today, Rick, and I will toss this back to you is the Fruitful Vaccination Campaign. And I'm obviously aware of this initiative because we're working together on the campaign, but it's not very often you hear the words fruitful and vaccination in the same sentence. Can you share a bit more?
Rick Helweg:
The big question. Why should my child get the COVID-19 vaccine?
Lyn Wineman:
That is a big, big question, yep.
Rick Helweg:
So the COVID-19 vaccine helps protect your child from getting COVID-19. That's why. Vaccinations work to build immunity and are crucial in the effort to reach herd immunity where a population has enough immunity to stop the spread of an infectious disease and regain some normalcy. I think that's what we're all looking for right now. So because the COVID-19 virus spreads easily especially through schools, churches, youth sports teams, vaccinating children helps prevent COVID-19 from spreading to family, friends, and others who may be at risk for severe disease or even death.
Rick Helweg:
Vaccination is currently recommended for everyone 12 years and older. Additionally, about a year ago, children made up 3% of the COVID-19 cases in the United States. The percentage shot up to around 22% at the beginning of May of this year. And the spike was likely due to children not yet being vaccinated and to the spread of the Delta variant, which seems to be more contagious in children.
Lyn Wineman:
Yeah.
Rick Helweg:
While children are less likely to have serious outcomes from COVID-19 infection, there have been an estimated 300 to 600 pediatric deaths from the virus in the United States. Vaccinating children against COVID-19 can give parents greater peace of mind in sending them to school and friends' houses, participating in school activities, or going on a family vacation. It can also decrease worry about them getting seriously sick from the virus that causes COVID-19.
Rick Helweg:
Children's is committed to keeping schools and communities safe from COVID-19 and increasing vaccination rates, especially among teens. We talked earlier about prevention.
Lyn Wineman:
Yeah.
Rick Helweg:
So to make it easier for schools to send messages related to COVID-19 vaccine to teens, staff and families, Children's has developed the Fruitful 2021 campaign, along with you all at KidGlov.
Lyn Wineman:
Yeah.
Rick Helweg:
In partnership with Nebraska Department of Education's Healthy Schools program with the help of Children's medical experts, the campaign messages are fact based and accurate. The Fruitful COVID-19 vaccine toolkit is free. It includes posters, email templates, social media, and newsletter content and more. Schools are encouraged to use these resources to send positive and factual messages to students and families about the benefits of getting the COVID-19 vaccine. Another website, childrensomaha.org/fruitful2021. You can get your, again, posters, social media, blog articles, stickers, fact sheets, and a lot of great information.
Lyn Wineman:
Rick, thanks for sharing that and we're very proud of that work and proud to partner with you in this initiative to keep kids and all of us in Nebraska safe. When you think about vaccines and how we've been able to develop those immunities and eradicate other vaccines that in the history have been terrible. This is our chance to do that. And yes, the idea of the idea of normalcy just sounds so beautiful right now. Doesn't it?
Rick Helweg:
Yes.
Lyn Wineman:
As we're all recording on Zoom from our work from home offices at the moment. So Whitney turning back to you, I think most people would agree that children are the future. That sounds like a Whitney Houston song, doesn't it? And that children build healthy communities. So can you share some insight on why it's so important to focus on the wellbeing of kids starting from birth?
Whitney Koehn:
Yeah, well, you're absolutely right. Children are the future and we do want them to be healthy and happy. We want them to do well in school and then go on to have successful careers and lives, but they have a lot of growing and learning and development to do before they even get to school. So early childhood development sets the foundation for lifelong learning behavior and health. It's really the experiences that these children have in their first years of their life that really shaped their brain and actually that child's capacity to learn, to get along with others and respond to daily stresses and challenges.
Whitney Koehn:
The child's brain develops rapidly from birth to five years old. At three years old, 80% of the brain will be developed and then 90% by five years old. So it's really just a short window of time where a lot happens. That's why we at Children's, in so many of our initiatives, focus on those first five years of life.
Lyn Wineman:
Yeah. That makes a lot of sense. That makes a lot of sense. So Rick and Whitney, both of your work is obviously making a difference in the lives of kids, the health of the community. I'd love to hear what advice each of you have to share with others who want to make a difference in any way, whether it's with kids or health or maybe in other things. And Rick, let's start with you. What advice would you have?
Rick Helweg:
I think it's important to have an awareness of what's happening in the neighborhood and in the greater community.
Lyn Wineman:
Yeah.
Rick Helweg:
I'm a big believer in the power of information. Read the newspaper, follow local news, follow the news of your neighborhood, of your community. I think that's so important. If your neighborhood has a newsletter, read it, be aware of what's going on. I think that's the first step to making a difference is awareness.
Lyn Wineman:
Great point, great point. Whitney. How about you? What recommendation do you have?
Whitney Koehn:
I think the key is to find something that you're passionate about and then make it personal to you. So many of the partners that we work with everyday love children, and many of them have their own personal experiences with their own families and that's what motivates them to do good. But even if you don't have your own children, like me, you were one once. And that experience as a child is something that everyone shares and everyone can relate to. So I think that's something that everyone can find passion about.
Lyn Wineman:
That is a really good point. That's something that binds all of us. We were all children once and most of us can remember fondly even what that was like. So also, Rick and Whitney, everyone who listens to this podcast knows that I am inspired by motivational quotes. I love to ask the people I talk with for their own words of wisdom. So Whitney, let's start with you. Could you give us a few words of wisdom for our quote wall?
Whitney Koehn:
Yeah. My words of wisdom are to consider every opportunity that comes your way. Even if it doesn't fit perfectly into your plans. I never intended to end up in health communications, but I took this grad assistantship opportunity and discovered that I'm actually really passionate about it and you never know what you're going to learn or how that experience might impact your life. So don't turn something down just because it's not exactly what you had in mind at the time.
Lyn Wineman:
That is really great. Rick, how about you? What words of wisdom do you have for us today?
Rick Helweg:
First I'm going to respond to Whitney's, I never intended to be here either, I was a theater major.
Lyn Wineman:
I love that.
Rick Helweg:
I spent many years operating as a director of a really nice theater in Chicago.
Lyn Wineman:
Yeah.
Rick Helweg:
So boy, opportunities come along and here I am. My words of advice are don't be afraid to get your hands dirty.
Lyn Wineman:
Oh yeah, good one.
Rick Helweg:
My hobby is baking and I find that I get the most out of baking projects that are requiring me to dive, ditch the utensils and mix things up with my bare hands.
Lyn Wineman:
Oh wow.
Rick Helweg:
So I think also included here would be to embrace the mess.
Lyn Wineman:
Fantastic.
Rick Helweg:
It's more fun that way, too.
Lyn Wineman:
Absolutely. Absolutely. Rick it's a little-known fact that I was almost a theater major myself and someone talked me out of it and I went into advertising. But I love the theater aspect of advertising. So thank you for both of those great quotes. Those will be great additions to our quote wall and our quote list. So now Whitney, for our listeners who would like to learn more about your work. I know we've shared some different websites today, but what is the best way to find out more about Children's Center for the Child & Community and the programs that you offer?
Whitney Koehn:
You can learn more about the center on the children's hospital website, which is childrensomaha.org. And you'll find the center page under advocacy and outreach. We have pages for our initiatives and programs there on that website. Also, you can follow Children's Hospital and Medical Center on social media. Our handle on all platforms is @childrensomaha. If you have specific questions about the programs we talked about today, you can email me at wcane2@unl.edu or Rick at RHelwig@childrensomaha.org.
Lyn Wineman:
Fantastic. All of that will be in the show notes as well too. So thank you for that. So, Rick, as we wrap up our time together today, what is the most important thing out of all of this great work that you're doing, that you'd like our listeners to remember?
Rick Helweg:
It's very simple. Every child has the opportunity to reach their full potential. And that's it in a nutshell.
Lyn Wineman:
That's lovely. Rick and Whitney, I fully believe the world needs more people like the two of you. You are doing great work. Thanks for taking time out of your very busy schedules to share with us today.
Rick Helweg:
Thanks for having us.
Whitney Koehn:
Thank you.
Lyn Wineman:
Thanks.
Announcer:
We hope you enjoyed today's Agency for Change Podcast. To hear all our interviews with those who are making a positive change in our communities, or to nominate a change maker you'd love to hear from, visit kidglov.com at K-I-D G-L-O-V.com to get in touch. As always, if you like what you've heard today, be sure to rate, review, subscribe, and share. Thanks for listening and we'll see you next time.