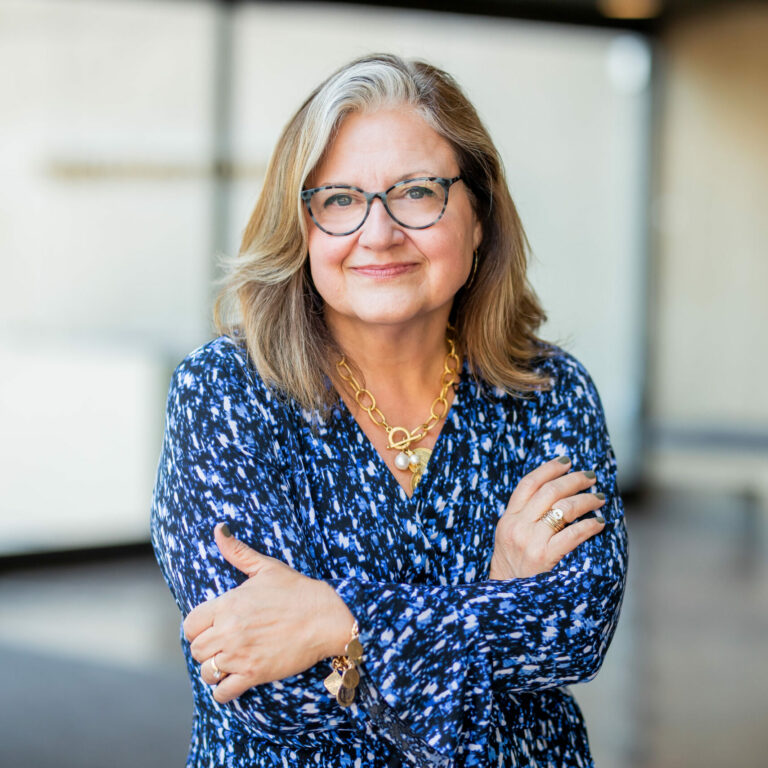 August 3, 2021
Lyn Wineman
Announcer:
Welcome to Agency for Change, a podcast from KidGlov, that brings you the stories of changemakers, who are actively working to improve our communities. In every episode, we'll meet with people who are making a lasting impact in the places we call home.
Kelley Peterson:
Hello everyone, this is Kelley Peterson, Vice President and Creative Director at KidGlov. Welcome to another Agency for Change podcast. Today's guest is Lyn Wineman, Founder, President, and Chief Strategist of KidGlov, a full-service marketing, branding and advertising agency that serves changemaking organizations. More often than not, Lyn is the one asking these questions during our podcast, but during this special episode, it is my pleasure to dive into what made 2020 the biggest year in KidGlov's history.
Lyn Wineman:
Oh, Kelley, thank you for that great introduction and thank you for interviewing me today. It is a little bit weird to have the tables turned and be the one answering the questions.
Kelley Peterson:
It is a little bit weird. The pressure's on, we'll see.
Lyn Wineman:
For sure. I have way more empathy now for future guests of the Agency for Change podcast.
Kelley Peterson:
So even though our regular listeners have heard your voice dozens of times, please share a bit more about KidGlov?
Lyn Wineman:
Well, Kelley, you did such a great job in the introduction, but we do like to say KidGlov is a full-service boutique branding, advertising and marketing agency. And full-service is kind of jargony word, but by full-service, it means we will do everything from brand development, to strategic planning, to website development, to traditional campaigns that include print, television, radio, the digital marketing, to guerrilla marketing. And the boutique side really does align with, if you were shopping in a boutique versus a mega department store, the boutique is smaller, a more exclusive or elite offering, and very high service, so that's what we strive to be.
Lyn Wineman:
We have offices in Lincoln, Nebraska, and Omaha, Nebraska, that's where we call home. However, we do serve clients from across the country, from Colorado, we're working with a group right now in New York City we've worked with groups from California and different places. So, through the pandemic, we've all gone much more virtual, it's really closed up some of that space. And then I would just like to say, we're known for having an amazing culture. Our secret sauce is making sure our people are happy, they then do inspired work, which makes our clients happy. And when our clients are happy, that just adds a little something to our culture that makes it better. And that whole flywheel goes around and around and around.
Kelley Peterson:
That is so great and so many things. So what made you want to get into this line of work?
Lyn Wineman:
Kelley, I have always been a creative person, like many of us that are in the advertising and marketing business. And what I love about being in an advertising agency is, it's just that cross-section of creativity and business. And it gives us every day, a lot of variety and a lot of opportunity to do the things that I love, which is to learn and grow, but to also strategize and ideate. And honestly, at the end of the day, to impact change, whether we're working with a nonprofit or a community health movement or a financial institution or healthcare institution or a business of some sort, being able to work with them to make a positive change, to achieve results is really a very cool and rewarding thing.
Kelley Peterson:
Something great to wake up to every day and have the drive to do, for sure. So this last year, KidGlov celebrated its 10th year anniversary during the COVID-19 pandemic.
Lyn Wineman:
Yeah.
Kelley Peterson:
Which I'm thinking is probably not what you had in mind for this great, important milestone? Yet, many good things have happened during this super challenging time. And one of those major things was being, that KidGlov was named Agency of the Year by the American Marketing Association Omaha, at their Pinnacle Awards. What does that honor feel like?
Lyn Wineman:
Oh, Kelley, what a great way to top off a year, that we like to say, was unexpected, at times it was purely terrifying, right? As a business owner with responsibility for employees and clients and my own family, so yeah, not the year we expected. But that award from AMA Omaha, being named the Agency of the Year for the Omaha market was really something special. And everybody out there who knows me, knows that I love to win, right?
Kelley Peterson:
Yes, I do.
Lyn Wineman:
I love to win, whether it's on behalf of myself, our team, our clients, but I think all marketers have a competitive streak. But that recognition, I mean really first of all, it signified coming through a very difficult year, a year that really forced us to make some important changes, that ended up being very positive changes for us. Is that my friend Chubbs behind you?
Kelley Peterson:
Yes. He had to make a little limelight appearance, apparently.
Lyn Wineman:
I love sharing the microphone or the stage today with that famous dog and an adorable dog too. But Chubbs is excited about this award, as well. The other thing that I really love about the honor is, I love the fact that it represents a coming of age of KidGlov in the Omaha market. The fact that the level of our work is being recognized, as well as our efforts to give back the AMA and our efforts to impact the community of Omaha. So I'm so proud to be in the Omaha market in this way.
Kelley Peterson:
So the Agency of the Year wasn't the only big news that came out of the AMA Omaha Pinnacle Awards. Tell us about the other recognition that KidGlov received?
Lyn Wineman:
Well, yeah, yeah. I mean, there was a lot of recognition. So it was very fun. We won 18 Pinnacle Awards, which is the most awards we've won at the Omaha Pinnacle competition ever. It was our largest year of awards for us, but also, we were able to take away more awards than anyone else, which yes, the competitive cup was filled with that too. But even better, we were delighted to receive Best in Show at that event, as well, for a campaign that we developed for Dreamweaver Foundation. Which if you don't know Dreamweaver, think of Make-A-Wish for seniors. But to win Best in Show for a great organization and a great campaign like that, was really special too.
Lyn Wineman:
But also, the other thing we'd liked to say, is we entered the awards on behalf of a variety of clients from for-profit to not-for-profit clients. And what's really kind of cool, even cooler than winning the awards, even for me, is to know that the work that we entered did make a difference for a variety of audiences. I mean, the work that we entered helped seniors and helped kids and helped foster families and helped small businesses and farmers and ranchers and construction companies and communities. And so there's something that's really rewarding on that end, as well.
Kelley Peterson:
Absolutely. I know that the American Marketing Association is all about results. And so when you can tie those numbers to making a difference, and it's a numeric difference, that's just a great place to be, to show the outcome of the work.
Lyn Wineman:
And you know, Kelley, I have to say this too. You were the creative director on many, many, many of those campaigns that won awards, as well. And so seeing your good work and the team's good work recognized in that way is really fulfilling.
Kelley Peterson:
It really is the warmest fuzzy of all warm fuzzies that you can get.
Lyn Wineman:
Absolutely.
Kelley Peterson:
Those awards are a really great celebration of the entire team's work and that's so satisfying. But we just didn't leave it in Omaha this year. KidGlov also got accolades from AMA Lincoln.
Lyn Wineman:
Yes.
Kelley Peterson:
Can you expand on the Prism Awards?
Lyn Wineman:
Absolutely. Both of those outstanding AMA chapters, Omaha and Lincoln have similarities, but yet differences based upon their markets. And so the Prism Awards, similarly to the Pinnacle Awards, you're focused on strategy, results and creativity. So once again, it's very fulfilling to win those awards and we were very excited in Lincoln to win a large number of awards. But also, we were very excited to be recognized as Lincoln's Corporate Marketer of the Year, which once again, really focuses on the quality of our work, the way that we support AMA and the way that we give back to the community, which are three things that are very important to us at KidGlov.
Kelley Peterson:
So, Lyn, I know you talked earlier, about our work is a lot about our culture, so it isn't all about awards, but I have to ask you one more awards question because we can't miss out on this. But you also mentioned that importance of culture. How does it feel to be recognized for not one, not twice, but three times, as one of Lincoln's Best Places to Work?
Lyn Wineman:
Yeah. There's another warm, fuzzy of all warm fuzzies, right? I mean, we like to say at KidGlov, that our people are our everything. And so the thing to me that is so heartwarming about a Best Places to Work is that the scoring is 100% done by our employees. So you win that award because your employees are feeling engaged and feeling supported and can rate you across the board on characteristics that do make businesses great employers and so it just makes me so happy. This was our third time, we received an overall score of 96.3 out of 100, which I think is just amazing, but it also gives us a marker. Right?
Lyn Wineman:
Next year let's go for 99.3 or maybe 100. Right? Which I think is not achievable, but it makes me really happy. And the other thing that made me really happy, is when we got our final report to read the quotes that everybody put in there. But also, our people said that the top word to describe KidGlov, was supportive, and that means a lot to me as well. Because sometimes advertising agencies do not have the reputation of being a great place to work. And I think that's something that's very special about KidGlov, about how we really have each other's backs. We are loyal to one another, loyal to our clients, and then ultimately very passionate about doing great work, which is a very fun thing to do.
Kelley Peterson:
Well. I certainly consider myself extremely lucky, if luck has anything to do with it, to work at this great places to work.
Lyn Wineman:
Oh, Kelley, you just made my day.
Kelley Peterson:
Lyn, what advice do you have for other purpose driven leaders who want to make a difference in the world?
Lyn Wineman:
Well, this is maybe not going to be a surprise, but when I give you advice, I'm going to give it through the lens of a marketer. And in marketing, we always think about—who is our target audience? And I believe the best purpose-driven businesses, honestly, the best organizations of any kind, are those who prioritize their employees, their team members, as their number one audience. But particularly, as we think about purpose driven businesses, I mean your team members need to not only understand and appreciate your brand, they need to advocate for it. They need to live it because they're the ones that are going to deliver it day in and day out. So really, thinking about that target audience and what they need, what communications they need, what support they need, what tools they need, I think is just a big, big key for anyone.
Kelley Peterson:
Absolutely. And that's such great advice and all of the questions that you've answered so far have been amazing. But there's one that you are very well known about asking and so I'm excited about this next question. And that is, can you share a few of your own Lyn Wineman, words of wisdom?
Lyn Wineman:
Kelley, I have asked this question to probably about 50 different podcasts guests, and I never realized how hard it was. Right? Because I think a lot of us are inspired by words of wisdom from others. We have our favorite quotes and sayings, and it's easy to rely on those. But what I know about inspirational leaders, is they also are full of their own quotes that they often don't give themselves enough credit for, but I'm going to give you today, my old standby, this is one that I've used for a long time and I think it's an important one for the field of marketing.
Lyn Wineman:
And that is—bad branding is the equivalent of wearing yoga pants to a job interview. Right? And I tell you what, I've gotten some grief because there are a lot of yoga pants fans in the world. And I know while we've, a lot of us been working from home and doing the Zoom thing, a lot of us can wear yoga pants to job interviews, but you know what, you know what I mean? Right? I mean, from a marketing standpoint, that brand represents you just the same way as what you wear and how you present yourself in a job interview. It essentially is that first thing and you want it to be good, you want it to be authentic, livable, true. And so I'm going to hang on to that one more, maybe more instructional than inspirational, but I think it's a good example of why branding is important.
Kelley Peterson:
I do love that Lyn Wineman quote, I have to say. And I also may or may not admit on an occasional podcast, what I was wearing on the lower half.
Lyn Wineman:
Yeah. I know. I know. I know. We're all going to have to come back to work post pandemic and actually put some real clothes back on again.
Kelley Peterson:
But I think the key thing in what you're saying is, it's a job interview.
Lyn Wineman:
Yes.
Kelley Peterson:
So you know how you're seen and how your personal brand is represented amongst other brands, is really key and really important, all joking aside.
Lyn Wineman:
Yeah, absolutely, Kelley. Because you think about it, when you walk into a room, if you're underdressed or you're rumpled, or maybe you've been in the car for a couple hours, you got rained on, all of those things, when you walk into the room, you don't have the presence that you want. Likewise, if you're overdressed or for some reason, the clothing you're wearing doesn't fit or represent you in an authentic way, if you're uncomfortable, that also shows up. So a really well-crafted brand is going to represent you in the most positive and most authentic of ways.
Kelley Peterson:
Yes, I completely agree. So for our listeners who would like to learn more about your work and how they can find out more about KidGlov, how can they do that?
Lyn Wineman:
Well, Kelley, we've got the old standby there, the website, which is important to all of us these days, but it's KidGlov.com. And funny story, you've probably noticed our name is KidGlov without an E, K-I-D-G-L-O-V.com because you came up with our amazing brand, which I love, and it represents us so perfectly. But somebody already had KidGlove.com with an E and so in this digital world, what was that, I think six or seven years ago when we launched that brand, we just took that E off because it made it more unique to us.
Lyn Wineman:
So KidGlov, without an E, of course, check out our social media, we're always posting different things and don't rely on just one channel because there's different things on the different channels. But then, I also would say every Monday at 12:00 Central Time, we do Marketing Monday, which has become a fun tradition of ours. Where one of our really smart marketers jumps on Facebook Live and shares about 10 minutes of educational knowledge, usually related to our areas of expertise, which are nonprofit, marketing, community wellbeing, financial marketing, healthcare marketing, and then of course marketing for purpose-driven businesses. So check out Marketing Monday, as well.
Kelley Peterson:
I'm a big Marketing Monday fan.
Lyn Wineman:
Me too, especially when I get to listen to other people versus when I'm doing it myself.
Kelley Peterson:
Me too.
Lyn Wineman:
We share that.
Kelley Peterson:
Well, we started Lyn, today talking about how 2020 was one of the biggest years in KidGlov's, 10-year history. And it's funny how we started with this brand, that we couldn't have the E in our name and we had to pivot. And pivoting, which is a trendy word for these times for many years, but sometimes something good and spectacular comes out of it. Like the many awards you've shared with us today and maybe the missing E in our web address, that a few people can remember us by. But as we wrap up our time together today, what is the most important thing you would like our listeners to remember about the work you're doing?
Lyn Wineman:
Thanks for that. You reminded me, I think the skill to pivot is not a bad one, that's not what I was planning to say today. But sometimes, especially I think in 2020, we all became ballerinas and tap dancers, right? And that was a helpful skill. But the thing that I wanted to get across to people, is we all spend a lot of time in our careers and when you add up all the time that you are at work, all the time that you work over your lifetime, I'm just a full believer that there are very few things that are sweeter than doing the work that you love, with people you trust and admire and in a culture that supports you. And I just believe that every single one of us deserves to have that. And that's what I want to provide to the people at KidGlov.
Kelley Peterson:
And I fully believe the world needs more change-makers like you. Thank you for inspiring me on the daily and taking the time to share more about KidGlov with us today.
Lyn Wineman:
Oh, Kelley, it's such an honor. Honored to talk to you, honored to get to work with you and your talents. So thank you very much.
Kelley Peterson:
You bet. Thank you, Lyn.
Announcer:
We hope you enjoy today's Agency for Change podcast. To hear all our interviews with those who are making a positive change in our communities, or to nominate a changemaker you'd love to hear from, visit KidGlov.com at K-I-D-G-L-O-V.com to get in touch. As always, if you like what you've heard today, be sure to rate, review, subscribe, and share. Thanks for listening and we'll see you next time.