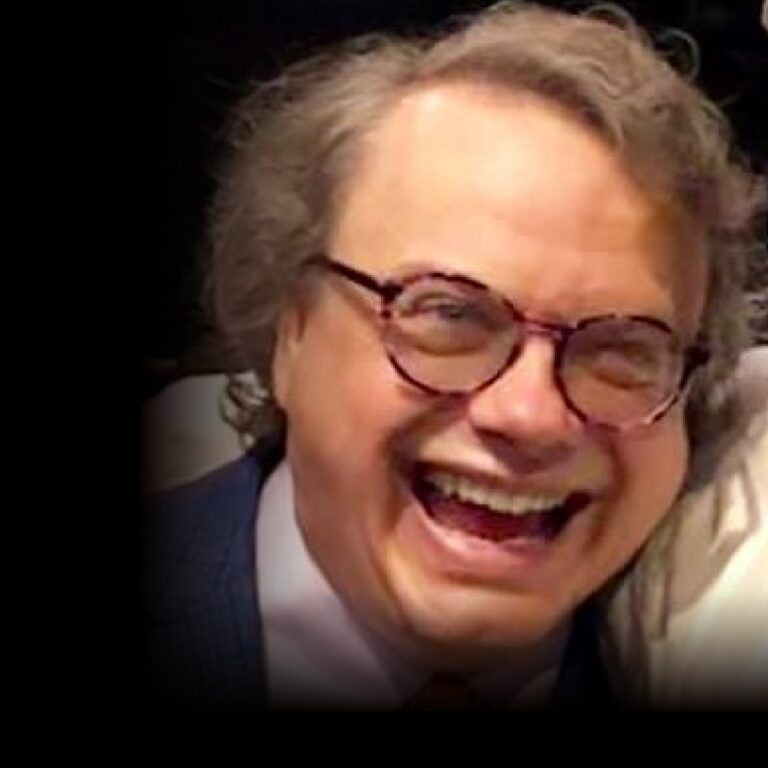 August 10, 2021
Morrie Enders
Announcer:
Welcome to Agency for Change, a podcast from KidGlov that brings you the stories of changemakers who are actively working to improve our communities. In every episode, we'll meet with people who are making a lasting impact in the places we call home.
Kelley Peterson:
Hello everyone. This is Kelley Peterson, vice president and creative director at KidGlov. Welcome to another episode of the Agency for Change Podcast. Today's guest is Morrie Enders, executive director of the Lincoln Community Playhouse, a nonprofit that has been positively transforming lives in our community through quality theater experiences since 1946. Morrie, I'm excited to talk with you today and learn more about the impact you and your organization are making on the world.
Morrie Enders:
Well, thank you, Kelley. I want to say that even though we've been here since 1946, I have not been here that entire time, even though I am gray as all get out.
Kelley Peterson:
Well, I appreciate that clarification, Morrie, the Lincoln Community Playhouse recently kicked off season 76, and I bet you haven't been there that many years either.
Morrie Enders:
I haven't been there that years either. No.
Kelley Peterson:
Can you tell us what's to come this year?
Morrie Enders:
Oh yeah, we have a great lineup. Of course we lost a whole season with COVID and so we took the bits of that season and put them together in something that we think is a nice return, it starts out small in a way and then builds up to bigger because when we were planning it, we still didn't know what was going to happen. And guess what? We still don't know what's going to happen. So we started out with a show called the Fantastics, which is a musical, but it's a small musical. It is the longest running musical in theater history. The original New York run ran 44 years. Yeah. So that's pretty impressive. And it's a fable of like a myth. That's a beautiful story about love. And I just think it's just a wonderful show.
Morrie Enders:
Then we do Calendar Girls, which is based out of true story. It's a little bigger cast. It's about a group of British women in a women's institute, kind of like got PEO club who do an annual calendar. And one year they decided to do a naked calendar. And needless to say, they sell a lot more the other year when they did famous rural roads of England. Okay. And then we have a one man show of Christmas Carol Dichter Hewn is one of our theater legends. He lives in Connecticut now, he's coming back and doing a Christmas Carol. He plays everybody in a Christmas Carol. So it's really like sitting down at Charles Dickens' house and listening to Mr. Dickens, tell you that great story. Then our Penguin Project has Elf Jr at Christmas time. Then after that, first of the year, we have a show called Every Brilliant Thing, which I think is the sleeper hit of the year.
Morrie Enders:
It is also a one person show Ashley Kobza who is local, is going to be doing it. It is another English play, but it's a story of a woman who's when she was a little girl, her mother tried to commit suicide. And so the little girl to try to help her mother starts a list of everything that's brilliant. Everything that's worth living for. And what's really cool is that the audience comes in, Ashley will be meeting with everybody and she'll assign a lot of people a little card that'll have 100 dot and it'll say ice cream. And as she's doing the performance, she'll suddenly go like "This thing on the list 100" and somebody in the audience will yell "Ice cream." And so it's an audience participation show in a really beautiful way. And I will tell you, I hate audience participation, but this works so well in a such a community. And we're going to do it in the studio in the round. It's going to be like being around the campfire. It's a great story about being human.
Morrie Enders:
Then Mufaro's Beautiful Daughters: An African Tale. This will be our first, all black cast in years. This is a story based on a story by John Steptoe. And it is about an African family the Mufaros, the daddy has two beautiful daughters. They're both beautiful on the outside. One is beautiful on the inside one, not so beautiful on the inside. And they, each of these daughters has a journey to the Royal City to potentially be the bride of the Prince. And of course the daughter who's nice, beautiful inside and up wins, good for her. It has a little Cinderella parallel kind of story. Every continent has their Cinderella stories and this is one from Africa. So we're looking forward to that. And then we're closing out the year with Joseph and the Amazing Technicolor Dreamcoat, which is our big spectacular we figure we should all be back and all the variants will be dead as door nails. And we'll be all able to have a good time in the theater.
Kelley Peterson:
What a season. Apparently, my dog Chubbs is thrilled about it.
Morrie Enders:
Everybody loves Joseph and the Amazing Technicolor Dreamcoat.
Kelley Peterson:
So true. So true. You also have great season. And you mentioned one of these groups within what you said, but you also have an outreach program that provides opportunities for those who have a limited access to theater. Can you tell us what was behind creating A Playhouse for Everyone?
Morrie Enders:
Sure. A Playhouse for Everyone was an idea ahead of it's time. And I didn't know it at the time. That as a title I came up with some years ago and the reason I was because I was trying to figure out where the playhouse fit in the artistic life of Lincoln. And it occurred to me that, I mean, there are a lot of theater companies, but most of them have a specific focus for the participants or the audience that they're going for, or the type of material that they're doing. For instance, Flatwater Shakespeare, obviously Shakespeare. Angels Theatre Company which was at the time that I created, it was very into women's theater, women's playwrights. And now they've moved more towards new work. They're really big at being the birther of new plays. And then there are several groups that involve children and are specifically for children.
Morrie Enders:
So while these groups all have their special places, the playhouse, because it's kind of the mothership of theater in this town, our focus is everybody. And so I thought, well, we're going to make this A Playhouse for Everyone. And in that, not only reflecting on the idea that our purpose is to make sure that everybody feels like this playhouse is theirs, and that we're doing children's theater, we're doing senior theater, we're doing musicals, comedies, dramas, but that everyone should feel like it's their home. And that actually got us started in a couple of our early programs. One was our senior theater. Which we started working with Ali and I know we want to talk about that in a little more depth later. Another thing that we did was we have these title one school matinees. So we have free matinees to title one schools.
Morrie Enders:
They can come and we actually even have funding that we can find for them if they need busing help so far, no one's ever needed that, but the kids come and they watch the play for free. And then since most of our children's theater is based on a book, we give each of the kids a copy of the book as they leave. So we have boxes of boxes like Anne of Green Gables and Pinkalicious and Frozen. And these kids just love that. And that this is really an important thing to note in that we work a lot with Gere Library next door to us. And we learned from them that it was important about books, which is why we started giving them books, giving the kids books was really talking to Gere Library, that in kind of a regular economic household, the private ownership of books, that how many books are in Susie's room or Bobby's room is like 13 and a half books.
Morrie Enders:
But in lower income households, that private ownership of a books is one book for every 300 kids that they own that a book that they actually own. And so we took that idea and said, this is a great avenue. They come and see the play, they're excited about the play. And then to keep that memory going for longer and like rippling out, like the stone in the lake is give them a copy of the book so that they can take it home and reread it. And remember what it was like in the play, we know from our anecdotal evidence that teachers take that they will oftentimes read it together, aloud on the bus ride home, they will use it in the classroom then and discuss what was different in the book then was different on the stage.
Morrie Enders:
Why do you think that happened? Look at the pictures in the book, did they recreate those onstage or that they make new pictures? So they discussed the differences between the literature and the performance they saw. So that we felt that was really important to us. And we've given out hundreds and hundreds and hundreds of books over the years with that. So that really started A Playhouse for Everyone. Even after I think I started that idea then came the Penguin Project, which is now actually the flagship of our outreach programming.
Kelley Peterson:
Great. That's my next question, Morrie, I'm going to ask you about that special one program that the Lincoln Community Playhouse offers that is the Penguin Project. What makes that program so remarkable?
Morrie Enders:
Oh, the Penguin Project it is remarkable. And it's so remarkable that when I go out and I do speeches for clubs and things like that, people who've never even been in the playhouse building, know the Penguin Project, it really is our flagship of our outreach and the Penguin Project started many years ago in Peoria, Illinois. It was created by a doctor named Dr. Andy Morgan. And he works with children with special needs and he's a community theater guy and he combined his two loves and he would put them together in the Penguin Project. Now the Penguin Project is an annual musical show that we do where all the roles in the show are played by children with special needs. And they're partnered with peer mentors. And that to me is what makes this program so special. There are some other community theaters that do programming with children with special needs, but by bringing in that friendship, that partnership with typically developed kids, that to me, is what makes this program shine.
Morrie Enders:
In fact so much so that when we did an interview, we had an interview with like four different artists mentor couples, and they were interviewed separately. And one of the questions that they were each asked was describe the Penguin Project to someone who's never seen it, not a single kid mentioned it was a play, right?
Kelley Peterson:
I love that.
Morrie Enders:
Isn't that great? They talked about it being fun. They talked about building friendships. They talked about meeting new people. They talked about how it makes it easier to go up to someone at school who using a wheelchair and just talk to them. It's breaking. They talked about how it broke down barriers between them. And so that really is what the program is about. And I'm so glad that I identified that how important that is to share with other people that this is really the heart of it is that artist mentor relationship and the building of friendships.
Morrie Enders:
That being said, it is a miracle program. So we have examples of children who come to us non-verbal who start talking because they're involved in the Penguin Project. We have kids who have autism, who don't generally touch people, or like to be touched, who hug people and put their arm around them. One of our great success stories is a young man named Christian, who has autism, who had a 46 second delay response time. Which means that if you asked him something, it could take 46 seconds going through that brain of his, before he would put together a response to you. And now that response time is zero seconds. He can carry on a conversation. And then we found out, now, this is the crazy thing about this. We found out that one of the therapies that therapists use to correct to lower that delayed response time with kids with autism is to recite script back and forth in the therapy room.
Morrie Enders:
Well, they call that therapy and charge lots of money. We call it rehearsal and it's free. So there are miracle things in that I'm going to share. And I love this story too. This is from Dr. Andy's group, and we've seen some of that friendship happen as well. But one day, a set of parents of an artist called him up. And they said, "Dr. Andy, we wanted to tell you that Julie got a phone call today to go to the mall with some people from the Penguin Project." And he's like, "Okay." And they said, "No, you don't understand. She's never had a phone call before. She's never had anybody who wanted to be a friend of hers. Nobody ever thought of her as a friend to call, to go to the mall." The girl was 16 years old and never had anybody call her before.
Morrie Enders:
And this is the kind of thing that happens when you break down the walls between people. And that's what the Penguin Project does. It is a great thing. I mean, parents also see their children in new light, parents of mentors, see the empathy that their children can have, that they possessed, that they are putting someone else first and caring about someone else's needs ahead of their own. They're giving up hours and hours of time to help someone learn all the music and lyrics and dance, and then stand three feet upstage to them and performance to make sure they're okay during the play. I mean, in a world that is decisively trying to make us anti-social as possible. This is a project every evening would come together and people connect human beings connect and the empathy is strengthened and how can that not be good for the person, for the theater and for a community? It's a great project. And we're so proud to be part of it.
Kelley Peterson:
I wish that sometimes there just aren't enough words in the English dictionary, but miracle that you used does describe that. And I bet there could be invented so many more words to describe how fabulous the Penguin Project is. It is just, it's a miracle, it's magical, it's so many things and I for one have experienced it personally, and it is so moving. And so I encourage any listener to, if they can get involved somehow. It's a different type of experiencing the theater that you've never had before if you haven't been to one of those shows, for sure.
Morrie Enders:
Let me remind people, Kelley, that that showed this year is Elf Jr at Christmas time. So in December you can come and see our penguins. That'd be great.
Kelley Peterson:
Yes, I will. I'm already planning on being there. I can't wait. So we talked about the spectrum that the playhouse serves from children to adults, and it's on the end of the adult spectrum, even talking about seniors, which I love. So the Lincoln Community Playhouse provides theater experiences for children through seniors. Can you also tell us about radioactive players and how this special group got its name?
Morrie Enders:
Sure. This started a number of years ago De Aguilar and Leta Powell Drake from Ali came over and they really wanted to just see whether I would give them the Playhouse for our classroom space, because obviously we have some great parking, it's easy for seniors to park and get in here and out. And they left with a whole senior theater troop. So I always say never underestimate the power of Leta Powell Drake personally. So if you've ever met her, he is a force of nature.
Kelley Peterson:
I have and I agree.
Morrie Enders:
I was very excited to start this program with them. And Leta came up with the name of radioactive players, I believe. So it sounds fun. And the reason that it was radioactive players was our first show was a radio show. We did a Jack Benny show in the studio, and 20 minutes of material, did some ads. The next year we did the Orson Welles, Howard Koch the War of the Worlds radio broadcast. And then we started to branch out because radio was too small for my people. So when we started doing some original shows that I wrote, which frankly were pretty hokey, but I thought they were funny. I don't know. Maybe they weren't. And then I said we really need to do some better quality material for these folks.
Morrie Enders:
And MTI, Music Theater International, MTI is a company out of New York, that licenses musicals. So the guys in Dallas and music mans and Les Miserables of the world. You go through them to book it. And they have a program called the Junior Shows and they've taken these big musicals and they've cut them down to an hour length and simplified the music and the ideas that they wanted to get junior high kids to start to do musicals.
Morrie Enders:
So that's why it's called junior. And I thought, could I do this junior shows with senior citizens? And so I asked and they say, "Yeah, sure." And so over the years I kept saying this guys at MTI, I'm like writing them going. This is a really amazing program. And my seniors love doing this material and they love having good material as opposed to what I was writing. I mean, doing, instead of they're doing Pulitzer Prize, winning musicals now, and Tony Award winning musicals. And whenever you start with a solid base, that is always a good thing. I think our folks do better with a good foundation, so good material to work with, good songs, proven comic material, proven dramatic material. That's always very helpful. So eventually MTI called me up and said, "Okay, explain this more what you're doing all these years," and we've talked about it. And so now it actually is a program called Broadway Senior. That people can book out of Music Theater International, and it all started at Lincoln Community Playhouse.
Morrie Enders:
So here are some of the things. So the biggest hurdle as you get older is going to be memorization so that's why a lot of people who are older don't don't audition for plays anymore because it's hard to memorize all these things well in our world, in our senior theater, you don't memorize because we always have our scripts with us. So we have them in rehearsal, we have them in performance. It varies. Some people are very locked in on them. Some people are not locked on them, locked in on them at all in performance. So that's a big thing that is helpful. We also provide opportunities for people who have here's when we started, I thought we'd get a lot of people who had been in shows and then needed some extra help support.
Morrie Enders:
And we have a few of those, but we have a lot of people who've never been in a play before. That's what really shocked me. All these people were like, "Yeah, I'll give that a try." And they like it. And they keep coming back. We have one man who told me he is in his mid '70s at the time, he told me that being in the show has changed his outlook on life. We had another woman whose husband had died a year before she was in one of our shows. And she said it was the first time she felt like she could go on because it was the first time she felt joy again. All right? The social aspect of this is incredible because one of the things that really dragged seniors down is isolation. And this prevents that because they come together, they sing, they laugh together. They're fun people to be around. And we have little parties sometimes and things like that. And it's just a great component. Now, when we did Grease, we did Grease the senior edition-
Kelley Peterson:
Love that.
Morrie Enders:
Grease the senior edition, I was going to call it ointment, but I got out voted. So we kept with Grease the School Edition, but out of that group came a group called the greasers. So some of my seniors that was years ago, we did Grease regularly sing together in rehearsal. They do rock and roll and they do some gospel and country and they go and they sing it at retirement centers and various churches. They are going to sing in August at the Farmers' Market Downtown. And so they were kind of their own little group. And I said, "Really, you're kind of the files, but you're not, can we bring you under the playhouse umbrella? And so we can support you and give you rehearsal spaces and all that." So now we actually, they're the playhouse research. So it's our own little touring senior singing group. So that is our senior group. It is I think our oldest person, I mean, most of the time they won't tell you, but is in their '80s. And I'm going to say mid '80s.
Kelley Peterson:
Wow, I don't blame them for that.
Morrie Enders:
But if you haven't seen those shows, those are also delightful. We do them, we haven't picked a show yet, but it will be in spring some of the shows and they're like five bucks. So come and, we've done Music Man, Guys and Dolls, Grease, as I said, and Singin' in the Rain where we didn't have any rain. Because I didn't want anybody to slip and break a hip. So we had no real rain, but that was a fun shell. We were doing Pirates of Penzance when we got COVID hit out. So I'm not sure what we're going to do next, but there a lot of fun. And Kelley, I got to tell you one of the other things that's great about this, because we talked about in Penguin Project, how parents see their kids in new light, here you have senior citizens doing these shows and their children and their grandchildren are seeing them in new light because suddenly grandpa's up there singing, grandmas up there doing take back hear me.
Morrie Enders:
So you were so used to the visual of grandparents and parents bringing flowers to their kids after a play, a school play or whatever. Here, all these little kids are coming up with the flowers to their grandmother.
Kelley Peterson:
For the future in the role modeling of that is tremendous. I can't even, so then those grandkids can think "I can be up there too."
Morrie Enders:
Yeah. And think new thoughts and positive thoughts about their grandparents that you put everybody in a box and suddenly that box gets exploded.
Kelley Peterson:
Well, I have to tell you Morrie, you had me at Grease and I'm sorry to have missed that one. So I'm probably going to age myself too, because that was the first double album I saved up all once for it. And boy, is that one of those musicals that leaves a mark on life.
Morrie Enders:
You can recite from beginning to end, right? You remember what track comes next.
Kelley Peterson:
Oh yes. Move the needle to this one. So good. So good. So in 2020, the Lincoln Community Playhouse was named as a winner of the KidGlov Agency for Change Challenge.
Morrie Enders:
Yay.
Kelley Peterson:
Yay. And what this meant was that you received $10,000 in marketing services. So what did winning that challenge make you feel like?
Morrie Enders:
Well, it made me feel pretty darn good. I'll tell you. Here's one of the things. So Kelley you got, we're a nonprofit and I like to say we put the non and non-profits, all right? So we run a pretty tight ship here. There's not a lot of flab on these bones. Okay? As we run this playhouse and it's expensive to run. And so the idea of being able to have a marketing firm help us out creative ideas and all that was out of our reach. So that means that the playhouse has stuck with me. All right. So it was great. It gave us an opportunity to have professional help in an area that we are always just shooting from the hip. So that was a really remarkable advancement for us in our image, being able to promote our image and what we do, KidGlov work did and created a whole new logo for us and which is dynamite. It's really fun. Our old logo was okay. The other thing about our old logo was it was generic enough, the kind of the happy, sad faces that could have been anybody's happy, sad faces.
Morrie Enders:
And our logo now incorporates the P of playhouse along with the LCP Lincoln Community Playhouse, which is the two ways people talk or referred to us most, I'm going to the playhouse, I'm going to LCP. So now our logo incorporates both of those terms that people use about us. And it also has the happy, sad faces in it as well to market, as a theater. And then our tagline bringing joy to the stage and beyond, I think really helps to incorporate, which came from you folks at KidGlov, really helps embody in print what we're trying to do with the playhouse that Playhouse for Everyone.
Morrie Enders:
The fact that we believe that the playhouse is fundamental to the vitality of the health of the community. That we are not just a place where people do plays, that we are a place where people get their lives changed and sometimes even saved, it's seems melodramatic, but there are people who have told us that the playhouse saved their life, that they didn't kill themselves because of the playhouse. And that is an awesome responsibility when you're told that, but it also demonstrates how important the playhouse is. And then the line about bringing joy to the stage and beyond really, I think helps get that message across that we're more than, not that there shouldn't be anything wrong with just coming and watching a play because that in itself is fun and all that, but that we are more than that as an organization. And we're important. And I always tell everybody that we're in the people business, we just happen to do earthenware and that kind of a slogan, I think helps that idea that we are really here for more than just the fun and games of it.
Kelley Peterson:
Absolutely. And you mentioned in speaking about one of the seniors and that they haven't felt joy in a long time. So that word joy is really something that describes and embodies with the Lincoln Community Playhouse does and is, and will continue to do. But there's when we were working on this project together, there was one other really special thing. And we couldn't believe it when you told us a name about a donor and their last name and how that also fit really nicely into this tagline about bringing joy to the stage and beyond. Tell us about that a little bit.
Morrie Enders:
Tell me about what, are you talking about Margaret and Oliver Joy?
Kelley Peterson:
Yes, I am.
Morrie Enders:
Margaret and Oliver Joy are a couple who are also in our legends are like Hall of Fame. They contributed a lot of money and they actually also contributed the property that we are on right now at 2500 South 56th Street, Oliver was in many different types of businesses, but one of them was in the smoke detecting alarm business all right? Which he eventually sold his company to Honeywell, which is obviously an international company. But so at one point Oliver and Margaret were sitting in our first big location, which was the Old Synagogue Downtown. And I think Oliver decided that it was a firetrap and it was a little dangerous. Don't tell anybody who sat in there all those years, just because I don't want them to worry that they could have gone up at any moment.
Morrie Enders:
He helped initiate that we needed a new space and the two of them gave us this property. And so our main stage is called the Oliver Joy Theater, main stage theater, one of the other things and then after he passed away, she served on the board and she also donated money. She came up with money at times that were rough patches for the playhouse. So there are very significant in the history of the playhouse. So it is that Joy, that how do the constellations align that somebody who is helping the playhouse has the last name being Joy?
Kelley Peterson:
I just remember the meeting so well, and you've got to be kidding me how this perfectly fits together. Another miracle.
Morrie Enders:
Yeah.
Kelley Peterson:
Well, and so many things.
Morrie Enders:
Well, I'm glad you didn't give us the slogan "Bringing Oliver T. Joy to the stage"
Kelley Peterson:
Yes. We just use the last name, which has so many play on words. How about that? I know speaking from a marketer. So one of the reasons, and it is when all stars aligned and the playhouse definitely has had years and years and years of stars aligning for you, because one of the reasons Lincoln Community Playhouse was selected as a challenge winner was because of all the positive social media outpour from the entire community. And those stars did come to align for you. Can you share a few stories of impact and you've already shared so many about lives, but how did all of that social media and the challenge, how that all come together?
Morrie Enders:
Well, one of the things that, I mean, if you want to look at any good things coming out of COVID and it's really hard to imagine that you can think anything good came out of that it's such an awful time. But it made people aware of what is important to them and the playhouse, even though I think a lot of people do think that we're important to them, they hadn't really had to explore it or have to express it. And part of the challenge was you wanted to hear from people about why this particular organization was worthy of being called an Agency for Change. And so then our folks, our theater family had to assess what they felt about the playhouse and the impact the playhouse has on their lives. And they did write really wonderful things to you.
Morrie Enders:
And I know they called you and all sorts of things. And that was, I got to tell you, even if we hadn't won, that would have been so gratifying to have all of that material where people had to take the moment and go, "That place really does mean something to me." And because we've been around 76 seasons, we also have generational stories. So it was like, my mother took me to these plays and then I started to come to the plays. And now upbringing my children and my grandchildren to the plays. I was in a show and it was so great. And so now my child is in the show or those kinds of things, stories of how we, and this is not untypical. So people think generally you civilians think that theater people are like, "Oh, we're all possess, and we're crazy nut sows and we're all extroverts."
Morrie Enders:
And the truth of it is most of the people who work in the theater are introverted people. And it's the weirdest thing, isn't it? That what attracts moths to the flame is that there's something about you that you may not be comfortable. I mean, one of my mentor director, people who I never met, but he wrote a great book called actor's broken wing to people. So there's something about your life that you're uncomfortable with or you're nervous about or shy about. And as an actor, you think "I can be someone else, I can become a character and it's not me. And I can be comfortable in someone else's shoes or someone else's skin." And the paradox of acting is the only way to be an actor is to bring parts of yourself forward and expose yourself.
Morrie Enders:
You do it under the guise of it being someone else. But you bringing parts of yourself that match for or that you can understand the characters, feelings, and actions, and you bring yourself forward. So you actually totally expose yourself while you're hidden behind a character. And as time goes on, it doesn't work for everybody. But a lot of times, I think as time goes on, you as a human being, start to feel more comfortable with who you are, because you're now expressing yourself instead of keeping everything bottled up, you're able to talk about things. You're able to show emotion, even under the guise of that being someone else's emotion, and it makes you a better balanced human being.
Morrie Enders:
So I think you saw in those responses to the challenge people, putting that journey into words of how the playhouse has helped them through the years. So it's all very gratifying and lovely, and it was great. And I think it was actually great for us as an organization, as a self-assessment by our participants. It made us a stronger organization.
Kelley Peterson:
Yes. During a time that you needed a little "Pump us up." That's the time
Morrie Enders:
Right!
Kelley Peterson:
You did it.
Morrie Enders:
And how bad we're all feeling of people had a chance by writing for you to say, "Here's something positive that's in my life currently, it's on hold, but it's a positive in my life."
Kelley Peterson:
Yes. For sure. So Morrie, let's switch gears and talk about you for a little bit.
Morrie Enders:
I'm introverted.
Kelley Peterson:
Introverted in your flamingo shirts.
Morrie Enders:
You know what? It's weirdest thing, right? But no one believes me, but I've taken all those little weirdo, psycho tests that you've posted, Meyer Briggs and all that stuff. And yes, I'm actually an introvert. I have introvert tendencies, but here I am in an extrovert world. So away we go.
Kelley Peterson:
Well, sometimes I always say that my husband and I are both extroverts, but he is at times can make me look like a wallflower. So I understand that being an introvert in an extroverted world, so how-
Morrie Enders:
But yeah, what do you want to know about me?
Kelley Peterson:
Yes. How did your path lead you to what you are doing today?
Morrie Enders:
Okay. I was going to tell you I was a Scorpio but if you want to go into career path, I could do that. Well, here's the deal. So the theater was important to me from fourth grade on. All right. So I only see out of one eye, so my depth perception sucks. So whenever I give a speech to people, I say, don't worry, I'll let you get in your cars and get out of the parking lot before I get into my car. So I won't crash. But the truth is that I have never successfully hit a baseball with a baseball bat. I was always the last kid chosen in any game in gym class because I have this terrible at all that. I like to say I made up for that by always being the first one out in dodgeball, because I couldn't see the ball coming!
Morrie Enders:
So I'm left out a lot but stuff. And in fourth grade, I played a king in my classroom play and my costume was my bathrobe that I brought from home. And it was the first thing that I did that got acknowledged by other people. They were they were like, "Hey, that was good." And then, and I'm like, "I like this." And so here's the deal. I have this Angle Bright print. It's actually out in my outer office and it's a boy hugging a dog and underneath it says "Everyone needs their own spot." All right? And so suddenly by being in the stupid little classroom play that I couldn't tell you what it was. I just know that I was the king, suddenly I found a spot and the next year a friend and I wrote a play. It was the first Ecology Day. That's how old I am. I celebrated the first Ecology Day.
Morrie Enders:
And we wrote a play where she was mother nature and I was man and I came into the forest and I destroyed the forest by eating lunch and throwing stuff around and all the animals beat me up. And I learned my lesson and we actually performed that show in front of the entire school. So I was up there eating and throwing garbage and the kindergartners were like rolling on the floor, laughing. They thought that was, I mean, I'm like, if you want to know manna from heaven where you have that moment, where you go, "God, I really liked this feeling," I'm doing stuff and getting this reaction. And so I was hooked solidly from there. But that I'm going to tell you is what also drives me through all of this is that I know that in Lincoln, there's a kid who can't hit a baseball with a baseball bat and they need to find their spot.
Morrie Enders:
And for some people it's going to be 4-H, for some people it's going to be the chess club for some people it's going to be sports, but for some people it's going to be the theater. And if we're not here, and if we're not a vibrant, strong organization, that's accepting and bringing new people in and nurturing new people, that person's not finding their spot and their life is a skew. So that has led me through all of the things that I'm doing to get where I am today. I went to college, got an undergraduate degree, figured that acting was not really going to be for me.
Morrie Enders:
And I really liked that the rehearsal room. So I started working on directing and went and got a master's degree, did an internship as a director in a large community theater in Kalamazoo, Michigan, and then got a job in La Crosse, Wisconsin, where I stayed for 18 years. I was the artistic slash managing director of the La Crosse Community Theater in La Crosse, Wisconsin on the banks of the Mississippi, beautiful town and worked there 18 years and went and I returned to Kalamazoo for four years as the artistic director. And then ended up here in Lincoln, Nebraska. And I'm in my 11th season here at the playhouse. So that's that's that journey.
Kelley Peterson:
That's that, I mean wow.
Morrie Enders:
But sometimes it's really funny because a lot of people have had 60 different jobs and things like that. And I've had three, three jobs, 33 years, three jobs, and they've all been in the theater and I'm one of the rare people that I can tell you, except for miscellaneous things like in college, I worked for university events. So I put up all the posters for all the concerts and things and I moved a percussion equipment. In my hometown college, the only building without an elevator was the Music Building. So we had to carry the tympani and the bells down steps. That makes sense. But they paid me for it. And then I worked two weeks at this summer session where I made toast in the morning, except for that all I've ever done is work in the theater. How lucky is that?
Kelley Peterson:
Host and theater.
Morrie Enders:
That is so amazing to me that you think about that this has been my life and it was course was set in fourth grade.
Kelley Peterson:
I do think that that happens for people. And sometimes it just takes a really windy road to get there. But for you, and the thing is you've stayed in theater, but your road hasn't always been the same in theater either. Because so much evolution has happened in that time period and changed.
Morrie Enders:
I should also tell you that I'm not sure that even though as a high school student, I was a founding member of the Mount Pleasant Community Theater in Mount Pleasant, Michigan as I was a high school student. But I can't tell you that I thought community theater was my life, but I got into it weirdly because I knew people, one of the guys that moved the epiphanies with me, got a job as being the tech guy at a city center in Jasper, Indiana. And they had a community theater and they needed a director or a funny thing happened on where the forum. And so he called me up and I went and I did that for one summer. And then they hired me back and hired me back for five summers. I did that and I just started getting community theater jobs and I just became a community theater person.
Morrie Enders:
Now having said that, I will tell you that I love community theater. I am a devoted community theater person. And the reason is because of process and product. So like I say, if somebody brings in Fiddler on the Roof to the lead center, all the producers of that production really care about is that they give the best production of Fiddler on the Roof to the audience and the audience loves it. They don't care if the woman playing Golda is having a life-changing experience. Now here at a community theater. I also care if I'm going to sit around the roof, I want to make it the best possible show for you as an audience member. Because I want you to love it and have a great time. But I care if Golda's having a life changing experience. And that's what makes us different as community theater people that any of the other theaters that I can think of. And I love the fact that our process and product are both important.
Kelley Peterson:
So that sounds a little bit like how you're making a huge difference in the world, which brings me to my next question is what advice do you have for other leaders who want to make a difference in the world?
Morrie Enders:
Well, I don't know that I could have answered this same way or at all just from a few months ago to now, but here we have a new focus with DEIA to up our game, to really be more inclusive. We have something, a phrase from someone a long time ago was called "Soften the doors" and softening the doors means to make it easier to enter. So I'm a straight white guy. And so when I see a door, I see a door that I go through. I forget that a door can shut and a door can lock. And so it's really important for me to have had that all scrambled in my head and say, "We need to do some more things." Whereas great as I think our community theater is, as great as our outreach is, it's not complete. It's not enough.
Morrie Enders:
And we are making new efforts to do that. And so it is daunting. And as you read things, and I mean, one of the memes that I read said, "When there's violence of police on black people, black people take to the streets to protest and white people will start book clubs," all right? And we research it and we do. I mean, we did that. Our staff has been reading, we've attended webinars. And the thing about it is Kelley is it's such a huge, huge problem. And so what I would say, what we've decided, and I think my advice to other leaders would be, you may not be able to change the world and no one's going to make a statue of you or proclamations, but you can change your little piece of the world.
Morrie Enders:
And so, like I said, I can't change what goes on in the world, but I can change what goes on, on that stage that's downstairs from me in my office. And if I can change what happens there, then I can actually change the world. But in smaller slices than you might think, little pieces, but all the little pieces of how do you make a jigsaw puzzle? It's all little pieces. It's all got to go together to make a big picture. So if every leader works on their piece, we can complete the puzzle.
Kelley Peterson:
That was just a brilliant response to that question. And we started this conversation with you talking about a play about reasons to continue a living. And were they bright? Is that how you described them?
Morrie Enders:
Every brilliant thing.
Kelley Peterson:
Brilliant thing. And so I'm adding, I have no idea what number that is, but I'm adding your response to that question as a brilliant thing-
Morrie Enders:
Well, thank you.
Kelley Peterson:
… that you are bringing to this world, for sure, through the Lincoln Community Playhouse. So I love words, this about me Morrie and I'm inspired by motivational quotes. Could you give us a few of your own words of wisdom for our listeners?
Morrie Enders:
Yeah. So here are… the first couple are maybe two theater related, but maybe they could be taken in a broader context. The first one was one I stole from somebody and it says "A director directs traffic on a one-way street." And what I love about this quote is it is about what I try to do as a director, which is you've got all these people that are working with you. And in theory, you're the leader person. So eventually if it comes down to a decision, you're the person who has to make it. But if you can get everybody going the same way, then everybody's making those decisions together and productively, and you never have to go home and be a leader.
Morrie Enders:
So I like directing is directing traffic on a one-way street. So I liked that. One that I use all the time that I actually made up is so usually in one of our first rehearsals, a new person makes a big mistake or even a little mistake, but because it's the first rehearsal and they're new, they think it's a huge mistake. And so what I always say is don't worry about it. If it was right the first time we'd only have 'hearsals'.
Kelley Peterson:
That is great.
Morrie Enders:
But so think about that. I think you can take that to life too. You mess up, do it again. It's okay. So the one that I again, I have to say that, think I coined this little phrase is that, and this came really from the Penguin Project, is that, so I believe that when the first words you learn, when you're born, the first word you probably learn is 'mama,' And the second word you learn is 'dada,' And the third word you learn is 'no,' all right, no, don't go near the staircase. No, don't go near that dog. No, don't go near the stove. So we get a lot of know and what I've discovered, the best thing about being a director is you get to say yes to people. So yes, I think you're going to be great in this part. Yes. You can sing, yes, you look great in that costume. Yes, that and you just start saying yes to people and you watch the walls fall down.
Morrie Enders:
And in the Penguin Project, those kids are artists have had a world of no, and they got lots of no. And so they come to us and the best thing that we do for them is we say yes to them. All right? And the phrase that I coined is people blossom in a world of yes. So the more affirmation you can give people, the better person you're creating, the better person they're becoming, because we have so many obstacles in our way. And the world puts them in our way. We put them in our own way. And if you say yes to people, you start throwing those hurdles out of the way and they run faster and they become better people. So I think as a leader or anybody just in human communication with other people, if you can say yes to someone, it will make everything, it'll make it better. So people blossom in a world of yes.
Kelley Peterson:
That is so good. And I just say, yes, yes, yes. And in that quote that they say yes to the dress, I'm just going to say yes to the yes. Does that work?
Morrie Enders:
Yeah.
Kelley Peterson:
Yes to the yes, Morrie. So for our listeners who would like to learn more about your work and how you say yes and how to support you. So they will say, yes. How can you find out more about the Lincoln Community Playhouse, excuse me.
Morrie Enders:
That's right. The Lincoln Community Foundation is an excellent organization as well.
Kelley Peterson:
Yes, they are. Yes. Yes, they are.
Morrie Enders:
They are very supportive of the playoffs through the years and we have several funds actually that are there at the Lincoln Community Foundation, including one that was created by Oliver and Margaret Joy. And one that was created by Margaret Joy later. So every year the Joys still give money to us. Isn't that wonderful.
Kelley Peterson:
Yes, it is.
Morrie Enders:
Yeah. So-
Kelley Peterson:
Talk about a legacy.
Morrie Enders:
Right. Exactly. By the way, if people want to get more information on the Lincoln Community Playhouse, we have a website, it's lincolnplayhouse.com. And you can sign up to get on our newsletter list that we send out through email. You can call us up at the box office 402-489-7529. And talk to Sarah downstairs. She's patron service manager. And she will make sure that you're on our email list and she'll send you out a brochure. If you haven't gotten a season brochure, we'll send you out your own copy.
Morrie Enders:
And they are on our website. And once you're on the newsletter list, then there's also every week we keep updating the information. So people will find out when the next auditions are, the characters, what you're needed to do for an audition. You'll find out about classes. We only have youth classes at the moment, but you can find out information about that. We also have scholarships for that. So people can easily sign up for a scholarship for their kids. Then you can also out about upcoming, when the shows are, and when the tickets go on sale and special events. And we also do things like we have little trivia history, things like this summer, we did the Nostalgia Summer '21, where people could request pictures from their favorite show from the years and we went back to the archives and brought out pictures. And so people could see those kinds of things. So it's a lot of fun. So it's really easy to get involved.
Morrie Enders:
If you want to get involved at the playhouse, one of the first things we do is we bring you in and we talk to you and we actually sign you up to be on the front of house, which is a fancy name for saying ushering. All right. So one of the reasons to do that simply is that it gives us an easy chance to get to know you. It's an easy activity for you to do. It's like a one night or a couple nights. And frankly, we also find out whether you show up, and whether you do your job and that's important too. I mean, it's not enough to just want to be a part of things. You also have to pull your weight.
Morrie Enders:
One of the great things about theater, participation is that as individual to individual, you give your trust to other people. And they also earn your trust, those people by doing their job. And those people are giving you their trust and you earned their trust by being responsible in doing your job. So everybody works together. So that's one of the ways, easy ways to kind of get that started.
Kelley Peterson:
Sounds good. I hope that many listeners do that and join the joy.
Morrie Enders:
And one of the things that we do also for actors and crew people, if you're making your debut, we put an asterisk next to your name in the program. This is to acknowledge that you're making your debut, but also to show the world that we're not a clothes shop, we're always using new people. And we love new people to come in. That's how we keep our theater library and somebody looking for their spot.
Kelley Peterson:
That's right. Somebody is looking for their spot. As we wrap up our time together today, what is the most important thing you would like our listeners to remember about the work that you're doing?
Morrie Enders:
Oh, well, I would like people to think of the playhouse as their playhouse, that their place that they belong at this building at 2500 South 56th Street. I also want them to know that we spent a year without anybody basically in this building. And we all learned that a theater is not a theater if there's not people in it. People creating, people enjoying, people sharing a story, we are not hard wired as a species to be isolated. We are hardwired to be social creatures and nothing else from this COVID time where I think we've learned that it's really hard to be alone all the time.
Morrie Enders:
One of the things in 2019, there was a study in the United Kingdom where they put electrodes on people watching a play, those little funny sticker things. And what they discovered was that as people watched the play, their heartbeat started to synchronize. So their heartbeats literally started to beat together. And I would like people to think of this place, Lincoln Community Playhouse as a place where your heartbeat, beats with other people that our hearts beat together, all synchronized together. And that is just a primal need and a primal fulfillment of that need that we have. I want people to think of the playhouse as a place filled with joy.
Kelley Peterson:
Morrie, I believe that the world needs more change makers, like you. Thank you for taking the time to share with us today.
Morrie Enders:
Well, thank you, Kelley. See everybody at the playhouse and tell me that I stand by the door after the show, tell me you heard us and that you were inspired and that's why you're here. And I would love that.
Kelley Peterson:
Thanks, Morrie.
Announcer:
We hope you enjoy today's Agency for Change Podcast. To hear all our interviews with those who are making a positive change in our communities, or to nominate a change maker you'd love to hear from, visit kidglov.com to get in touch. As always, if you like what you've heard today, be sure to rate, review, subscribe, and share. Thanks for listening. And we'll see you next time.