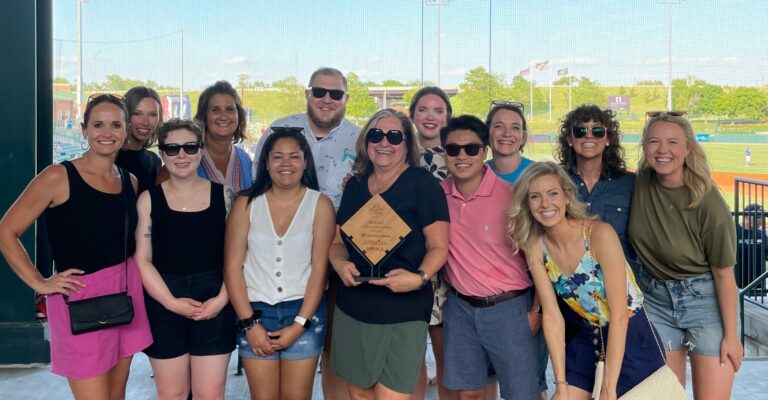 September 2, 2021
Lincoln LOVs KidGlov
We love Lincoln! It's why we set up shop here more than 11 years ago and why we were pleased as punch to be named one of its Best Places to Work in June.
Lincoln's Best Places to Work is sponsored by Woods Aikens LLP along with the Lincoln Human Resource Management Association and the Lincoln Journal Star. The awards recognize Lincoln businesses and organizations that have a proven track record of supporting and engaging with their employees. For the third time since 2017 we were honored in the small business category.
"Culture has always been our key focus at KidGlov," said Katherine Warren, our chief operating officer and head of culture. "Our manifesto focuses on giving our team the time and space they need to do the work they LOV for clients they LOV with a team they LOV."
Now in its fifth year, Best Places to Work administers an employee engagement survey to measure corporate culture to help pinpoint top workplaces. The survey, from Quantum Workplace, measures a wide range of factors that impact employee engagement and satisfaction including an employee's willingness to go above and beyond in their work, advocacy, support, and engagement.
Support and value were the overarching themes of our employees' responses to the survey ­– and we were thrilled to learn that one hundred percent of our employees said they felt supported by the leadership team.
"It's fantastic to see that KidGlov employees feel so supported," said Lyn Wineman, our founder and president. "People are truly at the heart of our work and that begins with our team. When we support each other, amazing things can happen."
We're proud to be as close-knit as the stitches on a handmade mitten, or perhaps, one might say…a glove. Our team of amazing marketing and advertising agency experts offer decades of diverse experience in serving organizations around the world. Beyond our work, KidGlov's corporate culture values each one of us as individuals and strives to ensure we're always supported to do our best.
For several years, our work has received top honors at the American Marketing Association awards that recognize the best results-based marketing in Lincoln and Omaha. With incredible benefits, flexible schedules, supportive leadership, and heart-inspiring work for organizations that are truly making a difference, it's easy to see why we LOV working at KidGlov.
We're always looking for new talent to support our growing organization. If you're looking to share your skills, we'd love for you to join us! Check out our job openings here. And be sure to keep tabs on all things KidGlov on social media.