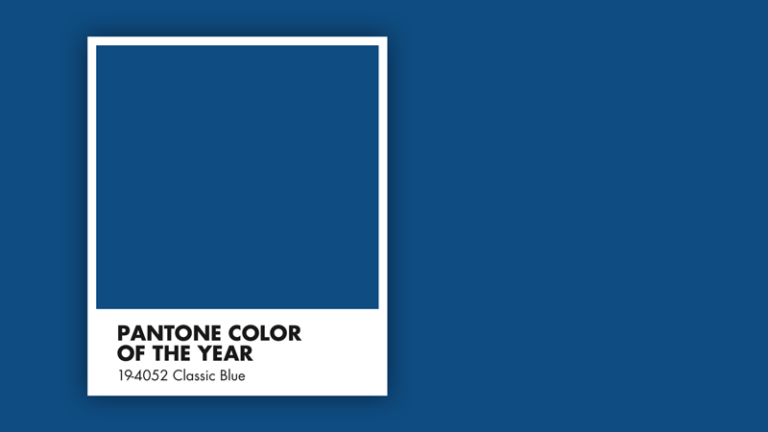 January 8, 2020
And the Winner Is… Classic Blue??
The Pantone Color of the Year, Classic Blue, may seem like a very basic color for such a lofty designation. Graphic designers all over the world wait for this color to be named each year, and it's become a 'new year, new you' tradition for the world of design. Combine it with the power of words, though, and it becomes this, according to Pantone:
"Elegant in its simplicity. Suggestive of the sky at dusk, the reassuring qualities of the thought-provoking Pantone 19-4052 Classic Blue highlight our desire for a dependable and stable foundation on which to build as we cross the threshold into a new era."
Wow. Skies at dusk, reassuring, ushering in a new era? That's quite a bold statement for such a ubiquitous color!
Classic Blue, though, is a go-to favorite for a reason. The color of both the sky and the sea, blue is associated with expansiveness, inspiration and freedom. It conveys meanings of trust, loyalty, dependability, intelligence, wisdom and faith. All traits that are reassuring in a time where the world around us feels unpredictable and volatile. So…maybe Pantone is on to something after all.
At KidGlov, we work with 'change makers' – companies and organizations who are working to create positive change in the world. Whether corporate or nonprofit, these are organizations that exhibit many of those traits.
So, it should come as no surprise that many of our clients are already using the Pantone Color of the Year. As we kick of 2020, let's take a moment to celebrate the 'change makers' who are using this color to its full potential – both in design and in spirit.
KidGlov is a boutique, full-service, advertising, branding and content marketing agency and certified B Corp, with offices in Omaha and Lincoln, Nebraska, specializing in nonprofit marketing, healthcare marketing, financial services marketing, social impact marketing, and purpose-driven businesses.