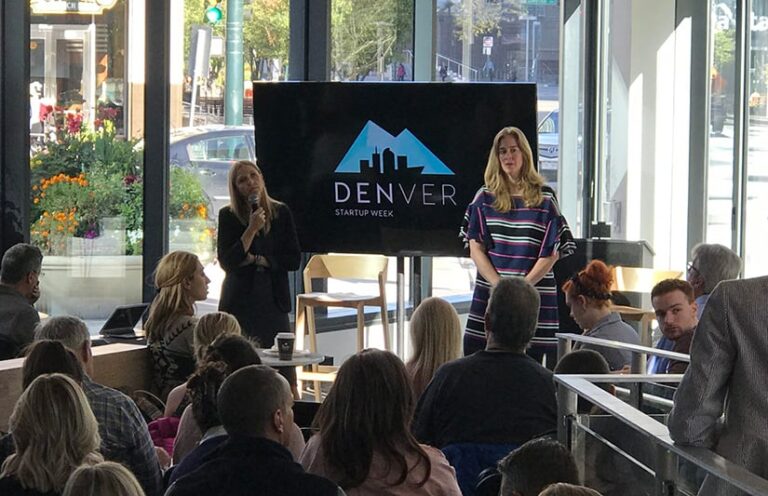 October 19, 2018
Business Pitches, Coworking Spaces and Coors: 5 Takeaways from Denver Startup Week
By Jen Landis, Vice President : Creative Director at KidGlov
I stood in the cattle-call line at Southwest Airlines last Monday wondering whom I would meet and what I would learn at Denver Startup Week. Would the event be relevant even if I didn't have a trendy tech startup looking for Series A funding? I ubered back and forth through the week to several of the 120 co-working spaces around and near downtown Denver. I soaked up the energy and excitement of the city, plus maybe a beer or two, and YES, the sessions delivered a wealth of information.
As I flip through my notes, here are my top 5 takeaways:
1. Words of Wisdom from Shark Tank's Daymond John
Daymond's session was filled with heartfelt stories of his struggles and advice to business leaders. "BE SELFISH with your mornings," he said, "take care of all your business first before you start answering emails and fixing other people's problems." Daymond also sets time aside every morning to go over his personal goals. He suggests everyone have six to 10 that you accomplish in six months, and four additional goals that you accomplish in five, 10 and 20 years.
2. MVPs save your business time and money
MVPs (minimum viable products) are HUGE in the lean startup world, but your business can use them as well. MVPs are the simplest versions of a product or release that will still suffice for a user. When you have a hypothesis of what your customers need, ask yourself: what's the simplest way I can test this hypothesis? That's the MVP, and if your customers want it, that's the green light for the rest of your project. For example, to test an app idea that has a lot of bells and whistles, put it on the market with just one bell. If it pulls in consumers, move forward with future iterations. Businesses can save themselves lot of time and money testing out an idea before they build it.
Another way to quickly and inexpensively test your ideas is to try a 404 test. Imagine you want to create a new product or email newsletter. Testing it through a 404 test allows you to see if your customers want your product or service BEFORE you create it. Set up a landing page with a button to purchase or sign up. Lead people to that page and see how many clicks you get on the CTA button. The button's only purpose is to collect data and then redirect to your company's 404 page. It's a low-cost way to test if your idea is a good one.
3. Hold your customer's hand through the journey
When launching a new website, pushing an app update live or starting a new campaign, communicate these changes with your customers early, often and on multiple channels. Show them a clear path of the actions you want them to take. For example, when your customer hasn't performed the next step in their journey, set up an email series that triggers additional email communication explaining what you want them to do and the benefits they'll get from doing it.
4. PR Hacks
Sign up for HARO (Help A Reporter Out). The service sends out 3 emails a day looking for professional thought leaders to contribute to their blogs, magazines and newspaper articles. Don't forget about industry associations too – they're always looking for content, so look up the content calendar on their website to see what subjects they'll be covering in upcoming issues. They work three to six months in advance, so mark your calendars early to make sure you don't miss a deadline.Set up a google alert for your business, your competitor's business and keywords within your industry. Researching your competitors for 20 minutes a day will help you understand where your business falls in the landscape of your industry.
Want more exposure without spending a ton of money? Find micro-influencers (10,000 fans or less) on Instagram and have them highlight your product or business. They usually will do it for trade or a small fee.
5. Brand storytelling
What does your brand stand for? What is the character of your brand? When you know your company's persona, it's important to speak from that voice in all of your communications. Your customer should feel your brand persona at every touch point of their journey. Aim for your communication to make them FEEL YOUR PERSONA and what you stand for, along with specifics of the product or service you're selling.
If you're interested in learning more about Lincoln startups, mark your calendars. Lincoln Startup Week will be going on from Oct. 22 through Oct. 26.
Want more information? Visit our purpose-driven business hub to find a variety of case studies, helpful blog posts and Agency for Change podcast episodes featuring other purpose-driven business leaders. KidGlov is a content marketing agency and certified B Corp with offices in Omaha and Lincoln, Nebraska, specializing in nonprofit marketing, healthcare marketing, financial marketing, social marketing and purpose-driven businesses.