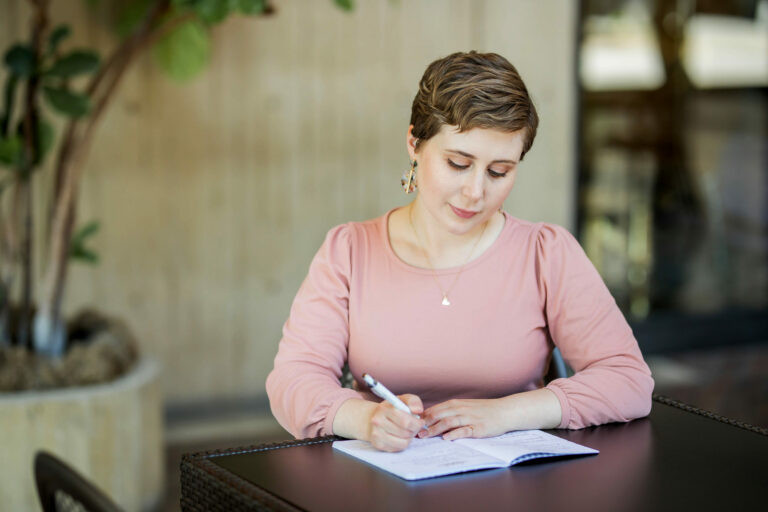 September 9, 2021
Maddy Hager Joins the KidGlov Copywriting Team
With a love for words and an inner Jo March, we knew we'd love Maddy Hager right from the beginning and we are thrilled to officially welcome her to our award-winning KidGlov copywriting team!
"Maddy's strengths and experience are a perfect fit to our mission and culture," said Kelley Peterson, KidGlov vice president creative director. "We're delighted to have her on the team and are excited to see her stellar storytelling skills support the great brands we serve."
A graduate of the University of Nebraska-Lincoln, Maddy majored in English and film studies and served as editor-in-chief of Laurus, the university's undergraduate literary journal. Before joining the KidGlov team, Maddy honed her copywriting skills as a member of the in-house marketing team at one of Nebraska's largest banks and wrote fundraising emails for a Presidential campaign. An American Marketing Association (AMA) Prism award recipient, Maddy's nearly decade-long career in marketing and advertising combines a background in content strategy with a genuine affinity for language and crafting impactful messaging.
Our KidGlov copywriting team is the heart and soul of this advertising agency's work of turning messages into movements. We work in print, broadcast, online and within social media channels and are experts in helping nonprofits, community health initiatives, financial organizations, healthcare groups and purpose-driven businesses elevate their messages.
Award-winning work and award-winning culture. This year, we were honored to be named one of Lincoln's Best Places to Work for the third time. Lincoln's Best Places to Work are selected based on employee engagement surveys that measure a wide range of workplace factors including engagement and satisfaction. In the survey, 100% of our KidGlov employees said they felt supported and valued by leadership. Our incredible leadership team, attuned focus to workplace balance, and collaborative vision are just a few of the reasons our KidGlov employee culture is something to LOV.
We firmly believe in putting our ideas, voices and initiatives together. It's a rare approach for advertising agencies, but it's incredibly effective in sharing the messages of the incredible organizations we're privileged to serve. If you've got an eye for creativity and a heart for movements, we'd love to hear from you! Check out all our open positions.