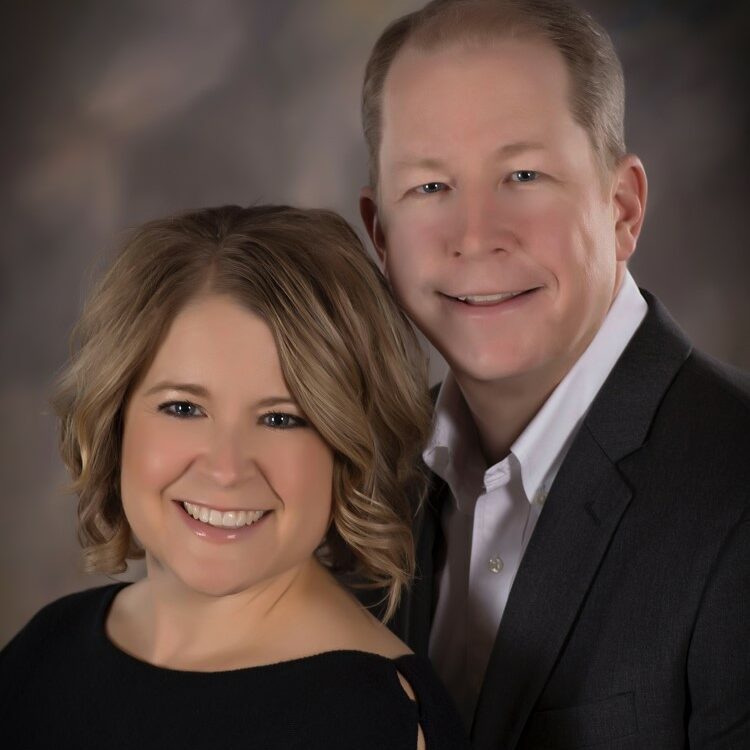 February 7, 2022
Brandon & Tammy Day
Brandon Day: 
We're all in on doing good. It's not a department we have that goes around trying to do good. It is core to this business that we want to make a positive impact in the world, in everything we do.
Announcer:
Welcome to Agency for Change, a podcast from KidGlov that brings you the stories of changemakers who are actively working to improve our communities. In every episode, we'll meet with people who are making a lasting impact in the places we call home.
Lyn Wineman:
There's a new kind of business out there, one that believes in helping their community and addressing the challenges our society faces today. And they call themselves B Corporations. Companies which gain the coveted B Corp designation—and believe me, it is not easy—aim to show their commitment to performance, accountability and transparency. There are just five of these such businesses in Nebraska, KidGlov, and today's guest, Daycos, being two of them.
Lyn Wineman:
Even though this group is small, we believe in celebrating and shining the spotlight on the good work each of these companies is doing. Companies like Daycos, which is revolutionizing the financial side of the transportation industry. Hello, again, everyone. This is Lyn Wineman, President of KidGlov. And this is the Agency for Change podcast. Today, we're speaking with Brandon and Tammy Day, the owners of Daycos, a company that helps clients in the transportation industry to capture and retain revenue with services like invoicing, auditing and more. Brandon and Tammy, I'm eager to talk with you today and learn more about the great impact you are making on the world.
Brandon Day:
Thank you, we're excited to be here.
Tammy Day:
Thanks Lyn.
Lyn Wineman:
This is going to be a good conversation I can tell. And you know what, Tammy, I'm going to start with you. I think it's safe to say that Daycos is helping keep the transportation industry moving. What does that look like for your clients and what are you doing to help them?
Tammy Day:
Yeah, so the introduction you gave is right about billing, and auditing and invoicing, but basically we help trucking companies pay and get paid. So we are in the middle of that chain of events and we show up and try to do a great job every day, and make sure that process as smooth and easy as possible for them.
Lyn Wineman:
Tammy, as a business owner myself, billing and invoicing doesn't sound that exciting, but getting paid sounds very exciting.
Tammy Day:
Yes, very important piece of the puzzle.
Lyn Wineman:
Yeah. Brandon, I understand that your father started what is Daycos as John Day & Associates back in 1978. Can you talk to me a little about what it was like growing up in the family business?
Brandon Day:
Sure. Yeah, it's kind of a joke. My father didn't really start it, my mother and my father did. It was called John Day & Associates, but the truth were the associates were my mother, my sister and myself-
Lyn Wineman:
I love that.
Brandon Day:
I was six years old at the time. And that was pretty much the entire business. And in those early days, we did it out of the basement of home in the Washington, D.C. area. And my father would travel to a client's location, he would send the information back to my mother. She would type up invoices. My sister would make backup copies, and I was the mail boy. And so we would sit around the basement of our home watching TV and doing our jobs. And that's how the business got launched. It's hard to know what it's like growing up in a family business because that's all I can remember, is growing up in a family business.
Brandon Day:
There's no separation in a family business, especially one like that between your parents' job and your life. It is one and the same. We would go on vacations to places where there were industry meetings or conventions, and we would have friends over that were customers and clients. And so you just never, you didn't separate the two, it was one and the same. And that can be both good and bad.
Brandon Day:
You talk a lot about being able to separate your professional and your personal life, but when it's a family business or when you own a business, as you know, that's really hard to do. They are very tied to say, and there are good parts of that, and challenging parts of that. But we've always been a family business, now, Tammy and I are the only Day family members who are really involved in the business, but we still always refer to ourselves as a family business. Because when you start like that, you always consider it a family business.
Lyn Wineman:
I'm impressed because I can tell just from talking to the two of you that you work very closely together and not all husbands and wives could work together like that, any pointers for other husbands and wives that work together?
Tammy Day:
Well, we focus on very different parts of the business. So Brandon is much more in the day to day of course, he's the CEO. And I focus on the culture, the values, the internal pieces that aren't the day to day function. So, giving back, wellness, company culture, making sure people feel connected. So I think that helps to have a division of duties, but we also have a 6:30 rule and we do not talk about business after 6:30 in our house. And sometimes that gets a little fuzzy, but we really do try to stick to that. Again, doesn't always work, but it does help create some, that's a work conversation. I keep a list all week long of stuff for our official meeting that we should talk about. So you just have to find ways to make it separated, even though it's never really separated like Brandon said.
Lyn Wineman:
That is really good advice. Let's talk a bit more about culture and some of these great things that you are doing at Daycos. And Brandon, let's take that back to your family. Was there anything you learned from your family, a saying, or a practice, that you still use today that also maybe inspired you to be the kind of business that you are?
Brandon Day:
Yeah, I think there's a few things. One thing that I always tell people about where we're at now and the kind of work we're doing is, it's just a natural evolution of what we learned growing up. My parents were very community minded, very externally focused, and were always involved in different things and starting things. And we've done some practices where we trace the history of the company and all the things we've been involved with. And it's just amazing when you go back and look at now 42 years of history, the number of things in the community that Daycos or John Day & Associates, as it was known, had a big part of starting that still go on in our community.
Brandon Day:
So, I always say we're basically just continuing the legacy that my parents set. We just have more resources now to do it. We've grown to the side. When you have six, eight people working for you, it's hard to have a lot of other flexibility to do anything besides just try to get the work done. We're now at the point where we have about 65 employees and we can bring those resources and additional financial resources to bear to do things. That's always been part of it and that's always been the way we run the business. What we're doing now is just the natural conclusion of what the efforts they've started from day one.
Lyn Wineman:
I love that. That sounds great. I think it's a good reminder for all parents, whether you're in a family business or not, that those things that you start when your family is young, carry on into adulthood and generations be on that too. So Tammy, let's build on this rich history that we've been talking about. I mean, you've built on foundations of this family business, but something happened a bit more recently in November 2016, which I guess has been a few years ago, Daycos became a certified B Corp. And at that point, the company I think was 38 years old if my math is right. I'm just curious what drew the two of you to pursuing this designation and why has it been a good fit?
Tammy Day:
Yeah, I think as Brandon said, the threads of generosity, and service, and just giving back in all forms have been a part of Daycos since the start of the company, it's just in our DNA. And so we had carried that forward, but at that time before we became a B Corp, it was just a period of, we'd done a lot of things, we'd just moved to a new facility, we had met these different benchmarks, and it was almost a time of what's next and so what do we do now? And through a series of events, we came to the conclusion that we could do more with our business. We had an opportunity to really double down on all the threads of generosity that had existed. And for us, people initially think, oh, we should just get more money.
Tammy Day:
And so, of course we had that thought, but we also realized that we have an opportunity because we have 60 people who work us and if we could somehow engage them in the work that's done, that's the real game changer, I think. The money is great and it's really important. So through that, we evolved that foundation of generosity into what we call Daycos4Good, which is just the next iteration of that, ingraining that more in what we do and really making it led by the people who work there. It's not Brandon and I making decisions about community investments or how employees want to invest in themselves and their coworkers, it's really led by the employees.
Tammy Day:
Part of that process was for us to find ways to lay some real long term accountability pieces because in business, there's ooh, this new idea, or this new tactic, and we weren't about that. This was just really reiterating that this is who we are. And so a framework like a B Corp is one way you can say to people, this is really who we are. This is not a marketing gimmick; this is not a short term fancy. This is our company, and our purpose is to do good and be good. And so we're going to commit to going through the certification process. So I think it was a nice message for our employees.
Tammy Day:
The other thing it did is it connected us to a whole group of people doing good work with their companies. And for us, we wanted to learn what else could we do? We had done a lot of things, but I think, I'm of the mindset that every time I talk to a new person, I learn a whole lot of things. And the work I do just gets better, right? So, it had multilayered reasoning, but yeah, I think it was just taking things to the next level and really doubling down on that commitment to do good.
Lyn Wineman:
Tammy, if people could see me, they'd see me nodding my head because I agree with everything that you just said. I mean, I think for KidGlov, we were looking for a certification of some sort, we wanted to get better, we wanted to be set apart, but what we really found was the things that we did as part of our certification really solidified the intent of an owner and made it more long term. And then the surprise of all surprises for me was the community that was out there and the people I've met in a short time from not just across the state, but across the country, and across the world, that are out there cheering each other on and learning from each other is really, really a neat thing. So, I appreciate what you said there. And Brandon I'm interested in your perspective as well. What, if anything changed for Daycos after becoming a certified B Corp?
Brandon Day:
Well, I think that in some ways in the immediate part, not much change, right? Because we were on this journey and we always think of it as a journey and we're still on this journey, like how does a business become a business that does good in the world? And the B Corp certification was a milestone in that journey, but it was still a step along the way. And so I think, that when we went through the certification process, you go through this fairly rigid assessment and you have to answer about how you do all these different things. And some things we scored very well, and other things we didn't, but when we were able to be certified, we had that but we said, let's not just take it and be done. Let's look at this as a way of getting other ideas.
Brandon Day:
So we looked at our assessments and said, "Where did we score?" And are those areas that we want to focus on? Sometimes we said, no, sometimes we said, we're just not… That's not what pushes our buttons. And so we didn't focus on it, but other things we did start to say, hey, we could do better at this, and we could do better at that. And it's not necessarily to get a higher score on the assessment to break, but it's just, again, a way to continue the journey. And so I think that changed for us. And again, to echo what both of you have said, to me, one of the biggest keys is the connections that's built with us, with other companies doing this. When we started this journey, we really started asking people, "Hey, we want to do something like this, who do you know who does this? And who do you know that looks like us."
Brandon Day:
It was hard to find companies in this part of the country, especially, we're the only B Corp that is in outstate, Nebraska, not located in Omaha, or Lincoln, we're in Norfolk. And so there weren't any companies around here. And so by getting in that B Corp certification and that network, like you said, it's allowed us to connect with not just great companies across the state, but also across the country, and see what people are doing with their business and really opened our eyes to some thoughts and ideas about what it means to do good as a business that we hadn't explored before.
Lyn Wineman:
Yeah. We had a similar experience at KidGlov, where there were areas that we did really well on, and there were areas that we did not so well on one of the areas was sustainability. And all we could say is we recycle, right? And so, you don't get very many points for saying we recycle. So that's something that we are really going to work on for when we re-certify. But I'm on record as saying very loudly, it's a rigorous process, but also a worthwhile process. And I think the value of there being 200 points is you can pick which areas you do really want to lean into. You don't have to do everything, so I think that's good. I'm curious, what advice would the two of you give two businesses who are considering the B Corp journey. And Tammy, I'd love to hear your thoughts on this first and then Brandon, let's go to you after that.
Tammy Day:
Yes. I agree it's a rigorous process. I think it's gotten more rigorous since our first assessment. So we've now gone through it twice. As things evolve, I think they're also evolving what they do, but what I would say a couple of things, I think you have to find the right framework for yourself. Maybe it's not a B Corp, maybe you're going to be a 1% for the planet company, or you're going to really adhere to the conscious capitalism principles. There's a lot of templates and ideas out there about, how do you just do a little bit more good with the business? So, really digging into that but I also think maybe even stepping way back and thinking about why you're doing this in the first place.
Tammy Day:
And by this, I don't mean just the certification, I also mean what is motivating you as a business owner, a manager, a leader, even an employee, if you're leading this charge to do more good with your business? And if you can get really clear about that, I think that it helps make the process feel a little bit better because you can direct yourself back to that why, and you can hold onto that when you get frustrated by all the little details that you have to cover, right?
Tammy Day:
I also think it would help to think through, what are the parts about what we want to do that are meaningful to us? So is it we're really focused on the environment and sustainability or like for us, we really wanted what we do to be employee-driven. So that took a while because we had to get all that input, they had to figure it out. But what it did though, is it helped us again remain grounded in what mattered to us. So if we scored lower in a section here or there, maybe it was okay and wasn't disheartening because it really didn't align with those key elements that we were focused on.
Tammy Day:
So I really think, you can't go about this, even this whole B Corp certification or any sort of do good effort with just the idea that you're going to use it to market, or you're going to try to hire more people, or whatever those surface level outcomes might be. Those are outcomes that I do believe will come to your company. But if that's the only reason you do them, I think it's really hard to maintain your focus when things are hard or when you have a challenging certification process to go through, or whatever the case may be. So I just really think this is a great thing for companies to consider, but I think a little time just stepping back and getting clear can really take you a long way.
Lyn Wineman:
That's such good feedback. Brandon, how about you?
Brandon Day:
Yeah, I would echo some of those thoughts. And I think, one of the things that I think about is we think about how we can, as a company, can encourage other companies to do this is, it may not be that setting out to get your B Corp certification is where you should start. Because it can be daunting depending on the industry you're in and where you're at. So, I always want to encourage businesses start where you're at, right?
Lyn Wineman:
Yeah.
Brandon Day:
And find what speaks to you, what matters to you, and start to do those things, and just start on the journey. You'll know when you're at that point in that journey where you're like, okay, I think now we want to take a look at this B Corp certification. But the important thing is to start the journey, do what feels right to you, and what speaks to you, and then go down the path and see what the certification tells you. I mean, we when we did the B Corp certification the first time, we were of the attitude of, we had a good idea of what we were doing and what we wanted to do, we were early on, we were naive, but we knew what we were doing, right?
Brandon Day:
And we were like, let's take this certification and if we get certified, great, if not, then let's look at it and decide whether it's worth pursuing, because for us, it wasn't the certification itself, what that represented. We were fortunate that we did meet the certification requirements, but that wasn't the end goal. I don't want businesses to think that if you can't get certified, then you can't do good, right?
Lyn Wineman:
Yeah.
Brandon Day:
You can do good in lots of different ways and starting small and building is probably the easiest way to gain momentum and get success, especially if you take a look at that B Corp certification and you say, oh boy, that's, we're not there yet. Lots of companies aren't there yet, that's okay.
Lyn Wineman:
Really good advice from both of you. I mean, understand your why's, start where you're at, be authentic, I think that's true. If you just go into this just for the marketing aspect, even though I'm a marketer, it's not going to really stick for you. I think too, taking the assessment is free and we dove in at a similar point. We said, "I don't know if we are good enough to get certified, but let's just see how we measure up." And so when we took the certification at first, we didn't hit the initial threshold, but we were pretty close and that made us explore, well, what are the things that we would need to do to be part of this community and the things that we did made us better. And I think that's the whole point of it. And now, we too are really looking at when we re-certify, where are the areas that we can grow? It's not like, let's just put this on the shelf until recertification is up. Let's keep working on this so-
Tammy Day:
I think you made a good point earlier, there may be things that never apply to you in that certification process, given the size of your company, what you do or don't do, if you make stuff or not. Some of those things just will never be part of what Daycos does or is. I mean, we don't have a socially focused product or service. We basically work with trucking companies, many of whom may not know we're a B Corp, or even know what that is. And it doesn't matter because the way we run our business is socially-minded. I think that can have an impact too, if you're not making vegan dog food, or curing cancer or something, it may look different for you and that's okay. And I think, this whole conversation around figure out what the certification means to you, how you want to use it, and just be okay with that as part of all this other stuff that you do to keep moving forward.
Lyn Wineman:
Yeah. Also good point, if you go to the B Lab's website and look at the list of organizations that are certified, even if you just look at Nebraska, I mean, there's large corporations, and then there's small businesses. I think KidGlov is maybe on the smaller side. And I even think there's a couple businesses coming up through that are going to be certified soon that hopefully we'll be talking to soon that are also on the smaller startup side, so I think that's exciting. Let's talk though a little bit about, we've talked about motivation and what the process was like, there are some things though that you do at Daycos that are external. As a matter of fact, getting ready for the show, looking at your website, you make a very bold statement. It says, "Daycos exists to do good and be good." I'd love to hear you tell us how you arrived at that motto and what it means to you.
Brandon Day:
Yeah, honestly, I'm not sure how we arrived at that. And there are times where I think, boy, I wish we never had arrived at that because coming up with it is sometimes easier than living through it. But what it means to us is that we're all in on doing good. It's not a department we have that goes around trying to do good. It is core to this business that we want to make a positive impact in the world, in everything we do. And we operate that through our Daycos4Good program. And that's Daycos and then number four. And that refers to our four stakeholders, which we always try to make sure we're having a positive impact. It's the company itself, it's our employees, it's our community, and it's our customers. And so when we talk about, we exist to do good and be good, we mean that in every way possible.
Brandon Day:
For example, we don't believe that if we were just a very charitable organization, and we gave a lot of money me back to our community, that that would necessarily be doing good and being good in all areas. And the example I always use is, if you have a business and you give a lot of money to charity, but you treat your employees lousy, and you overwork them, and overstress them, and they go home and they're miserable. That's great for the organizations that are getting charitable dollars, but the people who are helping fund those charitable dollars are suffering and that's not a positive impact in the world. And it's the same way with customers, we try to have long-term relationships, mutually beneficial.
Brandon Day:
If I make a quick buck on a customer that doesn't benefit them long-term, am I really doing good and being good in the world? And so we really look at it on everything we do. And it sometimes, like I said, it's much harder to run a business this way than it is the traditional way. But you hit those inflection points where you have to think, okay, if we're really going to be true to who say we are, how do we handle this? And the pandemic and everything that has gone with it has been a big part of that, right?
Lyn Wineman:
Yeah.
Brandon Day:
And I always tell… We speak to a lot of college age kids and high school kids and I say, "When you're interviewing out there for jobs, ask companies how they treated their employees when that early pandemic hit and what they did." And I know lots of companies had to make very difficult decisions and it's not that you make different decisions, but what did they prioritize? At Daycos, we tried to say, okay, this is going to be a financial hit for a lot of people. The company can weather a little better than our employees. So we're going to weather it as long as we can and keep everyone employed until the money runs out.
Brandon Day:
If we weren't a company that believed in, that was a purpose of our existence, we might have made different decisions. And that's again, it runs all through the fabric of the company and what we talk about. So it's an ambitious, bold statement that sometimes I regret us making, but it is something that we truly do try to live up to. And it has made us a better company for that, and I think that, I'm not saying that we're perfect and we always hit that aim, but we're always trying to hit that aim. And that's part of doing good in the world and being good, is always striving to make sure you're making a positive impact.
Lyn Wineman:
That's amazing. I am so inspired by the two of you and what you are doing and just, we've looked backward, we've talked about the process, Tammy, if you could humor me for a moment by getting out your crystal ball, what does the future look like for Daycos?
Tammy Day:
Yeah. And of course, if you're asking me that question, I'm not going to focus on the new services we provide or the revenue. I'm going to look at, what does it look like for us in this do good, be good space? And I think, obviously we have done this now for a few years and we continue to evolve and reflect back and then make changes. We engage our stakeholders in those conversations and so we will continue to do that because we learn a lot and it helps us to get better. One of our core values as a company is, "Be better tomorrow than you are today." And so that applies obviously in this situation as well. Our employees continue to come up with amazing and interesting ways to give back whether that is to the community, stakeholder, or the ways they're investing in themselves.
Tammy Day:
One of our do good aims is that our employees make investments back in themselves and their families. So, finding lots of creative ways to do that and I think that may be the edge that we lean in on in the near future is how does doing good look to the employee stakeholder? Or how can you impact the employee stakeholder with the doing good lens? So, like Brandon said, if you treat your employees lousy, are you really doing good? So we are taking some steps around employee development, asking every single person, what do you want to do? If there were no barriers, where do you want to put your life energy and then actually supporting that so that they can reach those goals, so things like that, trying to come up with new and innovative ways to really just pull on that thread of like, okay, community we get, we understand that, we're always trying to be innovative, but what else is there that in that do good space.
Tammy Day:
So I think there'll be lots of fun and interesting things. It's an exciting thing to get up and work on every day. You can tell we care about it quite a bit and it really fuels us. So I'd like to get past the pandemic and not have to-
Lyn Wineman:
Oh, amen.
Tammy Day:
That little thing, because it's really easy to do good when things are going well. But I think the true testament of if you've really grounded your purpose in something that matters to you is when things are not so good. But I would like to get out of the not so good space and just be back to things that are fun. So anyway, that's my little reflection.
Lyn Wineman:
That's lovely. And who wouldn't want to work for a company that asks their employees, where do you want to put your life energy? I love that question. That's amazing and it's amazing to me that you are having those conversations so-
Brandon Day:
Well, and I think the other thing just to add on to that is, in order to have those conversations, really commit to it, you have to judge business success differently. And for us, it's not about the amount of money we can make and bring to the owners, which are Tammy and I, it's about what amount of good can you do? So for us, if we had an employee who said, "Hey, what I'd really like to do with my life is I'd like," I'll use an example from someone who work… "I want to go figure out how to work for the space program and get in that." And we do whatever we can to help that person-
Lyn Wineman:
Wow.
Brandon Day:
… do that. That's bad for the business, right, in the short term, when you think about it. If we take someone really smart and we encourage them to go do-
Lyn Wineman:
Go find a different job in a different industry, yeah.
Brandon Day:
And if you're looking at it in a dollar/cent point of view, you say that's a loss. But if you're looking at it in the purpose of the business is to do good, then you've done good with that, and you have helped that person achieve their life goal. And there's no amount of money that you would replace that with no matter how profitable. You could be helping people achieve what they want to do in life, far trumps making an extra buck at any given time so.
Lyn Wineman:
That's lovely that-
Brandon Day:
It requires you to measure things differently.
Lyn Wineman:
That's really lovely.
Tammy Day:
But I also think it does show up in business outcomes. Again, we have the can't do it just for that, but we have seen, we don't actually have trouble hiring people, that is not a thing for Daycos. We routinely have 80 or 90 people apply for openings in our company. We have a list of people who want to know when we have openings, that's over 250 people in our area, which is not a large metropolitan area.
Tammy Day:
I think that's because they know that they can go to work somewhere that really truly does care about them as a person, cares about the community, and that that employee can be actively engaged in that process, and what they do matters. Not that it's not important to provide great services for our customers, because it absolutely is, but it matters just a little bit more and in a different way. And so, like Brandon said, we have to be able to define our success differently. And I think people are interested in that and they actually have ownership of that and I think you have all kinds of positive outcomes as a result so.
Lyn Wineman:
I think that's great. And once again, I know that wasn't your only motivation, but you're in a hyper-competitive industry in a smaller market, not in a major metro area. And to know that you are not having trouble hiring, I think is just a testament to the kind of company you are and the kind of things that you do. So I'm going to transition this a bit. Everybody who listens to the podcast knows that my favorite question is to ask people for a motivational quote, an original quote, that we can share with our listeners. So Brandon, you are up first. Can you give us some words of wisdom to motivate our listeners?
Tammy Day:
We should have talked about this, don't take my quote. I don't know what you're going to say. 
Brandon Day:
I don't know what you're going to say. I'm pretty sure I'm not taking your quote here because I'm not sure mine's going to make immediate sense without little explanation with my quote.
Tammy Day:
I think quote is like-
Brandon Day:
Yeah, my quote.
Tammy Day:
… a lot of pressure there.
Brandon Day:
People at Daycos know, I always have different quotes. I always have like little sayings I'm working through. But the current one I've been thinking a lot about is, pay the trust tax. And what I mean by that is there's this approach to business where you can trust in your employees, and the people you work with, and your customers. And there are some people who are going to take advantage of that. There are going to be some employees, no matter how well you do hiring and whatever, there are going to take advantage of it. There's going to be some customers who will take advantage of that, but it doesn't matter.
Brandon Day:
And so, when they do, that's what the trust tax is, you're paying that tax. And a lot of times, what I see is I see businesses try to completely eliminate that. They don't want to have any way to get taken advantage of. But in the process, they pull all that trust back. And the damage they do from that is way worse than the few times that someone takes advantage of it. So I say, when we're talking in our leadership group, I think, let's just pay the trust tax. Let's trust our people, let's trust our customers to do the right thing. And if someone doesn't, oh, well, that's the tax you pay.
Brandon Day:
It's just like when you're trying to earn money and you know that you're going to pay taxes on profit, you don't stop earning profits because you don't want to pay the taxes. You don't want to pay taxes, but you know that in order to make more money, you have to pay more taxes, and that's just part of the deal. So mine would be pay the trust tax.
Lyn Wineman:
I've never heard that before Brandon, "pay the trust tax," but I love it. I love it. I love it. Did he take your quote, Tammy?
Tammy Day:
No. And I've never heard him say that, that succinctly. So I think he was working on getting that concept down before this podcast. So now, I think we're going to hear it a lot. And so that'll-
Lyn Wineman:
Awesome.
Tammy Day:
… be good.
Lyn Wineman:
It's a good one.
Tammy Day:
It's been distilled into a nugget of wisdom, so that's good. No, mine is, I don't even know if it's a very quotable quote, but it's, everyone can make a difference.
Lyn Wineman:
Oh yeah.
Tammy Day:
And I really believe that. And I believe that if we as people, community members, employees, businesses, try to find a way to help people realize that and understand that, the world would be a very different place. And in fact, I think that's the only way we really get past some of this state that we're in, this feeling of frustration, and being overwhelmed, and not knowing how things get better is for everyone to see what they have to offer, time, talent, treasure, you've heard that phrase, right?
Tammy Day:
Everyone has those things and I think we just need to figure out, how do we make it more accessible? How do we extend an invitation? How do we as business owners, this is what we can do. "Hey, employees, this is your thing. And now here's your opportunity." So, I think everyone make a difference is something I think about a lot. And it drives a lot of the way I spend my time. So hopefully that resonates with somebody.
Lyn Wineman:
That's great. Brilliant. Both of you, brilliant. So as we start to wind down for listeners who would like to learn more about your work, more about Daycos, more about Daycos4Good, how do they find you?
Tammy Day:
Well, Brandon's probably better at this than me. Of course you referenced, they can look at our Daycos' website. We have a lot of information about what we do for Daycos4Good and the different things related to that. We're on Twitter, Facebook. What am I missing, Brandon? LinkedIn.
Brandon Day:
LinkedIn.
Lyn Wineman:
LinkedIn.
Tammy Day:
Yeah.
Lyn Wineman:
We'll make sure to get your website and those social media links in the show notes for folks. 
Learn more about Daycos at https://daycos.com/
Tammy Day:
Yeah. And what I would say though, is we love to talk to people about this and really truly would share every single thing we've ever done. And you can take it and use it however you want. I just believe that there's really no reason to recreate the wheel. If there's something that resonates with you and you want to just blatantly copy that for your place, hey, I'm fine with that. I feel like we can all learn from each other. So, I don't just say, "Yeah, just let us know if you want to talk or you have questions or ideas." We really mean that. I think that's the way we move things forward, is by building these networks of relationships so, yeah.
Brandon Day:
I think to the point that we even talk about as a company, one of our goals is to try to talk to as many businesses as possible about how they can do good. So again, when Tammy says "Reach out to us, it's not that…" Don't feel like you're doing an imposition, you're actually helping us meet one of our goals as a company, which is to help spread the word and help other companies find their way in this journey to do good.
Tammy Day:
Yes.
Lyn Wineman:
That's lovely. Well, I'm hoping this podcast brings your story to hundreds, if not thousands of people and that you get lots of phone calls from this so.
Tammy Day:
I would be very happy to have someone call me, or email me or whatever.
Lyn Wineman:
I have really found that the B Corp community is very generous with ideas, with encouragement. There's no kind of patent on, we're the only ones that can do this good idea, but share it with everyone. So that brings us to our last question as we wrap up together today, what's the most important thing you would like people to remember about the work that you're doing? And Brandon, let's start with you and then we'll have Tammy chip in as well.
Brandon Day:
I think the most important thing I'd want people to remember is that any business can do this. This is not something that is out of reach of anybody. Our business is very much an ordinary business, in a very ordinary industry, in a very ordinary, rural community. We're not the poster child of what you would think of as a B Corp, but yet we're here trying to do good in the world. And every business can do that in whatever way makes sense to them. They don't have to do it the Daycos way, they don't have to do it the KidGlov way, they can find their own way to do that.
Brandon Day:
But if businesses started to think about how they can do that. And I think especially, I think about this a little more in the rural parts of the state, than others, where there's a deep connection between the community and the businesses. When I think about what the impact could be if businesses started to think a little bit differently about how they can help their community. And they're generally very supportive financially, and economically in charitable things. But if they thought about a little more in, how can we really make a positive impact in our community? How can we be a positive force? I think about the impact that can make in rural Nebraska, and I think it'd be tremendous. To me, this is attainable to anyone, and any business, and start where you're at, and find what speaks to you, and do what's meaningful to you, and you will see great results that pay for themselves.
Lyn Wineman:
That's great. Tammy, what do you think? What would you like people to remember?
Tammy Day:
Yeah, I think Brandon took all my ideas. No, I'm just kidding. I think, the idea of just the impact that could be made especially in States like Nebraska, where there is such a deep-rooted commitment to community. I think I would just encourage people to think about what's next, what's that next step that I could take, and I really would nod back to my idea that everyone can make a difference and encourage people to think beyond just giving more money, and think about how can you have the people who are part of your company really, truly be engaged in that work?
Tammy Day:
Not superficially engaged, but actually take a breath and hand over some of that control that usually resides with a leadership team, a manager, or an owner, and just have some faith that that step alone is adding a lot more good to the world. And people have amazing, wonderful creative ideas, and sometimes they just need to be provided an opportunity to unleash those into the world. So I do think we can have a role in, I'm going to say unleash again, because it's the only word that comes to mind, unleashing some of these underutilized assets that exist in all our communities, if we just help nudge and provide opportunity to get the ball rolling. I think there are a lot of ripple effects from that. So I just ask people that can consider what's next, and how do you just tweak it a little so that it makes a little bit more difference so.
Lyn Wineman:
Brandon and Tammy, I love your energy, and your story, and all of the great things that you're doing. And I fully believe the world needs more people like you, so really thank you for taking to time to share about your journey and share your advice today.
Brandon Day:
Thank you, enjoyed it.
Tammy Day:
Thank you.
Announcer:
We hope you enjoyed today's Agency for Change podcast. To hear all our interviews with those who are making a positive change in our communities, or to nominate a changemaker you'd love to hear from, visit KidGlov.com at K-I-D-G-L-O-V.com to get in touch. As always, if you like what you've heard today, be sure to rate, review, subscribe, and share. Thanks for listening, and we'll see you next time.