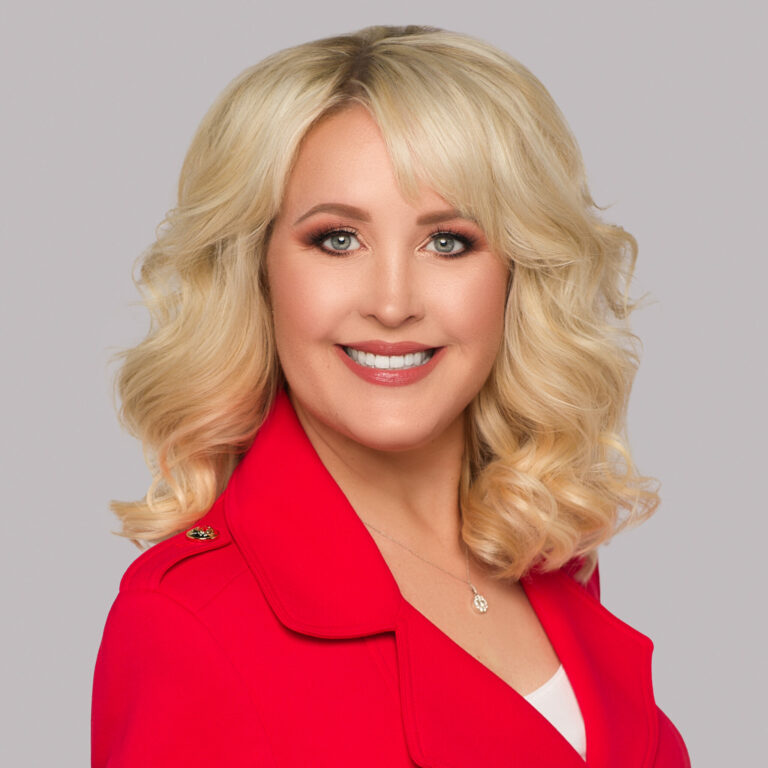 February 1, 2022
Jeana Goosmann
Jeana Goosmann:
Create your own path of success. And I think each person is unique in their own particular personal goals of what they want to accomplish. And I think it's important that you reflect on what those are, where do you want to be, and you know, create a roadmap for yourself to get there.
Announcer:
Welcome to Agency for Change, a podcast from KidGlov that brings you the stories of changemakers who are actively working to improve our communities. In every episode, we'll meet with people who are making a lasting impact in the places we call home.
Lyn Wineman:
Today, we're here to speak to someone who's flying high in all respects. She's an accomplished attorney, a published author, a successful business owner and CEO, and has created a culture at her law firm that's focused on wellness, Midwest values, and a hometown touch. Hi everyone, this is Lyn Wineman, president of KidGlov. Welcome to the Agency for Change podcast.
Lyn Wineman:
Today's guest, Jeana Goosmann, is the managing attorney and CEO at Goosmann Law, a woman owned full service with locations throughout Iowa, South Dakota and Nebraska. Jeana, I am eager to talk with you today and learn more about the great impact you are making on the world.
Jeana Goosmann:
I am excited to be here, Lyn, and look forward to discussing how we're helping to change.
Lyn Wineman:
Fantastic. So Jeana, let's just get right into it here. I understand that you left a 100-year-old law firm to strike out on your own and create Goosmann Law. Tell us about what that experience was like to, if you'll forgive the pun, fly solo and start your own business.
Jeana Goosmann:
So back in 2009, I left the firm and I started Goosmann Law Firm and on day one, it was me and my assistant, who at the time had been my personal trainer.
Lyn Wineman:
Wow.
Jeana Goosmann:
I know, right? It really was me and the support of my family and closes friends, launching Goosmann Law Firm, and at the same time, I had a great clientele. Most of those clientele joined me on this journey and I still work with a number of them today and I'm very grateful to those original clients that helped me launch Goosmann Law Firm. But I would say anybody that has been an entrepreneur and taken that big leap from a safe, secure position, I was with a very successful firm, excellent group of attorneys and yet I had a vision in a way about practicing law and being a business in the practice of law that was unique in my own.
Jeana Goosmann:
I took that leap and flew solo, as you say, to really grow Goosmann and to grow the firm into what we are today. Luckily it's been successful and we are well on our way to achieving our goals. But in that first year in making that leap, it is scary. And anybody that tells you it's not, they haven't done it before. I think you have to be a little naive as well, because if you knew how hard it was going to be, you might not take the leap.
Lyn Wineman:
Yeah, Jeana, since we're just on audio, people can't see me shaking my head here, but oh my goodness, your story, and my story have some similarities, right? You could have probably coasted your way forever at this stable firm, but there's something so rewarding, even in spite of all the hard work, at following your own vision and creating your own firm so hat's off to you.
Lyn Wineman:
On your website, you talk about how you underwent a rebranding and me being in branding and marketing, love these stories. You described it as one of your best investments to date. As a marketer, I'm interested to know what brought you to that decision and what were the impacts of the change?
Jeana Goosmann:
I love talking my branding Lyn, and I think that every, probably four years at a minimum, you need to take a look at your brand and evaluate your brand essence. Is this who you are and is this who you want to be going forward? Especially if you are in a high growth business or a rapidly changing industry, or quite frankly, I think everybody needs to take a look at their brand in 2022, given what we went through this last year and make sure that it's an alignment with your business and your values and your business plan.
Jeana Goosmann:
We have done that in the past where we've relaunched our brand and I got to tell you, Lyn, we just did a lot of work on our brand coming forward and we're planning in April to launch again, a little bit different messaging. It will be in congruence with what we have done in the past, but as the firm grows, we continue to evolve our brand and make sure that it is true to who we are today and in sync with where we want to go in the future.
Lyn Wineman:
Oh my goodness. I can't believe you just said that. All of those things I would say and I so appreciate that. I think that your brand is what goes out ahead of you and we like to say at KidGlov, marketing with a poor brand is like going to a job interview in yoga pants, right? You're not putting your best self forward. That's fantastic and I can't wait to see in April what you come out with.
Lyn Wineman:
We've talked a little bit about the history of the firm, but I'd like to talk about the present as well. Can you give our listeners and overview of what Goosmann Law Firm is like today and what sets you apart from other firms in the Midwest?
Jeana Goosmann:
Absolutely and I am really excited. This is going to be the first time that I have publicly made this announcement.
Lyn Wineman:
Oh!
Jeana Goosmann:
We just realized, and were told by WBENC, which is the women's business enterprise national certification council. That's a mouthful, I know, but that's the organization that certifies women owned businesses. And our WBENC director just told us that we are now officially the largest women owned law firm in the Midwest. 
Lyn Wineman:
Yay!
Jeana Goosmann:
Thank you. Yes, I know it's really exciting and that is something new that after our 2020 recertification process, that they just notified us of. So we're really excited and I think that is a huge differentiator for Goosmann Law Firm is that we have been focused on diversity, inclusion and belonging since the firm started back in 2009. While those are big buzzwords today, those are certainly things that we believe in at our core.
Jeana Goosmann:
I think it has made us stronger together as a team because when we come together as a team and that's a huge part of Goosmann and our culture is working for our clients as a team, that makes us better advocates for our clients and helping them achieve their goals when we partner with them. I think that brings me to our next thing that of where Goosmann Law Firm is today is that we are a business as well as a law firm. How is that different?
Jeana Goosmann:
Well, first of all, I think it's important to know, we understand what business owners and businesses are going through because we operate like one too, and nobody gets cashflow issues and should I grow and the great resignation and all those different issues better than a business minded law firm.
Lyn Wineman:
Yeah.
Jeana Goosmann:
I think that that has really helped set us apart. Then finally we invest a lot in our culture at Goosmann Law Firm, and again, going back to the diversity and belonging of the firm and making sure that we're really transparent. Just for example, last Friday, I presented vision 2022 to the firm internally, so that we are all on the same page and we run on traction. I'm sure that you're familiar with that, Lyn, since we both share vista. But running in traction as a law firm is still really unique and making sure that we have great alignment with our vision and our business goals and working on the business too.
Lyn Wineman:
You know, Jeana, we are at KidGlov, both a traction firm and a vista firm and both of those two things together really do give you some magic that really helps, because I imagine being in a law firm very much like being in an advertising agency. You could spend all of your time and then some focused on your clients, but if you don't spend any time focused on your own business and your own culture, you're not going to be able to be the best business you can be. You're not going to be able to be the best you can be for your clients either. I really respect that.
Lyn Wineman:
Along with that, so we've talked about traction. For those people who aren't familiar with traction, there's actually a book called Traction, and it's also of referred to as EOS by Gino Wickman. But you also published a book Jeana, and that's something I've always wanted to do so I always admire people who have published books. Now I understand the title is Worth It: Business Leaders: Ready. Execute. Deliver. And I love to just hear more about how you put the principles in the book to work, as you're building the law firm.
Jeana Goosmann:
Lyn, so Worth It: Business Leaders: Ready. Execute. Deliver is a book that I published in 2019 and it became an Amazon bestseller, which was really exciting.
Lyn Wineman:
Wow.
Jeana Goosmann:
Yeah, Gino Wickman is actually one of the testimonials for the book.
Lyn Wineman:
Oh my goodness.
Jeana Goosmann:
I obviously believe in Gino and everything he's done with Traction and that was an exciting moment when he gave us that testimonial for the book. So ready, execute, deliver, that is what the book is all about and it kind of goes through that process.
Jeana Goosmann:
Really red is something that I've been known for, I love the color red, I frequently am known for wearing it. It aligns with the Goosmann Law Firm brand, but really it puts meaning behind the red. And how do you get ready? How do you actually execute on your goal? And then as the leader make sure that you're delivering on those.
Jeana Goosmann:
It's a strategy that I outline in the book and that I have lived by and continue to do so over and over again. Cause once you accomplish that goal, guess what? You're right back at the beginning, again, working on the next big goal. In the book too, I outline the five key attributes that I think are foundational to running a business, which I still find true today. I'll just outline those quickly for you Lyn. Be bold, be confident, have strength, have a vision and be an activator.
Lyn Wineman:
Wow. Okay. I'm writing them down. Be bold, be confident, have strength. The fourth one is?
Jeana Goosmann:
Have a vision.
Lyn Wineman:
Vision and be an activator. I like that because I have activator and vision in my Gallup strengths. So I'm definitely going to take a look at this book, Jeana, and we'll make sure to link to it in the show notes as well for anybody who wants to check that out.
Check out Jeana's book here! https://www.amazon.com/Worth-Business-Leaders-Execute-Deliver-ebook/dp/B07WLQK2NZ 
Jeana Goosmann:
Wonderful. And if, after you read it, please give me a review and, and reach back out and let me know your thoughts.
Lyn Wineman:
You got it. And also mentioning that Gino Wickman did part of your forward, I believe, is what you said. He replied to a tweet of mine once and I was excited so I can't imagine what it's like to have him write the forward in your book so looking forward to seeing all of that.
Lyn Wineman:
Jeana, KidGlov is a women owned, women led advertising agency and not only that, really the majority of our team is made up of women, and as I understand it, that's something we have in common with Goosmann Law. Can you talk to me a little about that and maybe touch on the intentionality you've shown while building your team?
Jeana Goosmann:
Certainly and I love that we share that. We definitely pride ourselves on being women owned and women led at Goosmann Law Firm and that's unique and it's different in the legal industry, as it is in a lot of industries these days still. We have a lot of women in leadership roles. So myself and my COO are women. Our marketing director, and two of my business partners, Lisa and Beth, are also women and firm-wide, over 70% of our team is women.
Lyn Wineman:
Wow.
Jeana Goosmann:
We definitely have plenty of female power, I guess you would say, but we're not exclusively women and we definitely embrace our male…
Lyn Wineman:
Absolutely.
Jeana Goosmann:
Our male, all kinds of genders, quite frankly. We're in the LGBTQ plus world and because we embrace diversity, we really want a diverse team. But I do think that's part of what makes it attractive for people of diversity and diverse beliefs and mindsets to know that they're going to belong and they're going to be included at Goosmann. I think that's part of why we lead with that as much as anything.
Lyn Wineman:
That's good. That's very good. I do share that as well. Building on that, I understand that last year you received the 2021 enterprising woman of the year award, which is given to women on entrepreneurs and leaders across the United States. What was your reaction to winning that kind of award and being in the company of so many successful women leaders?
Jeana Goosmann:
Winning enterprising women of the year was definitely a lifetime achievement for me. I was honored to be selected alongside so many other remarkable women entrepreneurs from across the United States and the globe. But for me, I also think, we're just on like version 3.0, where I want to go. And it's really exciting and I think you have to stop and look back at how far you've come. Yet I have some really big goals and exciting things for the future. In my mind, we're still… We're not getting started, we're not one, but we still got a long way to go. Right?
Jeana Goosmann:
I think that for me to stop and pause and have some reflection point of, okay, the firm has had a lot of great success in it. We have a phenomenal team. It's good to have to stop every once in a while and reflect on how far you've come.
Lyn Wineman:
Ah, fantastic. You know, you are doing so many neat things so I'm going to add one more to the list here and we talked a little bit in the beginning about branding and I think this is such a great name. I understand you started the Wellnest, which is an employee wellness program, and you've helped your team increase water intake, exercise, improve their sleep and even meditate, which has been one of my huge takeaways from the pandemic as well. A little bit of meditation in there. I'm curious, why is wellness such an important part of the culture there and what are you doing in 2022 to keep the momentum going?
Jeana Goosmann:
We find we are a group of people and it's our people that make up Goosmann Law Firm. We don't have a widget or another product. We provide a service and the service is the brain power of our people. So we really need to take awesome, excellent care of our team and it's so important for us to invest back in our employees and their overall wellbeing. The bulk of all of our resources goes right back into the firm's team. I think that making sure that they feel supported in all ways is more important now than it ever has been. That's really where the Wellnest program came from. It's an extension and expansion on a lot of different little programs we've had in the past, but really a much more focused effort with, we have a wellness coach at the firm and we're constantly launching new initiatives and we have a different initiative for wellness each quarter in 2022.
Jeana Goosmann:
We definitely, we kicked off, obviously quarter one, this is not going to be a huge surprise to anyone. We're doing a weight loss challenge right now.
Lyn Wineman:
Oh, yes. A good way to start.
Jeana Goosmann:
Cash definitely is a great reward and helps encourage people to participate and getting some competition going among the team members is healthy.
Lyn Wineman:
That's fantastic. I love that you have a wellness coach too. I mean, that's just taking it to the next level. That is really fantastic. I also understand, I don't know where you find the time, Jeana, but I understand you've served on the boards of Girl Scouts of Greater Iowa, Girls Inc, United Way. I mean, it's obvious that you care about giving back and supporting women and girls in the community. Can you talk to me a little bit more about that?
Jeana Goosmann:
Absolutely. I'm also the mother of a little girl, who's nine, my daughter Caroline, and I have a son as well. He's 10, his name is Colin. I definitely am passionate about leading the way for other young women and I want to encourage them to chase their dreams. I find for me, the way my talent is best aligned is, is to serve on a board and make an impact that way and help fundraise and do some advocacy for the different organizations to make sure that they can make a big impact.
Jeana Goosmann:
I think that I'm really excited right now, I serve on the Girl Scouts of Greater Iowa board, and I've seen firsthand the impact that that has on little girls, because my daughter's a girl scout. You can see them building their own confidence and courage. This is a more modern organization than it was when I was young but I can even remember back to some of those great experiences I had. The cookie sales program in particular is phenomenal. These little girls are running their own little business. She's dealing with cookies, she's dealing cash and money and setting business goals and then getting rewards for it. I really want to promote that because when you can learn those skills at a young age, there's nothing more powerful.
Lyn Wineman:
I think that's great. I think even the skill of talking to people about the cookies and selling the cookies, I mean, kids do so much online right now that actually being person to person and communicating with people I think is a great skill to build from that as well.
Lyn Wineman:
Jeana, everyone who listens to the Agency for Change podcast knows this is my favorite question I ask everyone because I am inspired by motivational quotes and I'm wondering, could you give us a few of your own words of wisdom to inspire our listeners?
Jeana Goosmann:
Be the trailblazer of your success.
Lyn Wineman:
Ooh, be the trailblazer of your success. I love that. Can you tell me what that means to you?
Jeana Goosmann:
Absolutely. So for me, one of my favorite quotes was the quote about, create your own path. Don't go and follow somebody else's path, but rather create your own path of success. I think each person is unique in their own particular personal goals of what they want to accomplish and I think it's important that you reflect on what those are, where do you want to be and give a creative roadmap for yourself to get there. It doesn't mean you do it alone. I'm certainly not saying that. You'll do it as part of your company, part of your team, part of your personal support network, but you're going to have to blaze your own trail if you want to get the most out of life, as far as accomplishing your own personal goal. And then make your own plan to get there. You can't rely on somebody else to do that for you.
Lyn Wineman:
That's fantastic. So Jeana, for our listeners who would like to learn more about your work or how to get in touch with you, how can they find out more about Goosmann Law?
Jeana Goosmann:
I think the best place to go is our website, which is GoosmannLaw.com, G-O-O-S-M-A-N-N-L-A-W dot com. Or you could certainly call us at (855) 843-4531. And I also encourage you to connect with me on LinkedIn. I'd love to add you to my network.
Lyn Wineman:
That's fantastic. And we'll have all those things in the show notes as well on the KidGlov website. Jeana, as we wrap up our time here together today, what is the most important thing you would like our listeners to remember about the work that you're doing?
Jeana Goosmann:
As attorneys we are committed to stand for what's right. Together, we are agents of change, making a difference for people.
Lyn Wineman:
Oh my goodness. That's perfect. This podcast is for people who are agents of change. So that is why this connection was so important to me. Jeana, I fully believe the world needs more people like you. You are definitely a trailblazer. Thank you for taking the time to share with us today.
Jeana Goosmann:
Thank you so much, Lyn, for having me on and I feel blessed to have gotten to know you and be part of your podcast today.
Lyn Wineman:
Aw, thanks so much.
Announcer:
We hope you enjoyed today's Agency for Change podcast. To hear all our interviews with those who are making a positive change in our communities or to nominate a changemaker you'd love to hear from, KidGlov.com at kidglov.com to get in touch. As always, if you like what you've heard today, be sure to rate, review, subscribe and share. Thanks for listening and we'll see you next time.