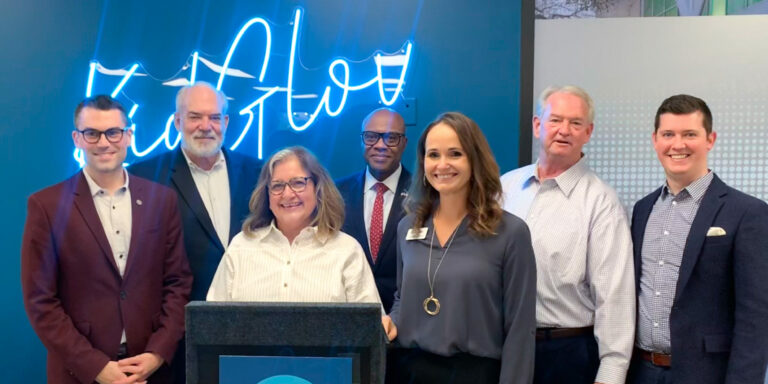 November 29, 2021
Announcing: Our B Corporation Certification
We're proud to announce that KidGlov has officially become a Certified B Corporation (only the fifth to do so in the state of Nebraska)! This day has been a long time coming. And it began a few years ago, when one of our creative directors, Kelley Peterson, wrote an article on the three things at the core of purpose-driven business. My friend Barb Bartle from Lincoln Community Foundation read the article and suggested I meet Graham Pansing Brooks, and Kyle Cartwright, who were just forming SEAchange. 
During that meeting, we had a great, idealistic conversation. We talked about conscious capitalism, social impact, using business as a force for good – all things that are really fun to talk about. The conversation was great, and we felt energized. Graham and Kyle introduced us to the idea of becoming a Certified B Corporation. And honestly, here's a secret: I told them, "You know, that all sounds well and good, but I'm a really busy entrepreneur. There are a lot of things fighting for my time. I will do that later."
Our Place in the World
But it's funny how things happen. Because at roughly the same time, we decided KidGlov was due to refresh our purpose statement. We brought the whole team together and talked about what our place in the world was going to be. We decided that our purpose is to serve organizations who are affecting positive change in the world. In particular, we were thinking of nonprofits, community health and social impact initiatives, healthcare, and community banks and credit unions.
When we started promoting KidGlov in this way, people started asking us, "You must be a B Corp, huh?" And my response was always: "We're thinking about it." But the question kept coming up. And I began to think it might be time to call Graham and Kyle. Eventually, I called them, and of course, they were happy to sit down and get us started.
We began the process in early 2020 with the first B Lab assessment. When I heard we only had to score 80 points out of 200, I thought to myself: We have got this in the bank! That is only 40%. I've never done less than 40% on anything in my life! But it was not a piece of cake. It was hard. Even though we are a good company doing good things, it was a hard, rigorous process.
 At the beginning of this journey, I thought of the certification as a way to stand apart from others in the industry. But the B Corp certification process did more than just provide us with a seal of approval. It made us better. It helped us focus in on and solidify our practices in the areas of sustainability, diversity, equity and inclusion, culture, and community impact. And the ripple effect is that it will make the lives of our team members better. It will strengthen our Omaha and Lincoln communities and it will help us serve our changemaking clients in new and exciting ways.
Celebrating Our Big News
Recently, we held an event in our Lincoln office to announce our new status as a B Corp. Tony Goins, Director of Economic Development for Nebraska, was there to celebrate with us and was even kind enough to say a few words.
"KidGlov really personifies the notion of a B Corp," he said. "Your marketing and your promotional work give a voice to dozens of mission-driven companies and individuals who are out there trying to spread the message around positive change."
Graham, who helped guide us through the B Corp process, was also in attendance, and explained why a B Corp was such a good fit for our business.
"Many of the values that we hold so dear as Nebraskans are intrinsic in what the B Corp certification stands for," said Graham. "It is focused on community, on outreach, on teams, on building each other, and really empowering one another. And I can't think of another organization that accomplishes that more than KidGlov."
Giving Thanks
I want to thank everyone who played a special part in KidGlov's journey to becoming a B Corp: my family, my very patient and supportive husband, my loving parents, and of course; the amazing team at KidGlov. Thank you to Nebraska Director of Economic Development Tony Goins, Omaha Chamber President David Brown, Lincoln City Council Member Richard Meginnis, and Kyle and Graham from SEAchange for guiding us. We are humbled to join the B Corp roster with the likes of these companies: Firespring, Assurity, Daycos and Physicians Thrive.
Interested in Becoming a B Corp?
While becoming a B Corp isn't a task you should undertake lightly, it's a great fit for many purpose-driven businesses. If you're interested in learning about how and why your own organization may want to consider this certification, we weigh the pros and cons, and explain the benefits in our post here.