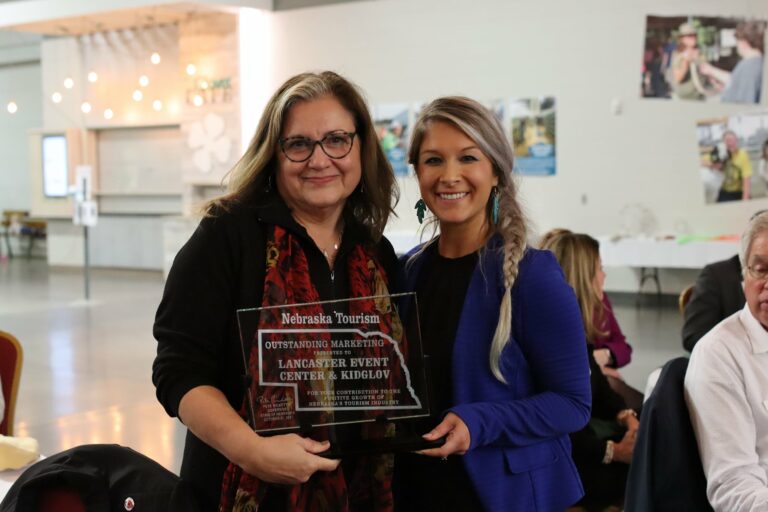 December 2, 2021
KidGlov Ropes a Nebraska Tourism Award
After the dust settled at the Lancaster Event Center Fairgrounds (LECF), hosts of the 2021 National High School Finals Rodeo, we were honored to receive an Outstanding Marketing Campaign Award from Nebraska Tourism! Yee-haw!
After being selected by the National High School Rodeo Association (NHSRA) to host the event in Lincoln for the very first time, LECF turned to KidGlov to design a tough-as-nails marketing campaign that would accomplish three goals:
Increase rodeo attendance from competitors' families and fans
Capture the attention of rodeo enthusiasts
Highlight opportunities for spectators to watch, shop and eat while at the event
And accomplish them we did, with a record-breaking turnout at the rodeo resulting in 2,800 event wristbands and 19,066 tickets sold.
Amy Dickerson, managing director of LECF, told the Lincoln Journal Star that the success of the event is attributed largely to KidGlov's marketing campaign, which included national and local television and radio spots, print and digital advertising, outdoor billboards, social media content, physical banners throughout downtown Lincoln, and a landing page that tied everything together.
"The world's largest rodeo turned out to be a monumental win for LECF, the community and the state," said Lyn Wineman, our founder and president. "Considering the challenges posed by the COVID-19 pandemic and a windstorm which hit LECF the week prior, we felt the results of the campaign and the event were particularly gratifying."
In addition to event wristband and ticket sales, our campaign for LECF generated over 23 million trackable earned and paid media impressions, while digital and social impressions reached over 12.5 million. The event's landing page, which achieved 111,412 page views, helped to completely sell out every single camping site, for a total of 1,369 bookings.
We received our award from Nebraska Tourism during their 2021 Nebraska Tourism Conference, which took place in Grand Island, NE, from October 19 – 21, 2021. What's more, the rodeo itself, which took place from July 18 – 24, 2021, received an award from Nebraska Tourism for Outstanding Event.
This most recent award caps off an impressive year for us, which included winning 18 awards at the 2021 AMA Omaha Pinnacle Awards show, being named Agency of the Year and winning Best in Show; and walking away with 15 honors at this year's AMA Lincoln Prism Awards, as well as the coveted Corporate Marketer of the Year designation.
If you're interested in being a part of our winning team, check out our job openings here. And find out what we're up to by following KidGlov on social media.