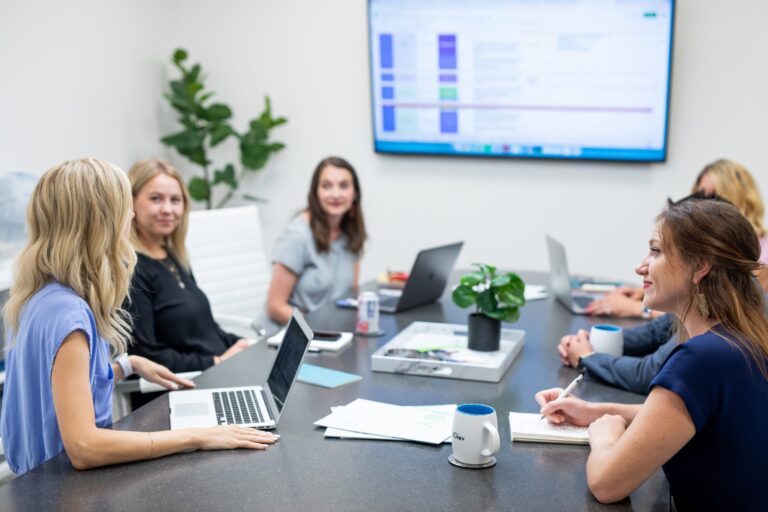 April 1, 2022
Four Trends to Up-Level Your Content Marketing Strategy
Not so long ago, marketers didn't give much thought to creating original content for their audiences. Today, customers expect their favorite brands to share engaging, high-quality content on a consistent basis. If you want to satisfy those expectations, you're going to need a content marketing strategy. 
Just to make sure we're all on the same page, let's start by defining our subject: Content marketing is creating and distributing your own valuable, relevant, and consistent content to attract and acquire a defined audience, with the objective of driving profitable customer interactions. This could be anything from blogs and short videos to infographics, podcasts, white papers, and more.
The value and relevance of your content is defined by what interests your audience, rather than your own objectives. Consistency implies a constant tone and voice, delivered with routine frequency so that your readers begin to look forward to your next message. Content marketing is important because it answers your audience's questions and helps you build trust, develop relationships, improve conversions, and generate leads.
As marketers get better at recognizing and responding to customers' expectations, we're seeing some definite trends emerge. Today I want to share four trends that distinguish the best content marketing strategies in 2022 – exceptional digital experience, empathetic marketing, interactive content, and hyper-personalizing. Start experimenting now and see which of these strategies resonate with your customers. 
1. Exceptional Digital Experience 
Seamless, exceptional customer experience has become paramount for successful digital marketing. At KidGlov, we like to say that you should treat your online customers the same way you would treat them in person. 
Imagine the feeling of walking into a favorite store. Each time, there's a reliable familiarity that reminds you why you like going there in the first place. That's how every digital interaction should feel for your audience. To capture that feeling, organizations are creating their own unique narrative and rolling it out in a consistent, cohesive, structured way. Marketing departments are spending more time researching, planning, and implementing their content calendars, then testing the experience frequently to make sure they connect all the dots that lead from nurturing to conversion.
One other thing about your favorite stores – they always remember what you like. Staying up to date on your targeted audience preferences and needs is a way to create a better all-around experience. 
2. Empathetic Marketing
I think we can all agree that the last two years have been a wild ride. Marketers have responded to recent events with a different approach, putting customers at the center of their content marketing strategies, and working outward from there. This is called empathetic marketing, and you'll see much more of it throughout 2022.
On a personal level, empathy is putting yourself in another's shoes and seeing life from their perspective. Empathetic marketing takes this a step further, starting with conceptualizing the world through your customers' eyes and then applying that perspective to create a content strategy that meets their needs. It's a way of speaking to your target audience as human beings first, and not just potential buyers. 
This is where target audience personas can be very helpful. With strong personas in hand, you can build content that evokes relatable emotions in your customers. This builds trust, creates better customer experiences, and develops more authentic relationships with your audiences.
3. Interactive Content
A third trend we're seeing is the use of interactive content like quizzes and polls. Several recent studies show the power of interactive versus static content for optimizing audience experience, gaining their attention, and holding it longer. And with shortening, shortening, shortening attention spans, engaging someone longer is always a win. In 2022, we will continue to see more interactive content, designed to connect with customers at different phases along the way toward that initial purchase. 
The good news is that technology has kept up with this trend, making interactivity easier to achieve. Whether it's your landing pages, your emails, or even in your social media channels, look for this opportunity. Interactive content has enormous potential to engage customers, gain their attention, keep them on your website longer, grow their preference for your brand, and eventually increase your conversion rates.
4. Hyper-Personalizing 
Personalizing your messages increases customer engagement, especially in email marketing campaigns. We've all been doing this in small ways for a long time, addressing customers by their first and last name, company name, and so on. But in 2022, that's not going to cut it anymore. 
Today marketers are going deeper, tapping into individual preferences, wants, and needs. We call this hyper-personalization. Hyper-personalization is data driven, using analytics, artificial intelligence when possible, and automation to create unique interactions with individual customers. Again, marketers are making use of their buyer personas (Helpful hint here – if you don't have buyer personas yet, work on them. And if you haven't looked at them in a while, dust them off!). Personas will help you tailor your content toward particular products, marketing channels, and language.
Big brands effectively using hyper-personalization include Amazon, Netflix, Stitch Fix, and one of my personal favorites, Naked Wines. I consider this an advanced strategy, so if you're just getting started in content marketing, you may want to pay attention to these brands for a while before taking the plunge yourself. Or if you have a smaller target audience, you might find it's not worth it. But if you're going big and deep into content marketing, it certainly is an important strategy to consider.
As you experiment with these strategies in your own content marketing program, remember, think about the way you'd treat your customer in person. You want your content to deliver the same experience. Keep empathy top of mind. It's been a rough couple of years and people need that kid glove touch. Use interactive content like quizzes and polls to engage your audience. And when you're ready to go all in, hyper-personalize for the ultimate win.
I hope these four trends will help set the stage for your successful content marketing strategy. You can find additional resources for purpose-driven marketers including blog articles and case studies or listen to thought leaders from across the country on the Agency for Change podcast.