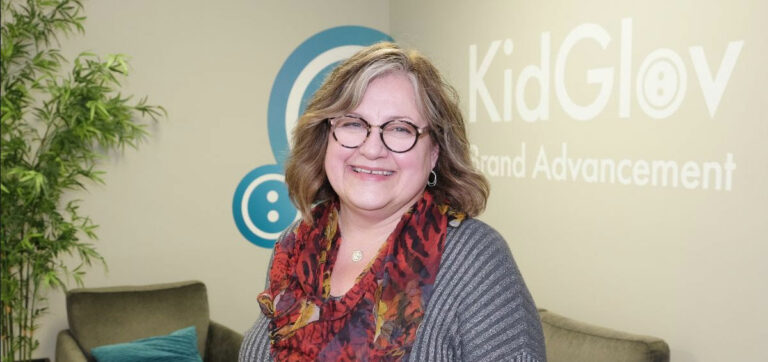 June 4, 2020
KidGlov looks to impact projects, refocusing on bottom line profit
By Becky McCarville, Midlands Business Journal
In its tenth anniversary year, KidGlov, an advertising agency with locations in Lincoln, Omaha and Denver, recently moved its Lincoln headquarters to a new space at the Commerce Court Building near 12th and O streets in downtown Lincoln. This was done even amid working from home due to the coronavirus. After taking quick action in mid-March for all three locations to work from home, KidGlov's Lincoln team realized they wouldn't be working together from the old office again – a "weird" feeling, said founder, president and chief strategist Lyn Wineman.
Despite the head-spinning past couple of months because of a new workplace, social guidelines and uncertainty due to the pandemic, KidGlov is strengthening its commitment to organizations that "impact social change" with an idea formed last November – The Agency for Change Challenge.
As part of its anniversary celebration, the company is giving away $10,000 worth of advertising agency services to an organization impacting social change. The deadline for submissions is June 12.
"Because of who we are and who we have on our team, we've always worked with a number of nonprofits and human service organizations, including health care and senior living," said Wineman. "A lot of financial institutions are focused on taking care of their communities and their clients. And so last fall we were taking a look at our own brand and decided to narrow our focus to organizations making positive change in the world. There are a lot of different types of organizations that do that, but we like to say, 'We're the people who are helping the people who are changing the world.'"
In the Omaha and Lincoln market, KidGlov has worked with Boys Town, Immanuel Communities, the Nebraska Family Helpline, Matt Talbot Kitchen and Outreach, CenterPointe, St. Monica's, CEDARS and HopeSpoke, to name a few. On May 15, the agency launched a new brand, Adeo, for a Colorado organization that helps support people with brain and spinal cord injuries.
"Hopefully it will be the only brand we launch in the middle of a pandemic," Wineman laughed. "Instead of having a big party and employee meetings, we had a series of Zoom town halls and launched publicly with PR and boosted social media."
When the pandemic was declared, some companies pulled back on marketing budgets because of economic uncertainty, and KidGlov lost about $100,000 of business. "But we've really hustled, and we made it all up so far," Wineman said. "I shared with my team a thank you note recently saying it's not just that we're keeping our own business up, but look at the things we're doing for people. We're helping fight senior isolation, teen alcoholism and drug use; there are just so many cool things we get to do."
With about 50 active clients among its three offices, KidGlov continues to work with some of its first clients – like MembersOwn Credit Union and Nebraska Healthcare Association – who joined when Wineman founded the company as Wineman Communications Group. In March 2013, the agency changed its name to KidGlov, a reference to "treating people and clients and brands with kid gloves."
"It's not just being friendly, it's about trust, authenticity, being accountable to one another on our team, and being accountable to our clients," Wineman pointed out.
To speak to the power of rebranding, after KidGlov helped a small Nebraska business rebrand, the client generated $50 million in revenue. "We can't say the rebrand was responsible for all of it, but we can say the rebrand brought them extra attention and excitement and helped them sharpen their message," Wineman said.
KidGlov has grown 400 percent in the last four years, and Wineman attributes the growth to a small, hand-picked, senior-level team that works well together, as well as using the EOS Traction management system. "By doing the Traction process, we've focused on what we needed to do to grow as an organization and make our culture strong," she explained. "It's easy in a business like ours that's so client-focused to become so concentrated on your client that you don't work on your own business.
Wineman explained that even while working from home, they are doubling down on their culture initiatives. "Since we've gone through so much growth over the last four years, we're refocusing not on topline growth, but on bottom-line profit – refocusing on profitability," she said. A small team allows the company to be creative, cost-efficient and flexible, and each location can focus on its regional market.
Wineman isn't currently looking to open offices in new markets, but KidGlov is starting to generate interest outside its respective markets. "Because we're learning to work remotely, we might open it up a little bit. Instead of trying to build more offices, we might look to go more national in our digital pursuits from the locations we have," she said. "Your digital advertising can go across the state or across the country. As we're not going to see people in person, they can be anywhere." They haven't made any decisions yet, but it is an area they are beginning to explore as a result of the pandemic.
With businesses slowly reopening, Wineman said that selling and business development will be different in the future. "In the past, we relied on networking and meeting people – a lot of coffees and lunches," she continued. "As we're helping our clients learn new ways of marketing and lead generation, we're doing the same."
Reflecting over the last 10 years, Wineman said she has learned to be more patient and empathetic, not only with colleagues but also with clients' needs. "I've always personally been very goal driven," she said. "I've always pushed myself. And while that has been really important to my success, I think as I rise to a different position and as I rally a team of people around me, empathy, patience and coaching are all important."
KidGlov's new 2,100-square-foot space with an open office layout and various-sized conference rooms is a far cry from the company's start at Wineman's dining room table. "When we were moving, I came across my notebook where I had my notes from when I first started in May 2010, and I wrote in there that I wanted to create an agency that generates results, that builds brands, builds people and gives back," she said. "And I feel that we are continuing to accomplish all four of those things."
Story from May 29, 2020 Midlands Business Journal
KidGlov is a boutique, full-service, advertising, branding and content marketing agency and certified B Corp, with offices in Omaha and Lincoln, Nebraska, specializing in nonprofit marketing, healthcare marketing, financial services marketing, social impact marketing, and purpose-driven businesses.