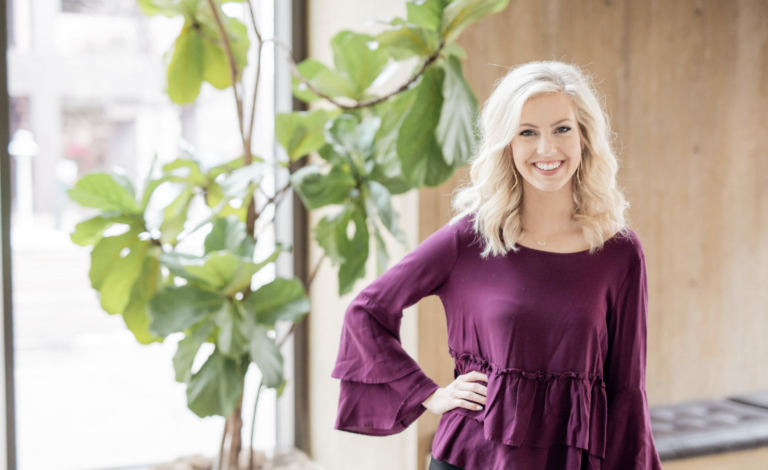 June 22, 2021
Lexie Volk Promoted to KidGlov Account Manager
Our mission is helping changemaking organizations get their messages heard, but that couldn't be possible without the incredible changemakers here in our own office. Lexie Volk is one of these dedicated team members and congratulations are in order as we celebrate her promotion to account manager. In her new position, Lexie will take a lead role in managing key accounts for our brand agency. In addition to making sure projects are on-time and up to the KidGlov standard, Lexie will lend a hand in leading our social media advertising projects.
"Lexie is KidGlov through and through. I've so enjoyed seeing her talents grow and progress since she started with us. Our clients are in great hands as she shines in her new role," said Katherine Warren, KidGlov chief operating officer.
Lexie joined the KidGlov advertising agency team in 2019 and her fearless persistence has helped the group build collaborative relationships with clients large and small. She is a University of Nebraska-Lincoln graduate, where she majored in advertising and public relations. Prior to joining KidGlov, Lexie served as marketing specialist for the Lincoln Chamber of Commerce where she began honing her strategic marketing skills.
In eleven years of operation, the KidGlov marketing team has offered a full array of services from strategic planning to traditional marketing to the latest in digital and social media. Lexie's new responsibilities will be heavily focused on digital marketing for our clients. Her skills have already elevated KidGlov brands to excel in the fast-changing and ever-evolving social media environment.
"Digital marketing and social media initiatives are fast becoming a necessity for any organization," said Warren. "But navigating the confusing world of digital branding is no easy feat. Lexie's expertise in social advertising combined with our creative team's digitally-focused design is an unbeatable combination."
Our incredible account services team is the bridge for our heart-and-thought provoking creativity. We support a variety of organizations across the country, specializing in the industries community health, finance, healthcare, nonprofits and purpose-driven business. Our award-winning team works with organizations who are ready to make the world a better place for us all.
"We're one small part of a larger movement to make the world a better place for all of us," said Lyn Wineman, KidGlov president. "That's why we intentionally serve changemaker organizations, amplifying their work and words, with the utmost care and attention."
Close-knit and collaborative, KidGlov's employee culture values courage, creativity and determination. The marketing agency has twice been named one of Lincoln's Best Places to Work and in a recent employee survey, 100% of employees indicated they felt highly engaged and highly valued.
If you need help buttoning up your brand, give us a call! Our creative team can help you get your message heard with plenty of innovative marketing and brand moving solutions from digital to traditional.