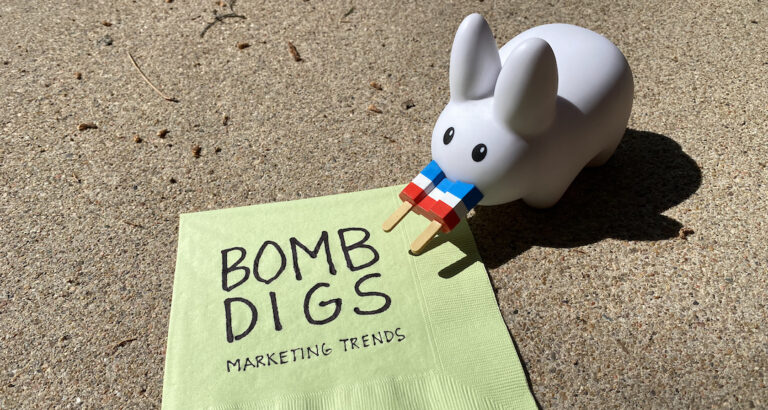 June 27, 2022
Nonprofit Marketing Trends that are Bomb Digs!
Happy Summer! This blog article is inspired by the famous patriotic popsicle…the Bomb Pop! 
It's a frozen confection that is shaped like a rocket and is tri colored. Each color has a different flavor, with the original flavors being cherry, lime, and blue raspberry.
Though some of you may think the flavors are grenadine, Bacardi razz rum, Blue Curaçao liqueur and lemonade. ☺ Either way it sure is a refreshing treat!
Let's start with a little branding trivia about this sugary goodness on-a-stick…
The first popsicle was invented by an 11-year-old boy named Frank in 1905. He accidentally left soda pop flavoring out to freeze; thus, the name popsicle ('pop' + 'icicle') was born.
Fast forward about 50 years when the Bomb Pop was invented by Merritt Foods in Kansas City, Missouri.
Now this wouldn't be a good marketing story if it didn't include some brand rivalry. In fact, there's been a decades-long battle between makers of this patriotic popsicle.
You may have even mistaken Bomb Pops with Rocket Pops and Firecrackers.
So, what does this story have to do with nonprofit marketing trends? Everything really because to compete and break through the noise, your messages need to be snackable, easy AND accessible – in other words the bomb digs! 
Bomb digs is short for bomb-diggity meaning to be excellent beyond expectation and to be above par from the rest. (Thanks, Urban Dictionary)
So, let's unwrap the latest ways to lick the challenge of reaching donors through your social media, email, and website.
Layer One: Social Media
Not only do your social posts need to be short and sweet (aka snackable), but they also need to be relevant and authentic. 
Now trending are online videos that are less than 2 minutes in length. According to a social media trends report by Hootsuite, long-form video is bust, except on YouTube.
Plus, social media platforms like TikTok and Instagram are pushing for more genuine DIY video content. 
Oh and if you don't do ads yet, you need to consider some "pay-to-play" tactics.
Layer Two: Email
Now that you've adapted your website to a responsive design, it's time to continue the mobile-first strategy in your emails.
Adopting a mobile first strategy assumes most of your donors and readers will view your marketing materials on their phone. 
So, your email content needs to be written and designed keeping in mind that it will be consumed on mobile devices. 
The days of lengthy, image-packed email newsletters have melted. 
Fewer words and simple design for your emails is cool but they're even cooler if your website is responsive.
Layer Three: Website
In addition to making your website mobile friendly, the latest trend is accessibility. 
The good news is Web Content Accessibility Guidelines (WCAG) exist to improve digital accessibility for people with disabilities including auditory, visual, physical, and cognitive.
By following these guidelines for best practice, your website can deliver a better experience, regardless of how your users choose to access the internet. 
To hear more about the importance of accessibility, listen to these KidGlov Agency for Change podcast interviews with Paulette Monthei from Outlook Enrichment and Mike Adams from Purple.
Let me recap. Three trendy flavors to layer into your nonprofit marketing mix to reach donors, better compete and break through the noise are: 
Layer One: Social Media – Make your content "snackable" – short, sweet and authentic – especially videos for social.
Layer Two: Email – Think first about making your messages and your website mobile friendly. Less is more.
Layer Three: Website – Follow web accessibility best practices so those with disabilities can use your site as it's meant to be used.

If you need a hand with your social media, email, or website give us a shout; or if you want to learn more marketing tips, go to KidGlov.com/nonprofit
KidGlov is a content marketing agency and certified B Corp with offices in Omaha and Lincoln, Nebraska, specializing in nonprofit marketing, healthcare marketing, financial marketing, social impact marketing and purpose-driven businesses.