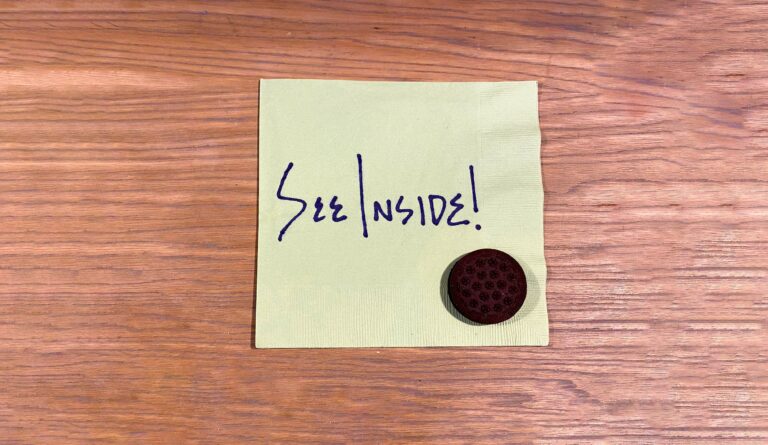 September 18, 2021
What's Inside Your Nonprofit Direct Mail?
Due to the incredible challenges of 2020 and those that remain (despite COVID vaccines), the pendulum certainly has swung in favor of direct mail. 
With the digital world becoming more saturated and Zoom fatigue setting in, people are craving offline experiences. Which makes direct mail that delivers a personal touch more powerful than ever!
Direct mail will continue to increase as creativity and standing out becomes even more important in the sea of 'robo spam'. Which brings me to the question of the day…What's Inside Your Direct Mail? 
It's simple really. Direct mail campaigns that are physical, participatory, and human in context are critical to building the most memorable experiences and lasting connections with your donors.
Once you have them at "Hello!" because of what's on the outside of your envelope and you've made a personal connection through handwriting, addressing people by name, and using live stamps, you're ready to think about what goes inside your direct mail envelope.
Here are three ways to make what's on the inside count…
Make What's on the Inside Count Through…Return Envelopes
When I talk with nonprofits, one of the most frequently asked questions is, "Should we include a return envelope?" And my answer is always, "YES!" 
Out of the over 100 fundraising direct mail pieces KidGlov reviewed last year, 87% of them included a return envelope.
Enclosing a return envelope adds to the bulkiness of your piece and most importantly makes it as easy as possible for donors to give you money! Many donors hang on to return envelopes as a reminder to give later. 
Make What's on the Inside Count Through…Traditional Enclosures
A basic direct mail piece is an envelope with a letter inside. Each additional enclosure you include increases the bulkiness of your appeal – making it lumpy.
This lumpiness sparks people's curiosity about what's inside and this curiosity gets them to open it.  
Some traditional enclosures to bulk up your next fundraising direct mail appeal are: 
A reply envelope (a tactic worth repeating ☺)
A greeting card instead of a letter
Address labels as a gift
A small notepad of paper as a gift 
A set of notecards as a gift
And pens/pins as gifts
These tried-and-true tactics typically work to increase your direct mail return. However, keep in mind you need to make your fundraising appeals personal, relevant, and captivating through your message in addition to enclosing these bells and whistles.
Make What's on the Inside Count Through…Engagement Enclosures
Engagement enclosures invite people to interact with you. For example, last year The Salvation Army enclosed three different "Christmas Meal Tickets" inviting donors to choose and return the ticket that corresponded with the number of meals they wanted to purchase as their gift.
There are all kinds of enclosures used to engage the audience. Some that I've seen are recipe cards, folded placemats, punch-out holiday ornaments, coloring sheets, bookmarks, and special notes to write a message and send it back to the children.
Some enclosures ask donors to fill them out and return them with their gift and others are given as special gifts to remind them of the lives they've impacted through their donation. 
One thing I've learned over the years when it comes to what's inside direct mail is the more enclosures the better. Last year, the winner of the most nonprofit direct mail enclosures was…Disabled American Veterans! This appeal included seven different inserts that were sure to increase their response rate:
Letter with a yellow sticky note on top that appears handwritten
Sheet of address labels + gift tags
14-page notepad
Metallic stickers that look like holiday stamps of dogs, bears, snowmen, and birds)
Notice to Contributors 
Return envelope printed upside down with multiple one cent stamps on it
Calendar sheet with stats on the back
And to make it even more appealing, the outside envelope used a handwritten font to say, "Do Not Bend", included a graphic that looked like it was stamped with "Made in the U.S.A" and to top it off, this was all enclosed in an oversized envelope embossed to look like it was sent in a bubble wrap envelope. 
So let me recap! It's time to bulk up for this year's direct mail season. The more enclosures you put in your nonprofit fundraising appeals the better the return.
I just shared three ways to spice up what's inside your direct mail: reply envelopes, traditional enclosures, and engagement enclosures. 
For more appealing know how, read these blogs: 3 Direct Mail Tips to Get Your Donors at "Hello" and
3 Ways to Humanize Your Direct Mail. 
And remember, direct mail campaigns that are physical, participatory, and human in context are critical to building the most memorable experiences and lasting connections with your donors.
Best of luck to you on your upcoming direct mail campaigns. If you need a hand, contact us. To see more marketing tips for nonprofits, go to KidGlov.com/nonprofit.