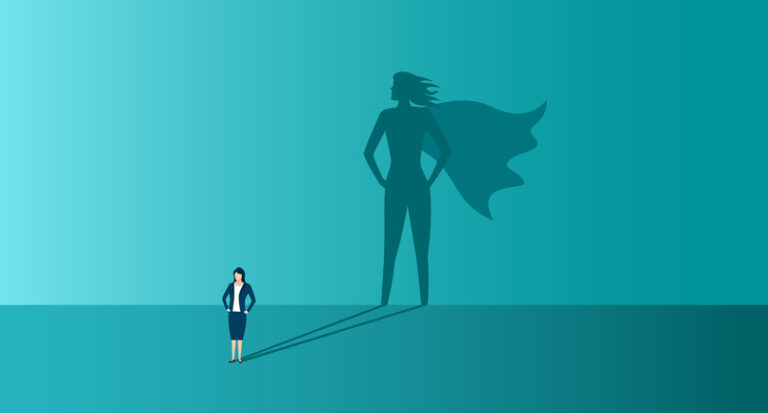 October 3, 2022
Content Is My Superhero
Are you a superhero or a villain? Because with great power comes great responsibility. Thanks for that reminder, Spider-Man. As content marketers, we have the power to reach customers organically, deliver a personalized targeted message, and provide audience education, because the fact is customers are increasingly turned off by salesy messages that come across as unauthentic, AKA the villain.
Instead of pushing customers to do one thing or another, let's be the superhero that saves the day and builds trust, solves problems, and increases understanding. Like any good superhero, marketers' jobs are also to serve and protect. Whether it's a brand message or a product, sorry, villain, with your sneaky ways, but consumers are onto you.
So, Avengers assemble and plug in that bat signal because here are the facts: Content works. Those in the financial world should embrace your inner superhero and throw on your cape, because there is no kryptonite in this plan. In fact, HubSpot reports 70% of marketers are actively investing in content marketing. So is this content the Ironman leader of your marketing strategy? According to figures from a recent content preferences survey, yes.
Grab your Captain America shield, because I'm going to hit you with some stats. 71% of consumers say they read blog content prior to and during a purchase or a decision. 64% of consumers surveyed claim they value webinars in the mid-stage of their decision journey and 40% of consumers admitted that they viewed three to five pieces of content before reaching out to a business.
What do those stats all prove? Well, to quote The Human Torch, "flame on" because hot off the presses, here's the best news: 
You do not have to have a massive budget to achieve success, just the right approach. 
What is that approach? Well, now it's clobbering time, because here are the five steps that will earn you content superhero status.
First, know your audience. Have a clear picture of who you are targeting. Identify their characteristics, their needs, challenges, and interests. Build out profiles based on demographics, pain points, location, needs, and other relevant information.
Second, create content that meets consumers where they are. For example, let's say you are a bank promoting your new online banking features. Keep in mind a millennial will have different questions and content requirements than a baby boomer. Provide content that meets consumers where they are and how they like to absorb information.
Third, focus on the consumer journey. In addition to having content that speaks to different people, you will want to create content that is appropriate for the stage they are in. There are three stages: awareness, consideration, and decision. 
For example, if you are a credit union that wants to educate prospective new members on your offerings, you would initiate the awareness stage with blogs and videos, whereas the consideration stage consists of webinars, product specs, and case studies, and the decision stage consists of demos and testimonials.
Fourth, become a financial service thought leader. Your target audience can be complex and have a lot of choices at their fingertips. So set yourself apart and become a go-to source with the information and educational content that you post.
Fifth, make it SEO-friendly so search engines will love it and favor you with positive organic rankings. Keep top of mind your key selection, meta descriptions, page tags, and title and photo tags.
Here's a bonus step: Plan out a content calendar. This calendar will help put all of your content strategy into one place with respect to key topics, keyword searches, and your audience. And most importantly, this content calendar will keep you on track and accountable.
As Captain America would say, I can do this all day. Let's recap with the takeaways. Consumer behavior has shifted, and we need to meet them where they are. Content marketing plays a starring role in strategies of financial institutions by being the superhero that can build brand awareness, increase conversion and retention, educate customers, and elevate your communications in the ever evolving financial world.
The ultimate superhero power, aka Thor's hammer, in my opinion, is this — with enough solid content, you will begin to establish your brand as an authority and consumers will come to you first.
Thanks for going on this superhero journey with me. Don't be a villain. 
Want more information? Visit our finance hub to find a variety of case studies, helpful blog posts and Agency for Change podcast episodes featuring other financial service business leaders.
KidGlov is a boutique, full-service, advertising, branding and content marketing agency and certified B Corp, with offices in Omaha and Lincoln, Nebraska, specializing in nonprofit marketing, healthcare marketing, financial marketing, social impact marketing, and purpose-driven businesses.