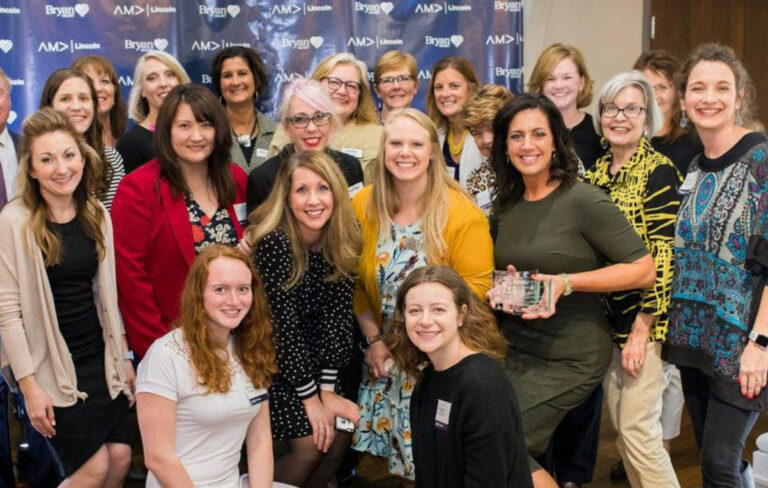 July 10, 2019
KidGlov Earns 25 Awards and Warren Recognized as Marketer of the Year at AMA Prisms
In May 2019, KidGlov received top recognitions at the American Marketing Association (AMA) Lincoln Prism Awards and their Vice President of Operations, Katherine Warren, was honored as Marketer of the Year. 
The AMA Prism Awards, held annually, recognize the best results-based marketing in the area. KidGlov received 17 Prism Awards and eight Merit Awards in the categories of advertising, collateral, corporate identity, direct marketing, integrated public relations, marketing maverick, marketing research, social media, special event and video.  
Honors were given to KidGlov for their work with AGC Nebraska Chapter – Better Roads Nebraska, Davis Design, Dreamweaver Foundation, Farmers & Merchants Bank, HopeSpoke, Immanuel Communities, Nebraska Health Care Association and LeadingAge Nebraska – Senior Speak, St. Monica's and SouthPointe Pavilions. 
Katherine Warren, Vice President of Operations at KidGlov, was honored as Marketer of the Year. With 15 years of experience in the industry, her dedication and excellence helped her to earn the recognition. 
"I am so proud of our clients' and the KidGlov team's success," says Warren. "Being recognized as Marketer of the Year is truly icing on the cake, and I am honored to receive this award from an association I love and respect so much." 
KidGlov's success at the Prism Awards speaks to their expertise in the field. Staying true to traditions of the industry while delivering new and unique experiences to brands is evident in their work. 
Want to know more? Visit our social impact business hub to find a variety of case studies, helpful blog posts and Agency for Change podcast episodes featuring community health leaders. KidGlov is a content marketing agency and certified B Corp with offices in Omaha and Lincoln, Nebraska, specializing in nonprofit marketing, healthcare marketing, financial marketing, social marketing and purpose-driven businesses.