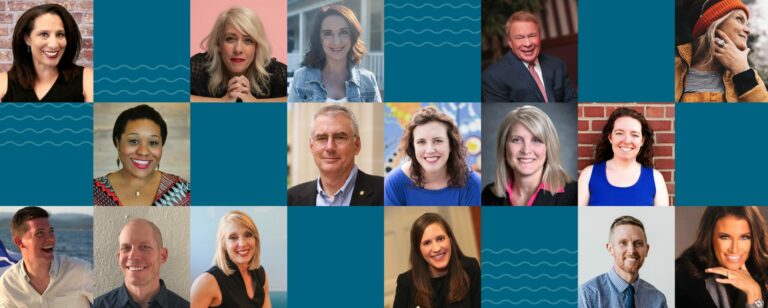 January 19, 2021
Twenty-Five Inspiring Leaders featured on first season of the Agency for Change Podcast
It wasn't all bad, plenty of good things came to fruition in 2020.  One was the launch of KidGlov's Agency for Change podcast.
Hosted by KidGlov leaders Lyn Wineman and Kelley Peterson, this podcast tells the stories of people creating positive change in the world. Whether working in large companies or nonprofit organizations, in small advocacy groups or as solo agents for change, we explore what inspires these changemakers, the work they're doing and how they share their message. Each of us can play a part in positive change—and these are the people who show us how.
We have received great feedback on the question that asks each individual to provide us with an inspirational quote. A few have provided us their favorite words from others, many shared their own words of wisdom.
Here is a summary of these inspiring quotes with episode links so you can give them a listen.
Jen Landis
Sarita Reddy
Cheri Mastny
Craig Moody
Boyd Ober
Lindsey Rai Kortan
Paige Piper
Barb Bartle
Jes Slavin
Linda Carter
Michelle Dziuban
Cammy Watkins
Angel Kwiatkowski
Sara Sjolie
Stephanie Olson
Scott Young
Amy Dickerson
Graham Pansing-Brooks & Kyle Cartwright
Justina Roth & Gerry Dunlap
Noah Teitelbaum
Fiona Libsack
Lisa Smith
Kelley Peterson
Jennifer Knecht
Jim Blue
We have an exciting lineup planned for 2021. New episodes launch every Wednesday with occasional bonus editions throughout the week.
If you enjoy  these inspiring stories, please subscribe. Is there a changemaker you'd like to recommend for this podcast? Just visit drop us a line to share.  And to listen to more stories about the people behind positive change go to Agency for Change podcast.
Want more information? Visit our purpose-driven business hub to find a variety of case studies, helpful blog posts and Agency for Change podcast episodes featuring other purpose-driven business leaders. KidGlov is a boutique, full-service, advertising, branding and content marketing agency and certified B Corp, with offices in Omaha and Lincoln, Nebraska, specializing in nonprofit marketing, healthcare marketing, financial services marketing, social impact marketing, and purpose-driven businesses.