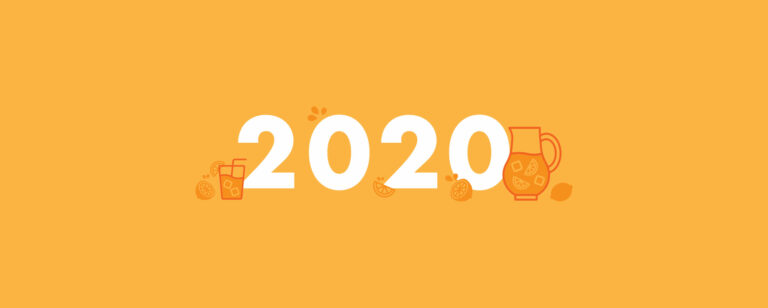 January 6, 2021
Turning Lemons into Spiked Limoncello Punch – 2020 Year in Review
Earlier this year we had the opportunity to develop creative for the 2020 AMA Omaha Pinnacle Awards. The work generated my favorite quote that sums up 2020: "You took those lemons and made spiked limoncello punch."
On January 1, 2020 I was happily imagining KidGlov's tenth anniversary celebration, having no idea what a wild ride the year would become. Here are the highlights:
Hello, new clients
We are pleased to serve new organizations from our five areas of expertise including nonprofit, health care, finance, community wellbeing and purpose-driven business. It has been our pleasure to help these organizations advance their brands:
Bank Leumi USA
Boys Town National Research Hospital
CEDARS
Child Advocacy Center
Click 2 Computer Science
CouncilWare
GJ Global
Gross Catholic High School
Nebraska Cultural Endowment
Nebraska Wine and Grape Growers Association
Region 4
Region 6
Sarpy County Economic Development Corporation
Southeast District Prevention Partners
Snow Redfern Foundation
Verdis Group
Hello, new team members
Our people are our everything. They are all handpicked because they are extremely talented, and they are a strong fit with our KidGlov culture. In 2020 we were pleased to welcome:
Alex Mabry, Designer
Mary Kate Gulick, Executive Creative Director
Margaret Davenport, Copywriter
Finley Peterson, Social Media Intern
Two of our existing team members also advanced in their roles. Please help us congratulate them:
Erin Clark, Art Director
Katherine Warren, Chief Operating Officer
Best places to work
We were once again recognized as one of Lincoln's Best Places to work. Our summary report indicated that 100 percent of our employees are highly engaged and understand that our people are our most important asset. We're extremely proud of the healthy, happy and productive culture we have developed. One of our team members summed it up well when they said, "KidGlov is all about creating a welcoming, safe and inspiring work culture which in turn helps its employees stay motivated and do the great work that we do. I've worked at some great places, but KidGlov is the pinnacle because I feel everyone genuinely takes the time to listen and make improvements for all employees."
Best in Show and other accolades
Our vision at KidGlov is to "put the megaphone in front of the good guys." While our focus will always be to achieve results for our clients, it's fun to have that work recognized by people on the outside. We were pleased to win Best in Show at the AMA Omaha Pinnacle Awards for a campaign that we created for Farmers & Merchants Bank. We were also the top award winners for both AMA Omaha Pinnacle Awards and AMA Lincoln Prism Awards.
Change of address
Our Lincoln office moved to a new, larger office space in May. We're looking forward to actually working there sometime in 2021! We, like many others, started working from home in March. We've become pretty good at working remotely, and unexpectedly found that it has opened up boundaries for us to start working with clients from across the country. (We even launched a new brand fully remotely for Adeo in Greeley, Colorado, in May.) As such, we made the decision to close our Denver office when our lease expired in August. While we don't have a Colorado address, we continue to serve clients from the rocky mountain state as well as other regions.
Celebrating the challenge
I never in my wildest dreams imagined KidGlov would celebrate our tenth anniversary in the midst of a global pandemic. With the party postponed and other celebratory plans placed on the back burner, we looked at other ways to honor the occasion. We created the Agency for Change Challenge, where we invited organizations to apply to win $10,000 in advertising agency services. We opened the applications not knowing what to expect. We were overwhelmed by the incredible response. After evaluating 45 applications from Nebraska, Colorado and Iowa, we narrowed to ten finalists and finally two winners. Watch for further details to be unveiled in 2021 for work being developed for Child Saving Institute and Lincoln Community Playhouse.
Talking with changemakers
We were so inspired by the stories of our challenge applicants that we decided to share them with our new Agency for Change podcast. We launched 25 episodes in 2020 and have an exciting lineup planned for 2021.
Celebrating women in business
We also decided to celebrate Women's Small Business Month in October. We highlighted several strong women leaders, shared insights and highlighted stories of successful women. The local media helped us get the good word out.
Effecting positive change
Our focus continues to be helping the organizations who are changing the world. This year we also doubled down on our own efforts to effect positive change. We continuously support organizations through in-kind donations and financial contributions. We officially changed our corporate status to become a Nebraska Benefit Corporation, and we submitted our application to become Nebraska's next certified B Corporation. We joined other leading advertising agencies in Omaha to form the AdVance Omaha Fund, an initiative focused on closing the diversity hiring gap. We also initiated work on our own sustainability strategic plan.
2020 was not the year we expected. It was challenging and, at times, terrifying – but it also forced us to try new things and forge new connections. In spite of all odds, 2020 was the biggest year in our ten-year history. I am extremely grateful to the KidGlov team, our clients and our partners. But I'm also looking forward to ringing in the new year. I say cheers to 2021!
For anyone looking to literally turn Lemons into Limoncello Punch, here's my favorite recipe courtesy of Food52.com.
Want more information? Visit our purpose-driven business hub to find a variety of case studies, helpful blog posts and Agency for Change podcast episodes featuring other purpose-driven business leaders. KidGlov is a content marketing agency and certified B Corp with offices in Omaha and Lincoln, Nebraska, specializing in nonprofit marketing, healthcare marketing, financial marketing, social marketing and purpose-driven businesses.