Click 2 Computer Science Homepage
The Challenge
Computer Science is one of the fastest growing fields in technology today. As the number of careers in this area continue to expand, there is a dire need to spark the interest of young people. The challenge? Computer science can be daunting to learn about – and even more so to teach. The National 4-H Council and the University of Nebraska-Lincoln's Nebraska Extension wanted to create a resource that Out-Of-School Time (OST) educators could use to facilitate engaging, hands-on, computer science learning experiences for young people from all walks of life: a website called Click2ComputerScience. The site would need to:
Be easy to navigate
Provide quick access to resources for time-strapped educators
Contain useful information, presented in an engaging way
Offer an attractive and appealing design
Help educators and program leaders inspire youth by introducing them to computer science
Deliverables
WordPress Content Management System

Robust Search Function

Learning Management System

Content Development

Search Engine Optimization

Site Map Development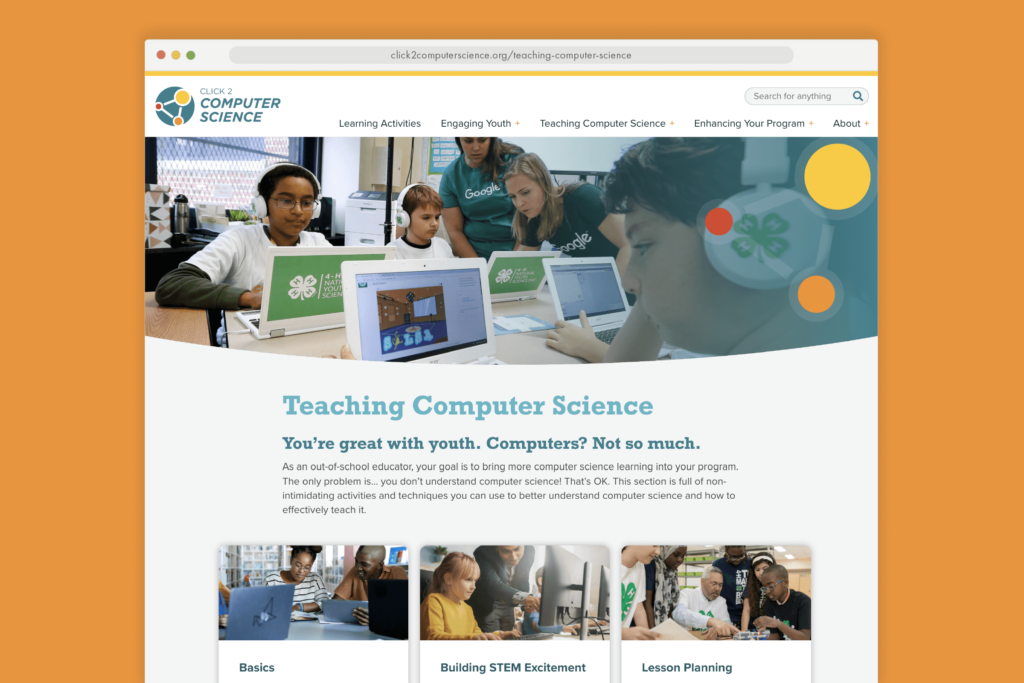 Teaching Computer Science Page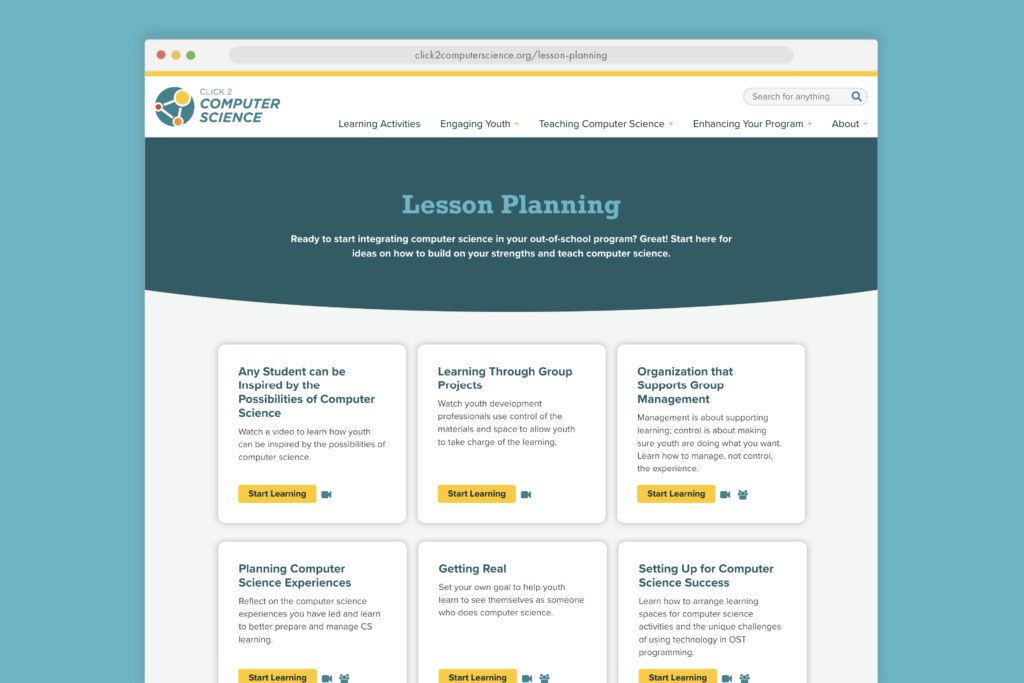 Lesson Planning Page
After discussing their needs, the two groups turned to KidGlov to help them make their website dreams a reality. With feedback and guidance from computer science experts at Google, we set out to develop a helpful, useful resource that could pique the interest of future generations of students deciding on their career plans.
In order to make the information quick and easy to locate, we developed a robust search tool that would allow visitors to find what they needed without having to dig through multiple menu options. We also focused on embedding the site with SEO-rich copy to help visitors locate it, and presented each resource in an intuitive, engaging way that made it obvious exactly what each one contained.
To help keep things simple, we structured the main navigation menu using clear, straightforward copy, designed to help educators access lesson plans and resources in as few clicks as possible. Further, we added a "What's New" section right on the homepage. This section displayed fresh content, operating as a one-stop shop for visitors who simply want to see the latest blog posts and news.
Because we knew the site contained a lot of technical information, it was important that it feel visually approachable to a wide range of audiences, without overwhelming them. The result was a color palette that felt modern and friendly, and graphics that used geometric patterns and elements borrowed from the computer science industry.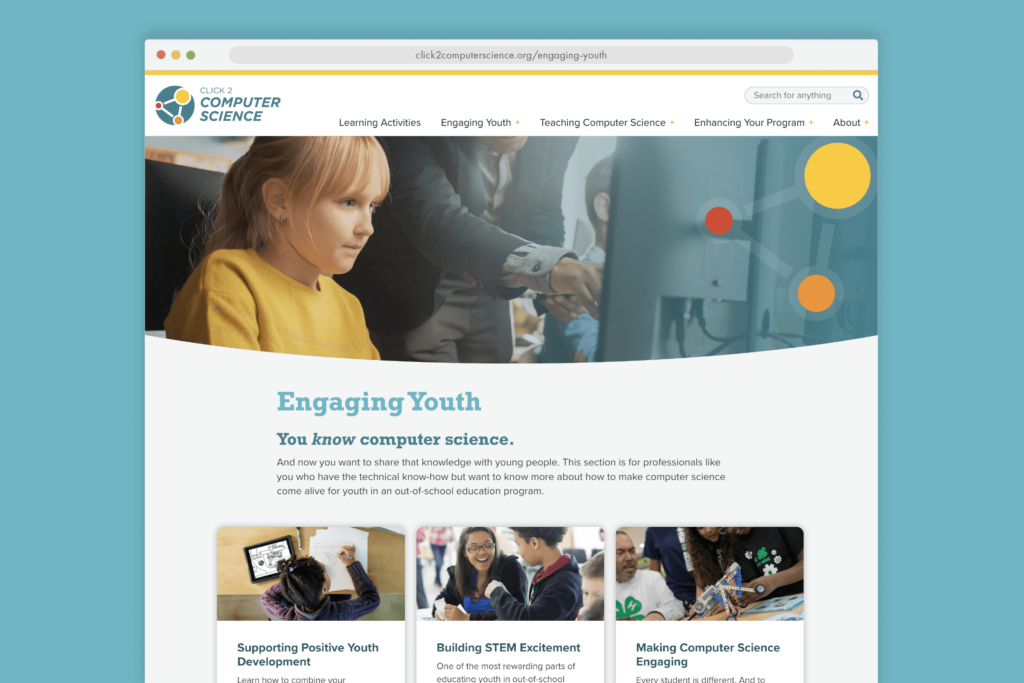 Engaging Youth Page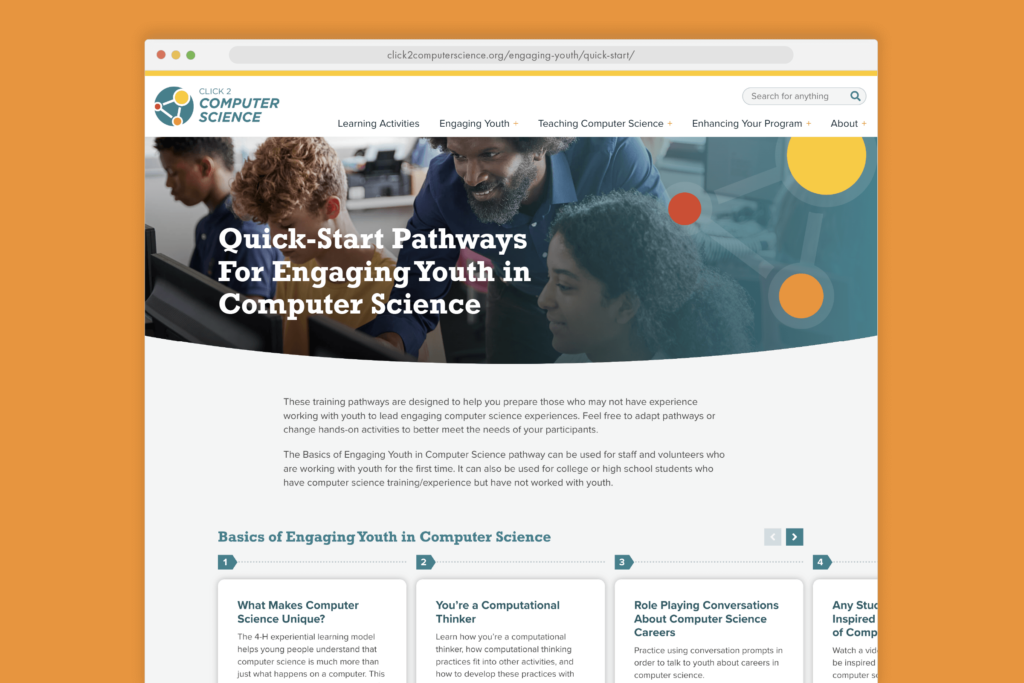 Quick-Start Pathways Page
Inspiring the Next Generation of Computer Science Experts
This project was about so much more than designing a great-looking website. Ultimately, the National 4-H Council and Nebraska Extension had a much loftier goal in mind: inspiring kids to find their potential in computer science. By creating an easy-to-use, intuitive website, they're not only helping to bring more youth into a fast-growing field, they're also providing an accessible resource for educators who want to expand their students' career opportunities.
Working with KidGlov throughout the discovery, design, and execution of the process helped all of this to happen. Partnering our content experts with KidGlov's creative talent resulted in a web platform that is user-friendly for the target market, scalable, and can be changed to meet current needs.
– Kathleen Lodl, Associate Dean/4-H Program Administrator, University of Nebraska-Lincoln Extension