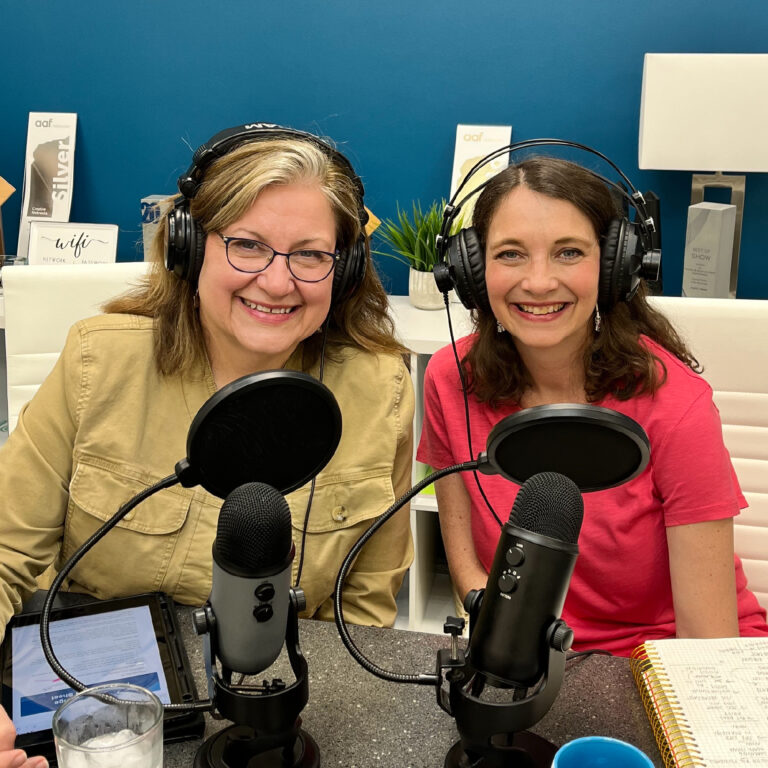 July 28, 2022
Celebrating 100 Episodes of Podcast Inspiration
One hundred changemakers and countless moments of inspiration—we couldn't be more excited to celebrate our 100th episode of the Agency for Change Podcast!
Agency for Change started in 2020 with an idea to virtually celebrate KidGlov's 10th anniversary by sharing the incredible stories of changemakers who inspire the work we do. After 100 episodes, we had no idea the incredible impact this mighty show would have. This spring, we recorded our 100th episode with the podcast hosts who started it all—our own  Lyn Wineman, KidGlov president and chief strategist and Kelley Peterson, KidGlov vice president nonprofit creative director.
"As marketers, we have the ability to change the world by using our voice for something good," said Lyn. "This is what I love about the podcast. I love talking with people who are passionately doing something to make a difference. It demonstrates the best of humanity."
The Agency for Change podcast's first guest was Jen Landis, founder of Pincurl Girls, an organization encouraging self-confidence in young girls. Since its inception, our podcast has welcomed 100 guests from organizations small and large who are using their work to create positive change.
"Every episode is my next favorite," said Kelley. "After every episode, I think to myself, 'That conversation changed my life.' From performing arts to improving the lives of LGBTQ persons to achieving positive mental health, and changing the conversation around disability, this podcast has been very powerful."
Since launching, our podcast has grown from small to mighty. Episodes with Joel Makovicka, president of Makovicka Physical Therapy and former pro football player, and Ava Thomas, president, Lee Enterprises, have each garnered over 100 downloads. To celebrate these milestones, we're honoring our top downloaded shows with non-fungible tokens (NFTs) of their episode art, presented to the guests.
The celebratory 100th episode of the Agency for Change podcast aired this May and was hosted by KidGlov copywriter, Dan Downs. Dan leads copywriting efforts for the show along with our talented team of KidGlov professionals who schedule, facilitate and promote the show. The hundredth episode shared some of the hosts' most memorable moments and explored how the podcast has become a source of inspiration for so many.
"From inspiring conversations to motivational quotes from each and every one of our guests, the Agency for Change podcast has been great fun to be part of," said Dan. "We're thrilled to put on this show where we get to speak with those who inspire our work at KidGlov and hopefully, pass along that inspiration to other changemakers who are listening."
After recording 100 episodes of the Agency for Change podcast, we have no plans of slowing down.
"The future of the podcast is really intertwined with what we're doing at KidGlov," said Lyn. "For our next hundred guests, we're looking for incredible stories from people making real change in the world."
The Agency for Change podcast tells the stories of people creating positive change in the world. From large companies and nonprofit organizations to small advocacy groups and solo agents for change, the program explores what inspires these changemakers, the work they're doing, and how they share their message. New episodes are released each week. Listeners can hear the show on major podcast platforms like Apple Podcasts, Spotify, Pandora, iHeartRadio, or on our website.
KidGlov is a content marketing agency and certified B Corp with offices in Omaha and Lincoln, Nebraska, specializing in nonprofit marketing, healthcare marketing, financial service marketing, social impact marketing , and purpose-driven businesses.