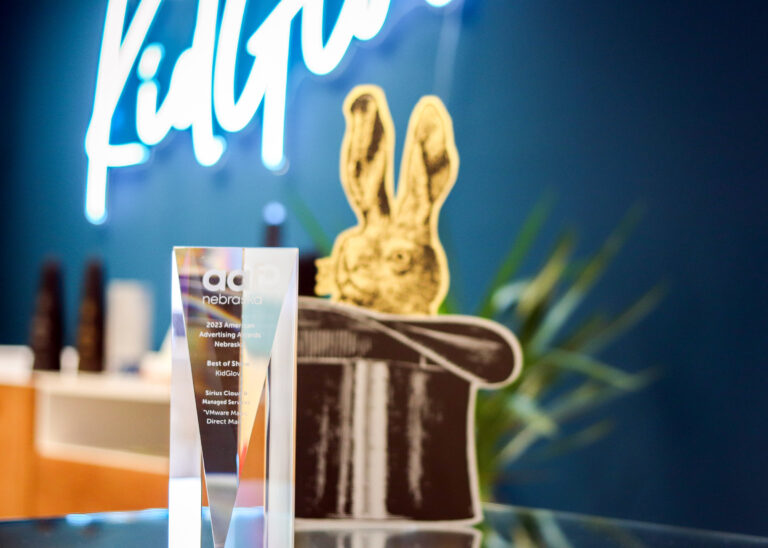 May 2, 2023
KidGlov Wins Best of Show at the 2023 Nebraska Addy Awards
KidGlov is proud to announce that they have won the prestigious Best of Show at the 2023 "Creative Nebraska" American Advertising Awards.
The "Creative Nebraska" Awards honor the most original and daring advertising work in the state. KidGlov's winning campaign for Sirius Managed Services used an inventive approach to get the attention of C-Suite IT leaders.
Instead of opting for a typical direct mail brochure, the team created a magic-themed box that would entice potential clients and leave a lasting impression. Each package element was carefully designed to reinforce the value of Sirius' services and highlight the company's attention to detail and quality. Overall, the package served as an effective marketing tool. Meetings with prospects magically happened, new business was won, and IT challenges vanished.
"I am proud of our KidGlov team for continuing to produce strategically creative work on behalf of our clients," said Lyn Wineman, president and chief strategist at KidGlov. "Thank you to Sirius for asking us to partner with them on this magical account-based marketing campaign."
The highly acclaimed Best of Show award is one of many that KidGlov has received in recent years, including Corporate Marketer of the Year from the American Marketing Association Lincoln chapter, numerous Paper Anvil recognitions from the Public Relations Society of America, and additional awards from the American Advertising Awards. The woman-owned agency has also been acknowledged as one of Lincoln's Best Places to Work.
Founded in 2010, KidGlov is a boutique, full-service, advertising, branding and content marketing agency and certified B Corp, with offices in Omaha and Lincoln, Nebraska, specializing in nonprofit marketing, healthcare marketing, financial services marketing, social impact marketing, and purpose-driven businesses. For more information, visit KidGlov.com.