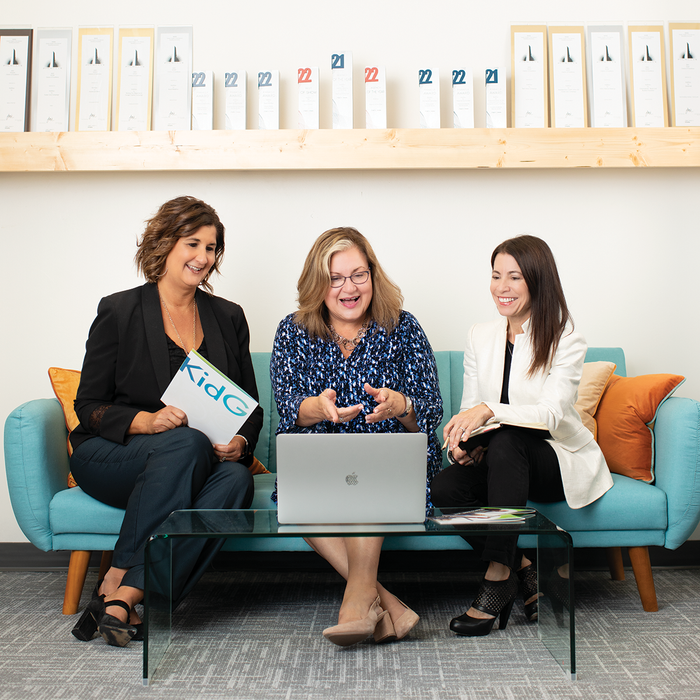 December 20, 2022
Meet the Megaphone: KidGlov Focuses on Purpose-driven Clients
This article originally appeared in the December 2022/January 2023 issue of B2B Magazine. Photo by Bill Sitzmann.
By Kim Reiner
Whether it's social, scientific, economic, or political, businesses and nonprofits today are more often taking a position on issues. Publicly aware companies have become the norm, touting their policies to stand out from a crowd when trying to bring in new clients or employees and build audiences.
In fact, many brands proudly share their values publicly on social media, in advertisements, and on their homepages. Yet very few businesses–at least in Nebraska–take the extra step to go beyond talking the talk and proving their commitment through a B Corp Certification. The private certification of for-profit companies means a business meets high standards of verified performance, accountability, and transparency ranging from employee benefits and charitable giving to supply chain practices and input materials.
In December 2021, the marketing firm KidGlov—a full-service boutique marketing, branding, and advertising agency—became only the fifth business in Nebraska to earn the designation. That astonished Lyn Wineman, KidGlov president and chief strategist, who also marveled at being the state's first certified female-owned business. Certification seemed like an obvious next step to prove KidGlov meets standards of social and environmental performance. Every three years, a B Corp Certified business must demonstrate it continues to achieve those standards.
When Wineman founded KidGlov in Lincoln in 2010, she knew she wanted to build a business that combined the best qualities of boutique agencies and large firms to create an entity that focused on helping change-making organizations. As her business rapidly expanded into the Omaha market and, now, Denver and Las Vegas, she noticed B Corp Certification was expected. Clients inquired about it enough that KidGlov decided to take the certification process seriously.
To Wineman, having the certification helps her company refine policies and "confirms that we're doing what we said we're doing."
Lisa Bowen was the first member of the Omaha branch of KidGlov, and it was the company's mission that convinced her to accept the job offer.
"I met the team, and I thought 'OK, this organization is different, and I believe they're going to make a difference,'" she said. Five years later, Bowen is vice president and managing director. While KidGlov employees are split between Lincoln and Omaha, Bowen feels like it's one team that works well together, even if remotely at times.
Wineman and Bowen are part of the KidGlov leadership that's prominently composed of women. Nearly 80 percent of the 30-member team is female. Wineman believes the intentionally crafted work culture appeals to women. A healthy work-life balance exists, and employees are encouraged to go home to their families rather than work longer hours.
But the bigger draw, Wineman believes, is KidGlov's clients. They are caretakers, she explained, and that attracts a certain kind of employee who wants to help with their mission.
"We defined our purpose as putting a megaphone in front of the ones who are making the world a better place," said Wineman, whose clients include nonprofits, purpose-driven businesses, credit unions, and banks. "A family-owned community bank in a rural community really props up that community. Same as credit unions. They serve people with a common bond."
Among their clients is Dreamweaver Foundation, an Omaha-based nonprofit working to realize senior bucket list wishes. Executive director Cheri Mastny has been working with KidGlov for 10 years—four years longer than she has been leading Dreamweaver Foundation. It was a no-brainer to continue working with them when she stepped into her new role. Each year, Mastny marvels at the fresh ideas KidGlov presents to her.
"They're educating themselves, keeping up with market trends. And they think outside the box," Mastny said, "and I'm a crazy, outside-of-the-box thinker, too."
Dreamweaver Foundation's successful annual Boots and Buckets Gala resulted from KidGlov's ingenuity. Five years ago, the nonprofit decided to begin hosting the event, but they wanted it to be casual without the fuss of gowns and tuxedos. Wineman and her team presented the idea of a fundraiser where guests could come in their boots, while raising funds to fulfill dreams.
This September, Dreamweaver Foundation raised more than $500,000 at the event. Since their first big gala, the foundation has raised more than $2.5 million.
Mastny readily credits KidGlov for the foundation's success. She believes KidGlov designers create invitations that attract the right people to the event, and "they keep refreshing it and making it new and exciting each year."
"Sometimes people forget that brand matters," Mastny said. "KidGlov and team not only works with large businesses, they have the knack and talent to work with nonprofit organizations as well."
Dreamweaver Foundation is proof of it, Mastny said."If you want to elevate your mission, KidGlov is the right agency for you."
For more information, visit kidglov.com.