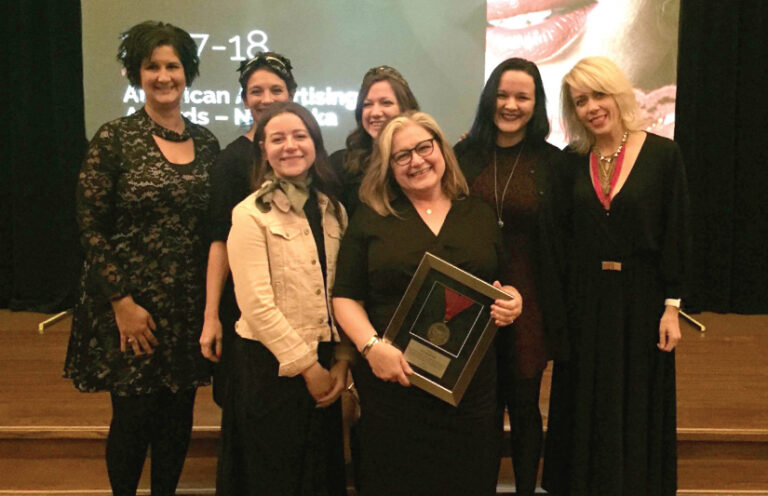 January 8, 2019
Lyn Wineman Awarded Advertising Silver Medal
Lyn Wineman, President : Chief Strategist for KidGlov, was honored with the Silver Medal Award by the American Advertising Federation of Lincoln at the 2018 Nebraska ADDY Awards.
Every year, AAF Lincoln recognizes one individual who has made a lasting impact on the Lincoln advertising community over time. Lyn is the 58th Lincolnite to be honored with the Silver Medal Award.
Lyn has extensive brand advancement experience and has been instrumental in marketing efforts for local organizations such as Davis Design, Matt Talbot, Lancaster Event Center, Farmers & Merchants Bank, Lincoln Community Foundation, MembersOwn Credit Union, SouthPointe Pavilions and Immanuel Communities.
A marketing veteran with nearly 30 years of experience, she has been inducted into the Lincoln Chapter of the American Marketing Association Hall of Fame and was named Marketer of the Year. In 2016 she was recognized for excellence in entrepreneurship at the second annual Inspire – Celebrating Women's Leadership Awards.
"If one person fits the mold for winning the Silver Medal Award, it would be Lyn Wineman," states KidGlov VP/Creative Director and AAF Lincoln President-Elect, Jen Landis. "Lyn consistently works to obtain the highest in creative excellence for her clients and is the most generous person I know when it comes to giving back to her employees and the community. Lyn is well deserving of this award."
KidGlov also received eight Nebraska ADDY Awards at the February 17th event. With teams in Lincoln and Omaha, Nebraska, as well as Loveland, Colorado,  KidGlov skillfully advances brands for success by delivering strategy, campaigns, public relations, print, web and social marketing.
Want more information? Visit our purpose-driven business hub to find a variety of case studies, helpful blog posts and Agency for Change podcast episodes featuring other purpose-driven business leaders. KidGlov is a content marketing agency and certified B Corp with offices in Omaha and Lincoln, Nebraska, specializing in nonprofit marketing, healthcare marketing, financial marketing, social marketing and purpose-driven businesses.