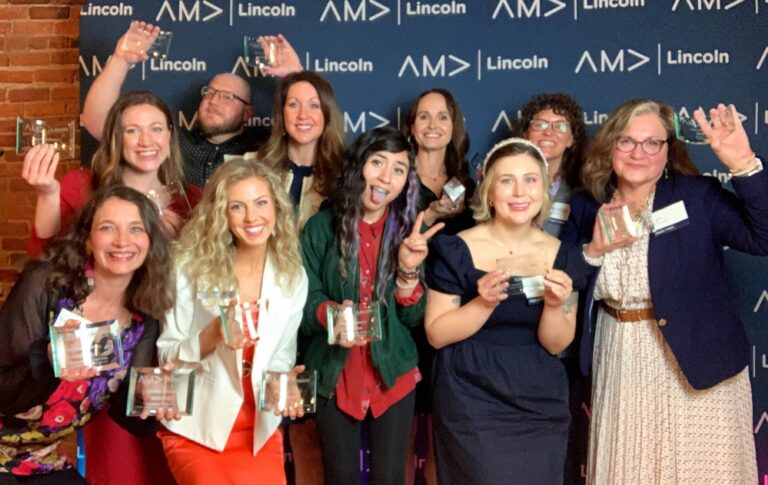 November 16, 2022
21 in '22: KidGlov's Big Night at the Lincoln Prism Awards
KidGlov work, COO Katherine Warren recognized for excellence
The KidGlov team once again attended the AMA Lincoln Prism Awards Show, which celebrates marketers and public relations professionals from all over Lincoln and the surrounding areas. And we're proud to announce it was more successful than we could have hoped! 
We left with our arms and hearts full, after earning 20 Prisms and one Sterling Award. Congratulations to the team, and to each client whose work was represented. KidGlov's winning campaigns ranged from educating parents on the benefits of vaccinating their kids against COVID-19, to encouraging young people to enter the field of construction. Take a look at the full list below. 
KidGlov 2022 Prism Awards recognitions
Standing In the Hall of Fame
Our work wasn't the only recognition to occur at the Prism Awards this year. Our very own Katherine Warren, chief operating officer at KidGlov, was inducted into the AMA Lincoln Hall of Fame! Speakers at the event cited Katherine's selfless nature and constant pursuit of excellence (some of the same reasons we love her so much!) as part of their decision to make her an inductee. They also added that Katherine regularly goes "above and beyond in her dedication to our chapter, earning her a spot in our Hall of Fame."  
Katherine is a past Dorothy B. Clarke Award recipient, and in 2009, she served as president of the AMA Lincoln chapter. Shortly after, she was selected to join the national AMA Professional Chapters Council, where she mentored marketing leaders around the country. In 2019, she received further recognition when she was named the Lincoln AMA Marketer of the Year. Congratulations on this big milestone, Katherine! 
A History of Excellence 
We're honored that the American Marketing Association allowed us the opportunity to have our work recognized by our peers in the marketing industry. And we're lucky enough to have received a few other awards in Omaha as well as Lincoln. Find out more on our Accomplishments page, and see our other award-winning work here. 
KidGlov is a boutique, full-service, advertising, branding and content marketing agency and certified B Corp, with offices in Omaha and Lincoln, Nebraska, specializing in nonprofit marketing, healthcare marketing, financial services marketing, social impact marketing, and purpose-driven businesses.